Improving the Massachusetts Highway System
Suggestions for New Routes
A. An Interstate to Cape Cod from Boston (well, Braintree) , perhaps
Why? Interstate routes should mark the most important transportation corridors in a state. The most important route for tourists and commerce between Boston, Plymouth and Cape Cod is currently a state route for its last 40+ miles. You can take an interstate from Providence to (almost) the Cape, so why not from Boston? Also, Plymouth is celebrating its 400th birthday in 2020, shouldn't there be an interstate to "America's Hometown?"

How? By turning into an spur route from Braintree to at the Sagamore Bridge, either or I-393. (Some dislike 193 because there is a state route , but it's short (less than 3 miles) and along the Connecticut border, so I don't think there would be any confusion of the two. Massachusetts already has both and .)

The Map of the Proposed Route: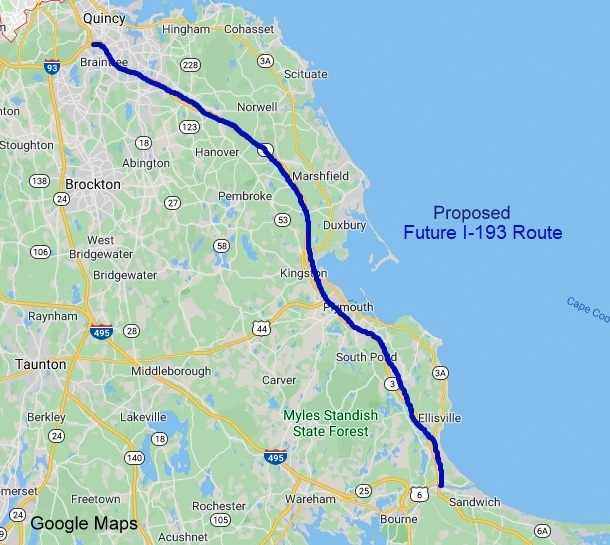 This proposal would entail moneys needed to upgrade parts of to Interstate Standards, particularly bridges and ramps. The cost is unknown. There have been at least 2 studies looking into the cost of converting to an Interstate, I know of no related study about upgrading . The only segment that could probably be signed as an Interstate now is from in Braintree to in Weymouth. Perhaps much of the rest of the upgrade could be done during the long planned proposal to widen between Weymouth and Duxbury. Recently completed bridges carrying in Norwell and Hanover were constructed for 3 lanes of traffic in each direction.
Issues with other Routes

What to do with (or, in my view )? The easiest plan would be to keep it where it is as a concurrent route. If, however, a decision was made to eliminate south of Burlington or south of its intersection with , a major problem would be what to do with south of Boston. One option, perhaps the easiest, would be simply to extend at its current ends north over between Quincy and Boston and south over from Kingston through Plymouth. The rest of could be renumbered, but to what? I would suggest a number close to 53, perhaps a resurrected (now ) or the unused Route 54. Another idea suggested via Facebook would be, at the southern end, replace with , by extending that route from Kingston to Bourne.
B. The 'Nantasket Trail' or
Why? Create a more direct route from Braintree to Nantasket Beach using existing mostly 4-lane routes, helping decrease traffic on mostly 2-lane through Hingham which is a legacy of the original , and its proposed 1960s expressway routing. Help properly sign the east-west portion of North-South MA 3A between Quincy and Hingham for those directions.

How? Create a new route that would start at Burgin Parkway extension exit from in Braintree and continue along into Quincy until taking a right at Hannon Parkway to Revere Road, a bypass route around Quincy Center, to Washington Street (which was a state route, , until 1959) where it would turn east to the intersection with / Southern Artery where it would then run concurrently with from Quincy to Hingham, continue along Summer Street, Rockland Street, and George Washington Boulevard, state routes currently without a number, to end at Nantasket Avenue () at Nantasket Beach.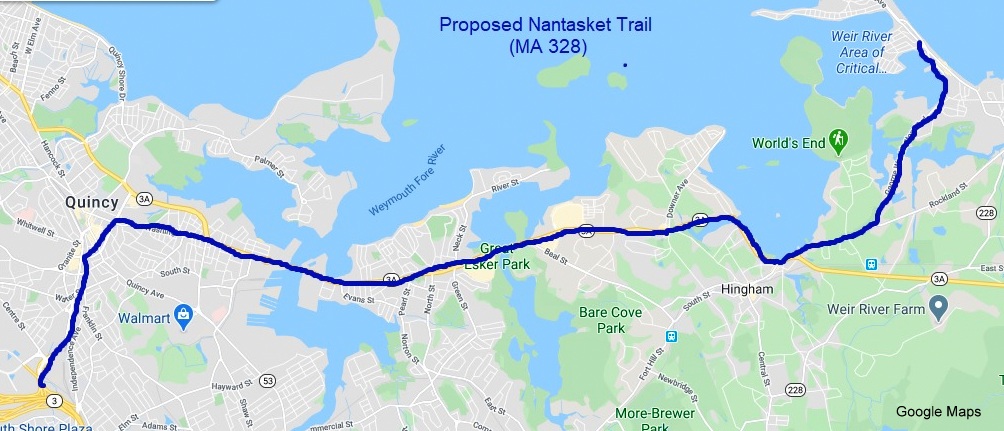 C. Business Routes
Currently, Massachusetts, like many of its neighboring states, has no business routes. The existing route system is mostly designed to take traffic away from commercial areas, not to encourage it. Many cities and towns, however, could perhaps benefit from having an established route to take potential customers to increasingly less trafficked business areas, helping the local economy.
Idea: Create a new set of Massachusetts Business Routes under a public/private partnership arrangement. Those interested in establishing a business route would provide money for studies, sign manufacturing, and maintenance. MassDOT would provide and install the signs and coordinate maintenance of the routes.
An Example. From my hometown of Hingham, a proposed Business route serving the Hingham Square area. The original coastal route to the Cape used the proposed business route through Hingham Square until it was bypassed in the early 1920s, largely due to problems with traffic bound for Nantasket Beach. Today, the area could probably use more traffic, both to businesses and historic sites in the area:
D. Adoption of Milepost Based Numbers
Good news to report on this suggestion, MassDOT announced in November 2019 that it would change its sequential exit numbering system to that based on highway mileage starting in late summer 2020. For more information on this, visit my Massachusetts Interstate and US Route Exit page or MassDOT's Exit Renumbering Project website. While this change is long overdue, there has been some criticism of some of the agency's exit renumbering plans. I will detail them here and what I would suggest be done instead:
1.

/
MassDOT plans to keep the current exit number practice of continuing 's exit numbers along . When plans for the first renumbering effort were publicized in 2015, was given its own mileage based exits. MassDOT now thinks that this may be too confusing and will continue counting the mileage from the Connecticut border for exit numbers on . They are going to be placing 'dual mile markers' along that will list both the sum mileage ('s) and miles. MassDOT also says that this may be a prelude to redesignating as an extension, if this dual milepost system proves too difficult for drivers to follow. I don't think the idea of two separate routes have two different sets of exits is all that confusing. MassDOT also nixed the idea of continuing the exit number mileage from other states (Connecticut's for , Rhode Island for and ), recommended under FHWA signing guidance, because they believe drivers like to be notified that they have crossed state lines. Is not what state Welcome signs are for? If MassDOT wants to change to , their plan makes sense, else give it own set of numbers.
2. Freeway

MassDOT plans to continue the practice of counting 's mileage as a continuation of 's, therefore the first exit number in Burlington will be 72. If MassDOT would take up my suggestion of making all of 'Route 3' , then this isn't a problem (potential mileage changes from my suggested routings aside). Most Massachusetts drivers, however, see and as two separate routes, and would be more informed by exit numbers reflecting the mileage to or from / in Burlington. Therefore, regardless of whether is truncated to /, give this route its own set of exit numbers starting in Burlington.
3. on Cape Cod

MassDOT plans to use 's mileage from the RI border to number the Mid-Cape Highway exits, meaning the exits would run from 55 to 88. This has led many on Cape Cod to oppose the exit renumbering plan all together (it was opposition to exit renumbering by Cape Cod that helped postpone the 2015 exit renumbering project). MassDOT currently insists that despite opposition it is going ahead on having the total mileage numbers be used on the Cape, though they've made this the last route to be renumbered. In communication with MassDOT, I and others have suggested a possible compromise, renumber the exits, but use Mid-Cape Highway mileage instead. Therefore current Exit 1 can stay Exit 1 and drivers will know by the exit number how far they are from or to the Sagamore Bridge (especially stuck in traffic on summer weekends). Though MassDOT officials have stated they considered options like this, even the idea of creating a concurrent route along the Mid-Cape Highway to base exit numbers on, publicly they are still committed to the 's numbers at this time (May 2020).
4. from Peabody to Gloucester
As pointed out on the Route Change Suggestions's page, runs concurrently with from Canton to Peabody. MassDOT plans to continue this mileage as the basis of Route 's exit numbers. This means the first exit number will be 37 and the last 55. In addition, in an effort to avoid too many suffixed exits (e.g. 1A, B, C), MassDOT has proposed exit numbers along that at times are 2 miles off the actual mileage. For example, the exit in Essex at Mile 45 is to be Exit 47 to avoid too many suffixed exits in the Danvers stretch, impacting the benefit of using milepost based exit numbers. As part of my suggested route changes, should be truncated to Peabody. With or without that action, most drivers would benefit knowing accurately how far they are from the first interchange than from the Canton one on the south side of Boston and I would suggest start the exit numbering in Peabody and assigning a few suffixed exits in Danvers (see my suggested numbers on the Exit List).

Have Comments, Suggestions on these or other routes feel free to

E-mail me at

rmalme7374 at gmail.com.
(c) Robert H. Malme 2020