Improving Signage
The Following Routes could use Better Signage (regardless of whether they should be changed in the future):
and along Memorial Drive in Cambridge
Issue: While these roads really don't need an accompanying state route number. They have been signed as US and state routes for almost 100 years, and, even with some of my rerouting proposals, would continue to be signed. Currently there is a lack of signage in both directions and the need for more signage at key intersections. Under its current routing, travels with along Memorial Drive until the BU Bridge when crosses the Charles River. continues east along Memorial Drive to / Massachusetts Avenue, where it officially ends and begins. However, there is little signage approaching the BU Bridge, Mass Ave, or the Longfellow Bridge indicating the existence of either or . Here's some examples, heading east first: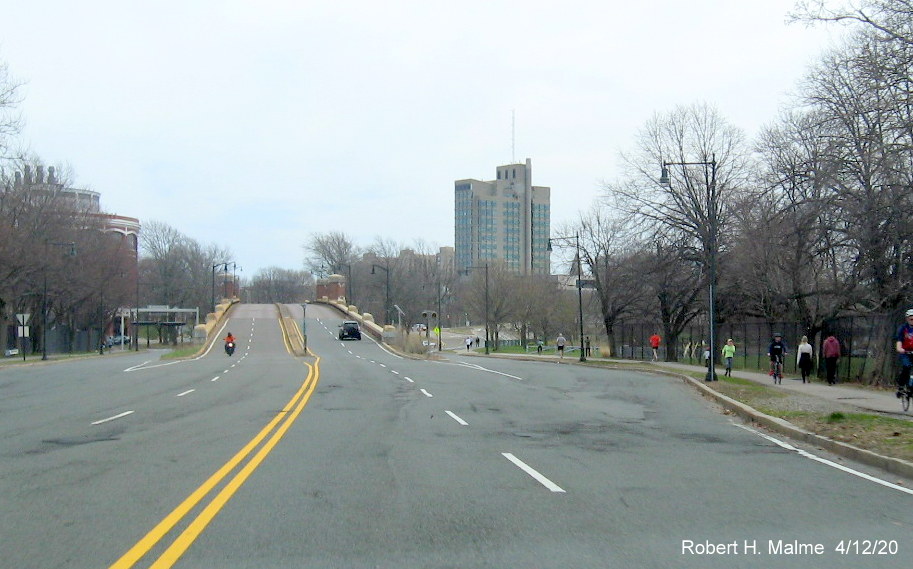 Heading east on Memorial Drive, this is where East leaves South to head over the BU Bridge to Boston, but you wouldn't know it if looking for signs.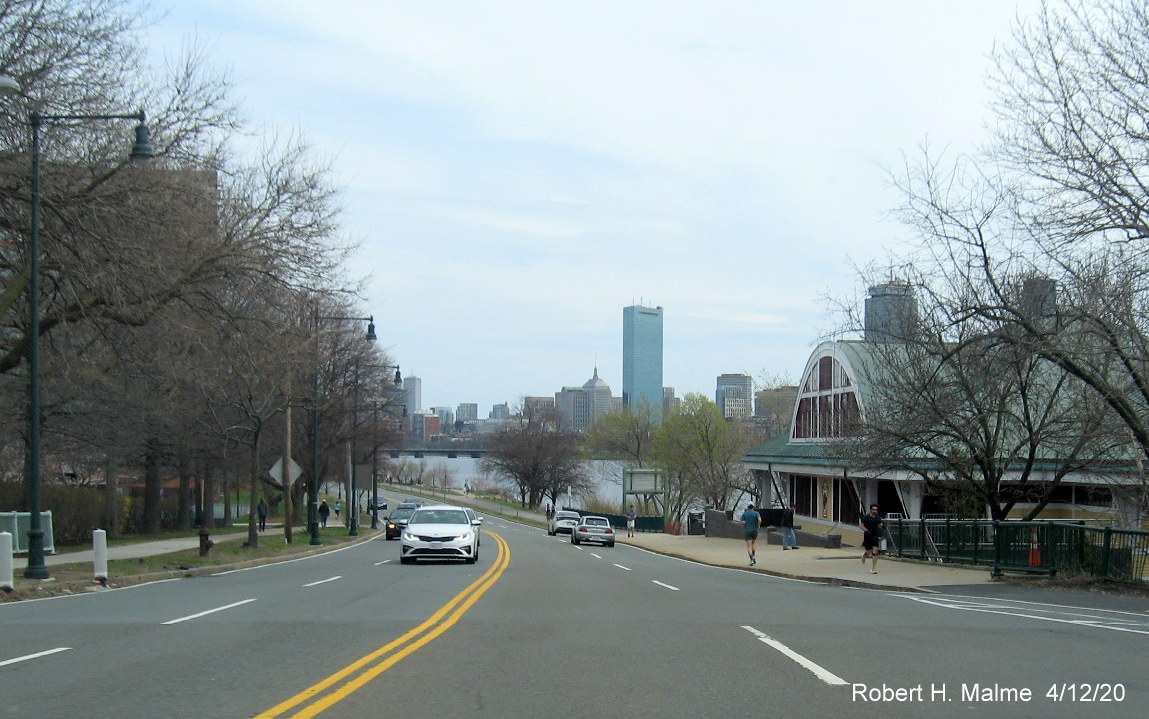 This is after the ramp from the BU Bridge joins Memorial Drive headed east, there are no reassurance markers for South .
Signage by the Department of Conservation and Recreation (DCR) approaching the Mass. Ave. intersection does not mention that South ends or South begins there.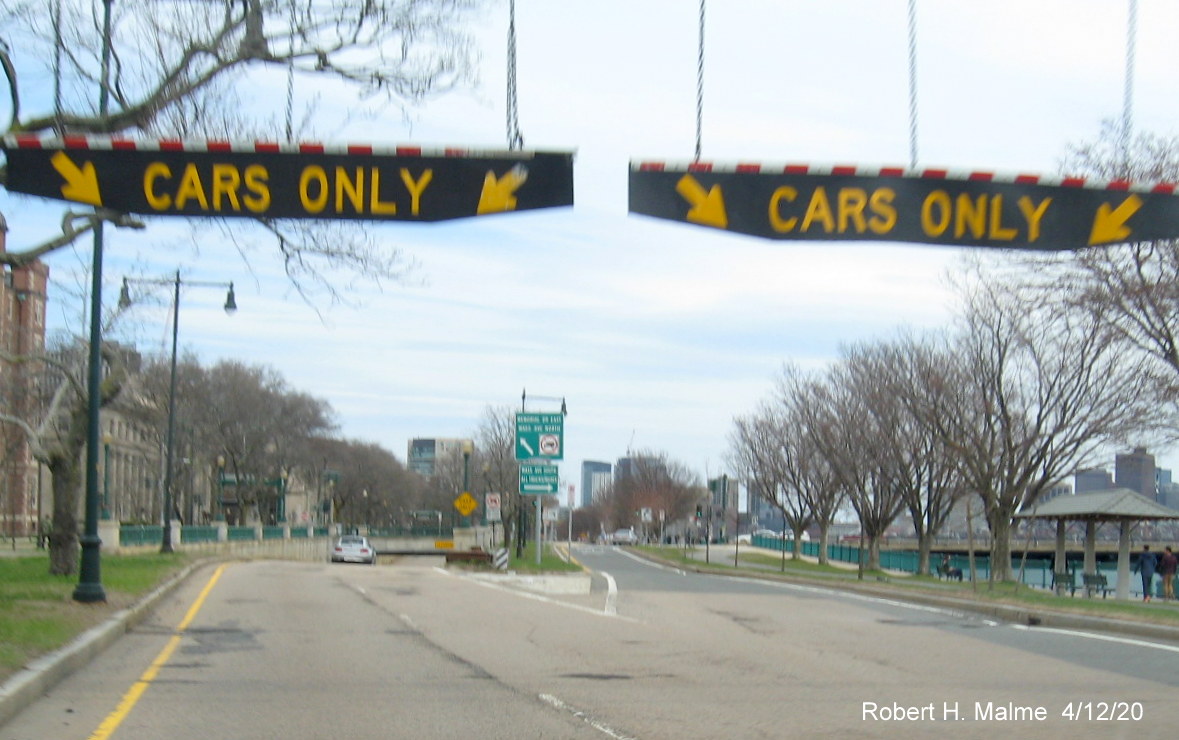 Guide signs at the ramp to Mass Avenue South does not mention any route number, , or .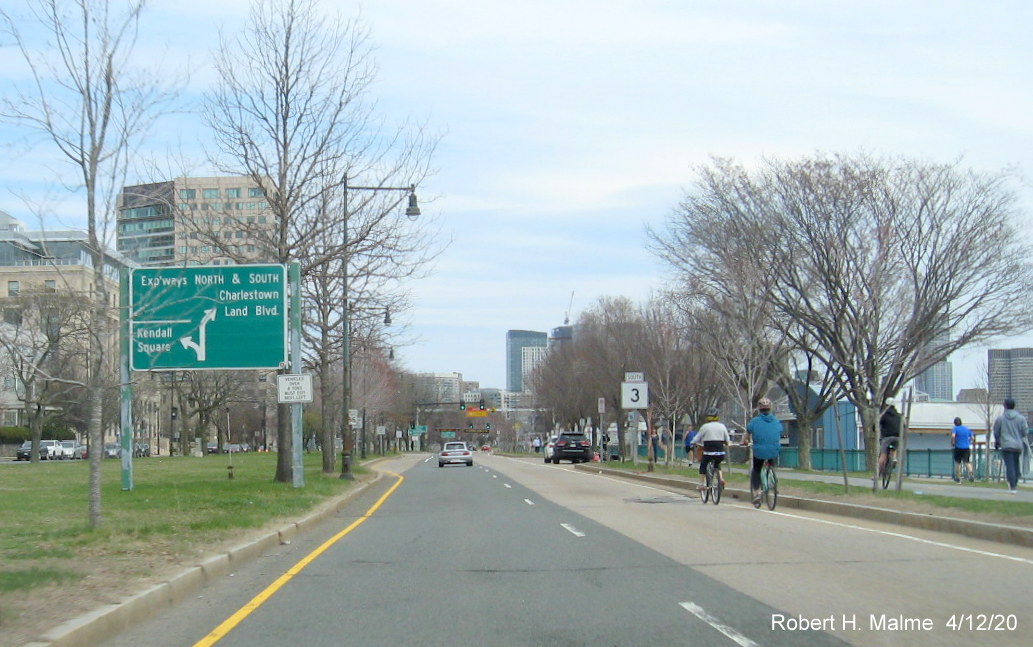 The first and only South reassurance marker along Memorial Drive headed east. While South leaves at the ramp, the DCR guide sign simply states Expressways North and South.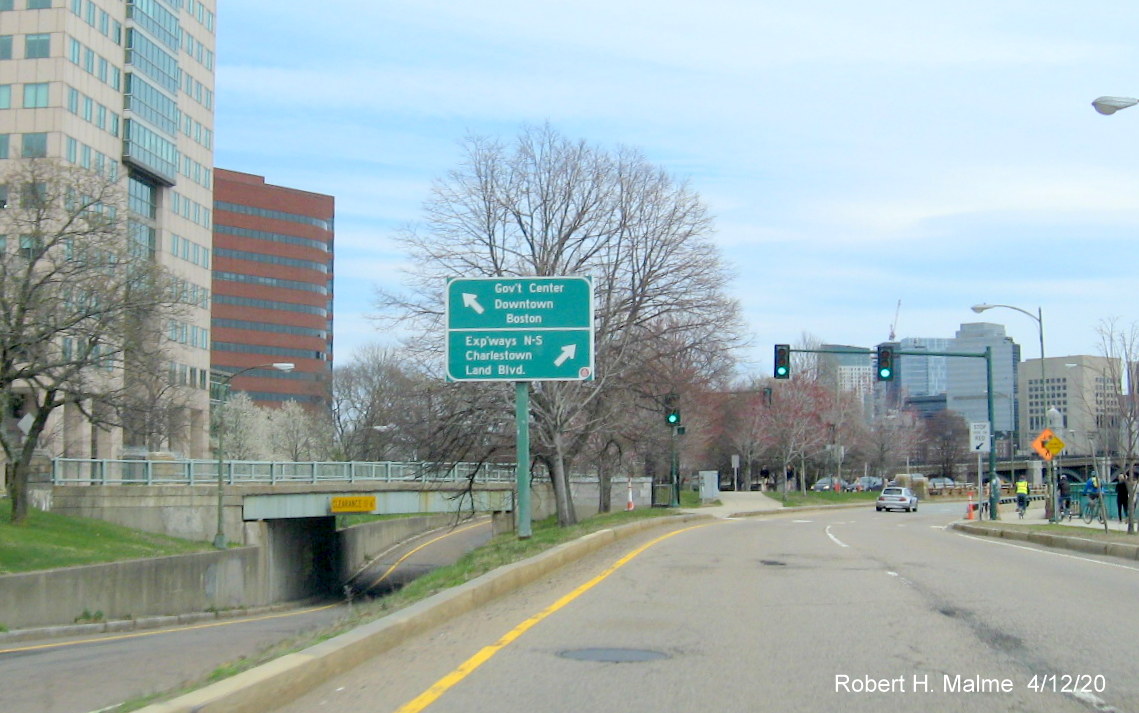 DCR sign after the split of ramps at the end of Memorial Drive. South uses the ramp to the left, but you would never know from the sign. Turning around, starting on the Longfellow Bridge: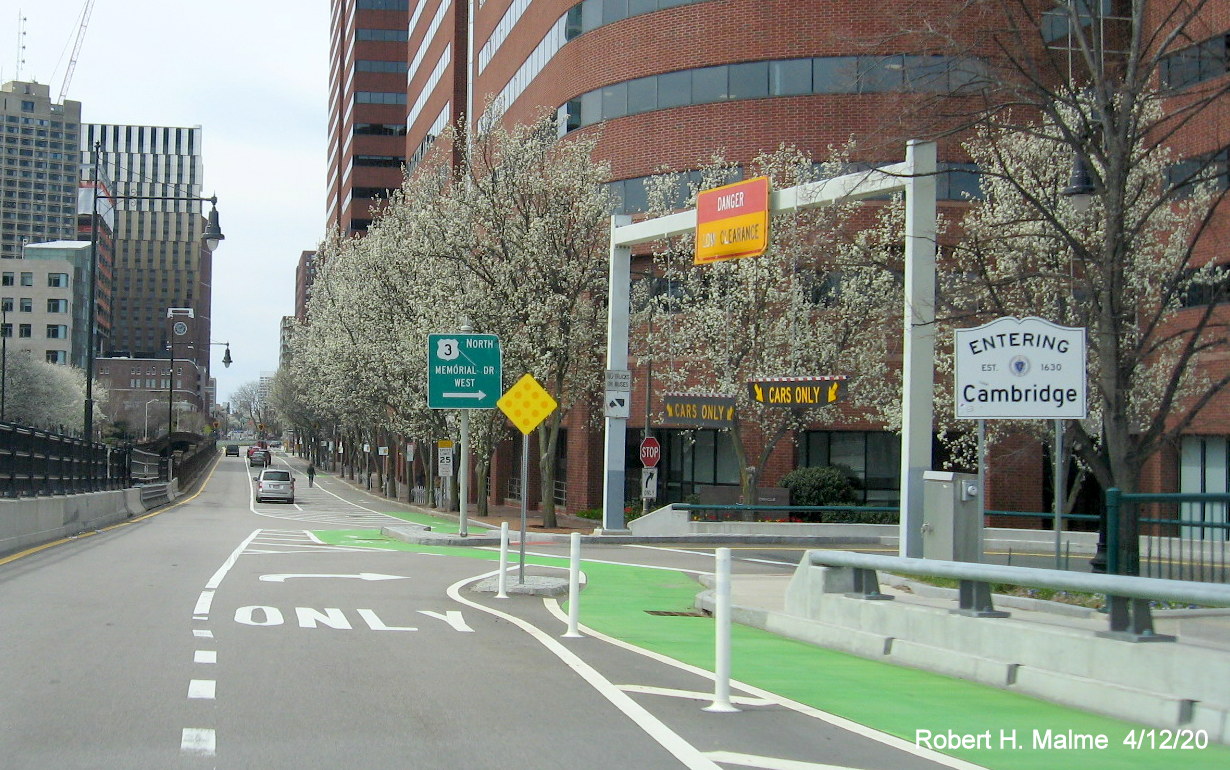 When the Longfellow Bridge rehabilitation project was completed, new guide signs were put up including one behind where this photo was taken that had instead of (I don't have a problem with that, but it is officially incorrect). Instead of fixing that sign, this newer sign was put up with the same error. There is a South reassurance marker along the road to Memorial Drive.
This is the ramp to the Longfellow Bridge and South on Memorial Drive West, but you would not know from the sign.
Again approaching Mass Ave. there is no mention that North ends here, or that North begins.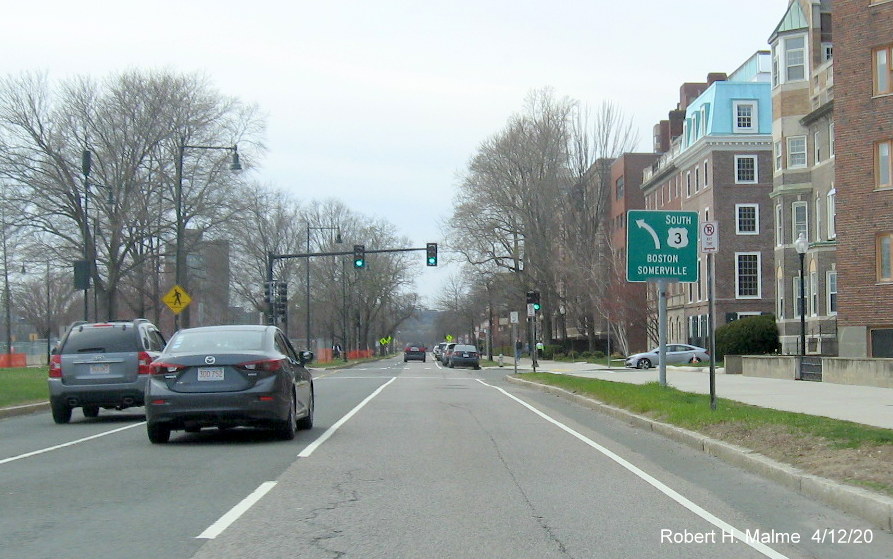 Again, where does appear on a sign, it's erroneous. Here's a guide sign for traffic heading west to turn around on Memorial Drive, however ends two blocks to the east. The sign should say South , or To South :

in Somerville
Issue: Ambiguous end to South in Somerville. Originally, the route joined / along the McGrath Highway in Somerville and traveled with these routes to end at the intersection with the BU Bridge in Cambridge. In 1971, during a large revision of routes in the Boston area, was truncated to where it met in Somerville. In the 1990s two guide signs appeared at McGrath Highway and a block further south at the on-ramp to that implied continued to Sullivan Square. Google Maps Street View images from Sept. 2019, notice the 0.0 mile marker: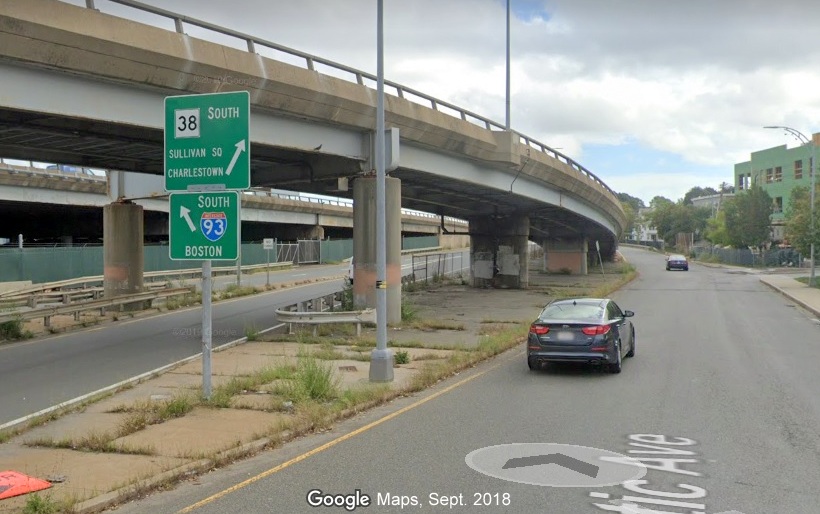 State records of the time did not indicate any extension, and the signs were attributed to contractor error. However, in the past few years new versions of the above signage was put up and now more has gone up on surrounding roadways, all implying the extension of . Here's a new style guide sign on the road leading from Sullivan Square to McGrath Highway, the full Google Maps image labels the road as :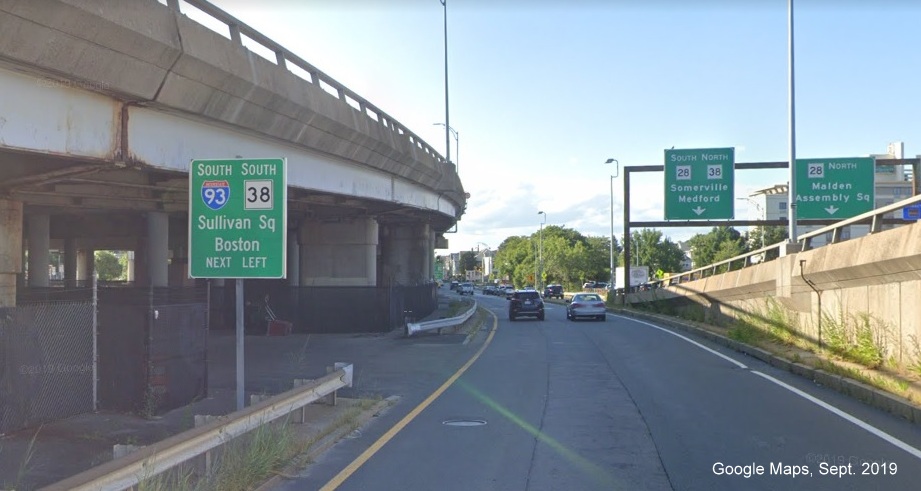 There's another new guide sign approaching / McGrath Highway: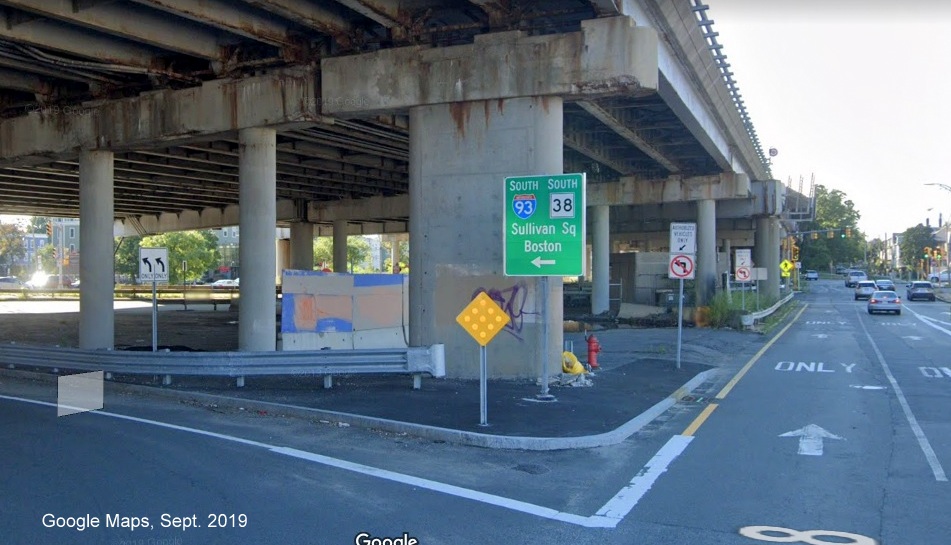 And on McGrath Highway as well as on an approaching roadway, there are these new trailblazers for South :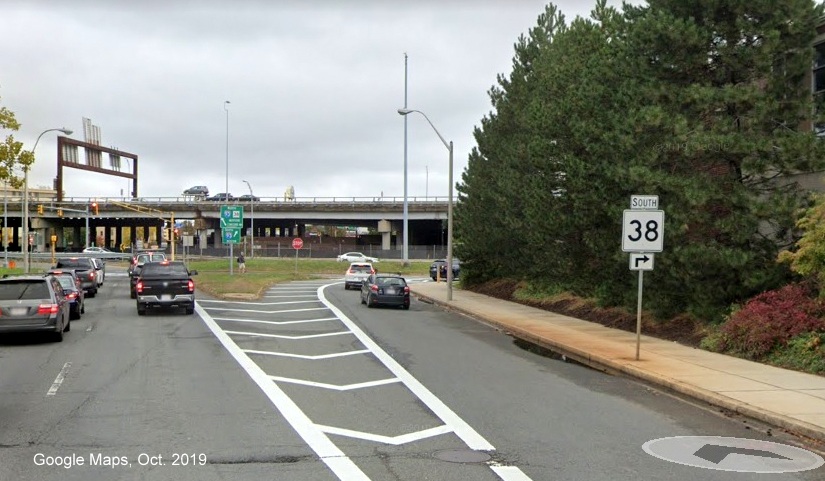 And guide signs on South show that goes in both directions:
So, has been extended? Not according to the mile markers. If those are correct, then remove the signs. If so, fully sign it to Sullivan Square and add signage on in the Square itself.
These signs on Mystic Avenue between Sullivan Square and would not have to be changed:

in Plymouth
When in Plymouth was rerouted onto a new freeway west of in 2005, there must have been some confusion as to whether the existing route would continue east of the Pilgrims Highway. Some maps had the old being rebranded as US 44A, and some may have thought of simply ending the route at . Apparently officials thought the better of both ideas but didn't apparently get the word out about the latter because there are no references to , besides on the guide signs, along and Samoset Street until the official end at . This is the only reference to the / concurrency, heading north: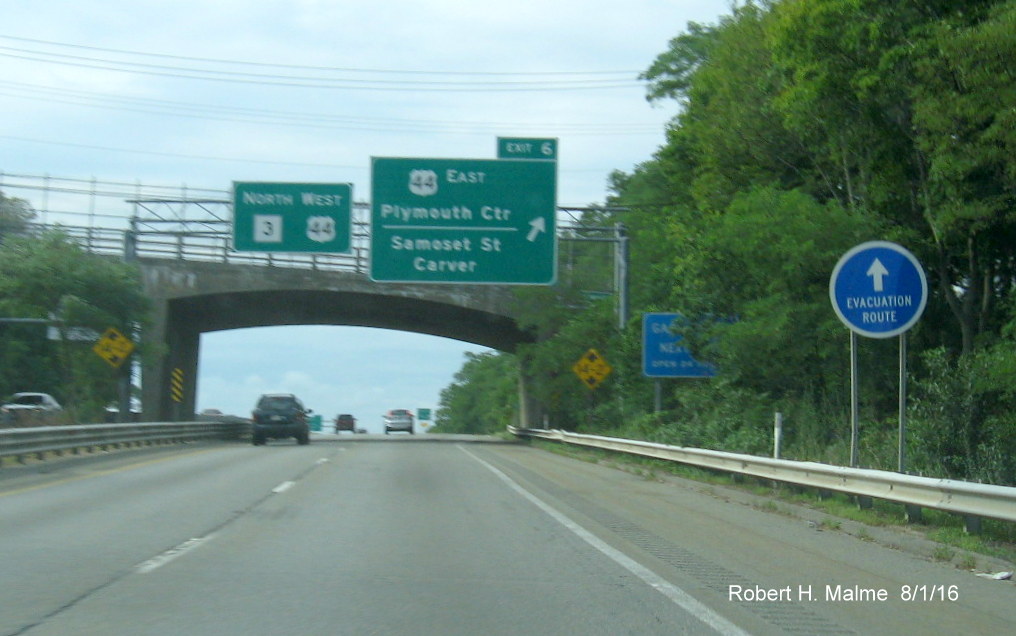 There are no reassurance markers in either direction along the concurrency with , perhaps simply because they are near exit signs for that route, though it wouldn't hurt: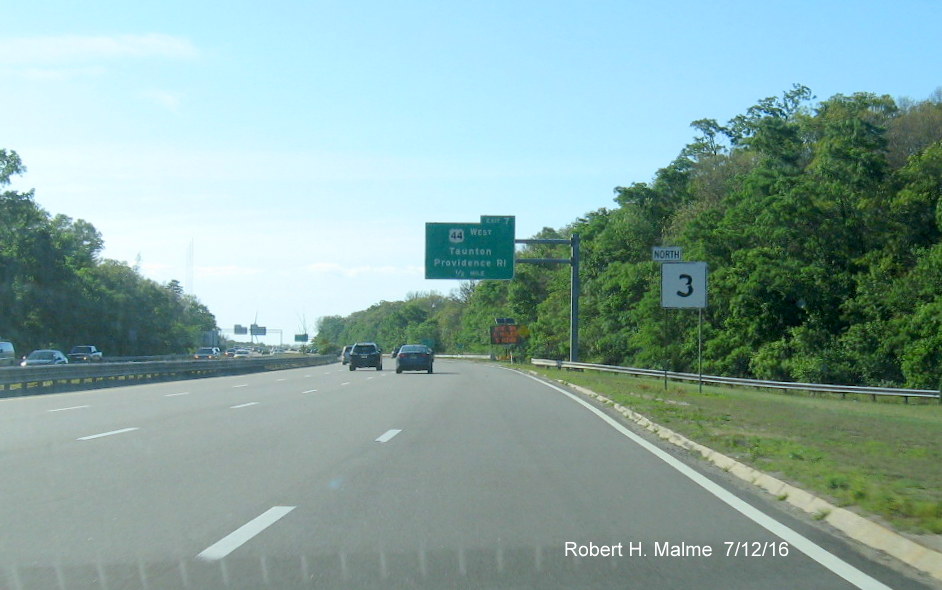 but there are also no references to West at the Samoset intersection with (a former West trailblazer at the ramp was taken down in a construction project several years ago and never replaced):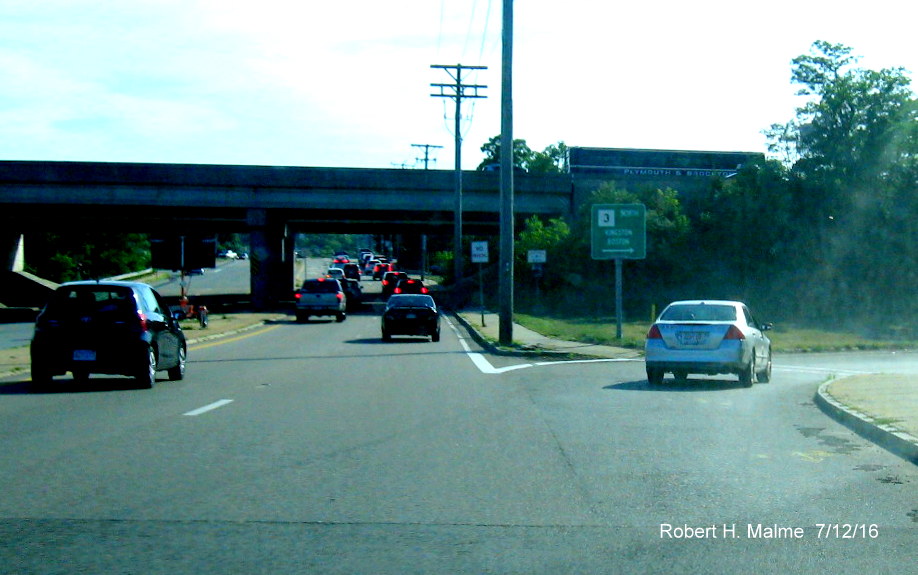 Nor headed east toward downtown Plymouth:
Guide signage at the ramp from North does not refer to at all, from Google Maps Street View in November 2018: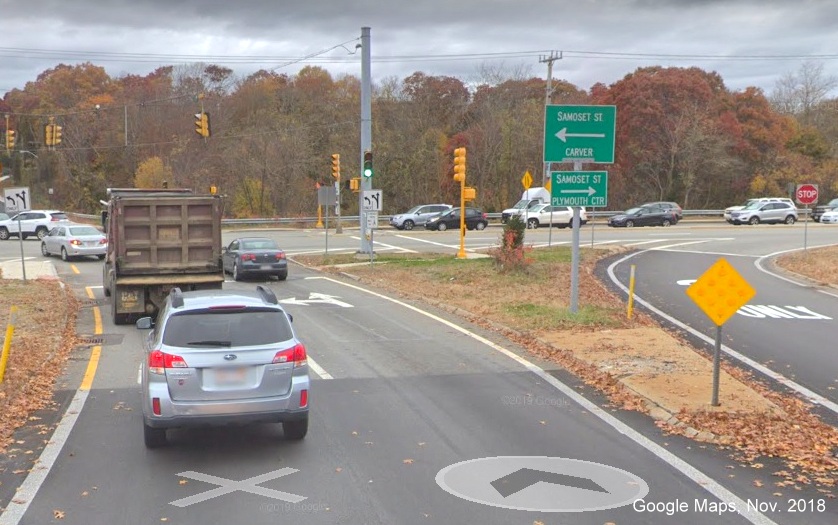 There are signs at marking the end and beginning of the route. So you don't need to be a psychic to figure out where it ends: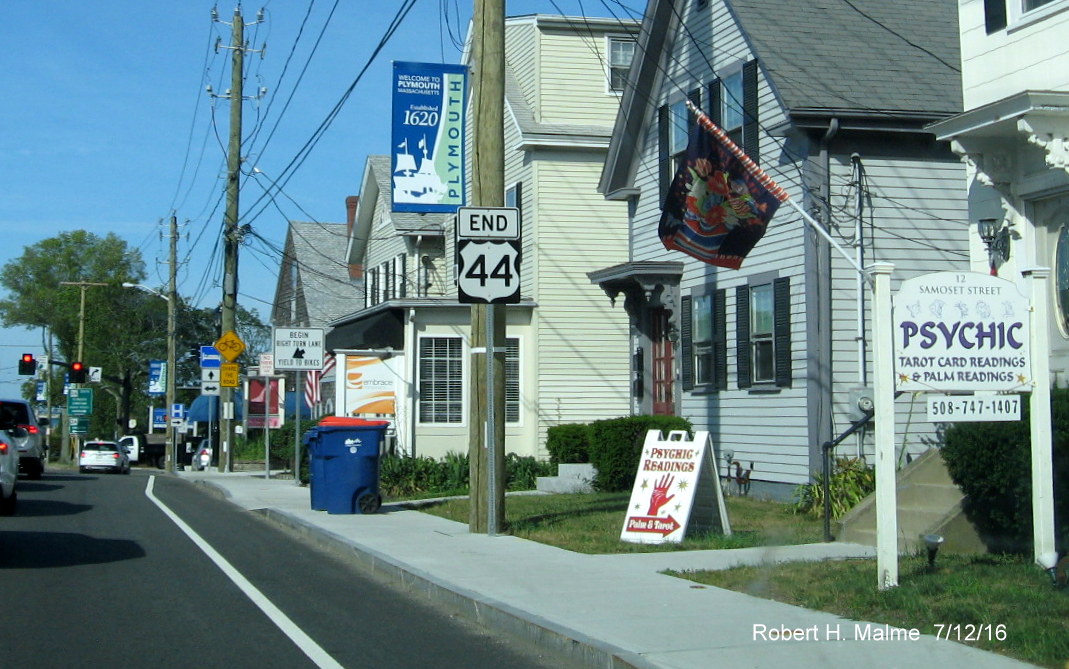 Nor where it begins: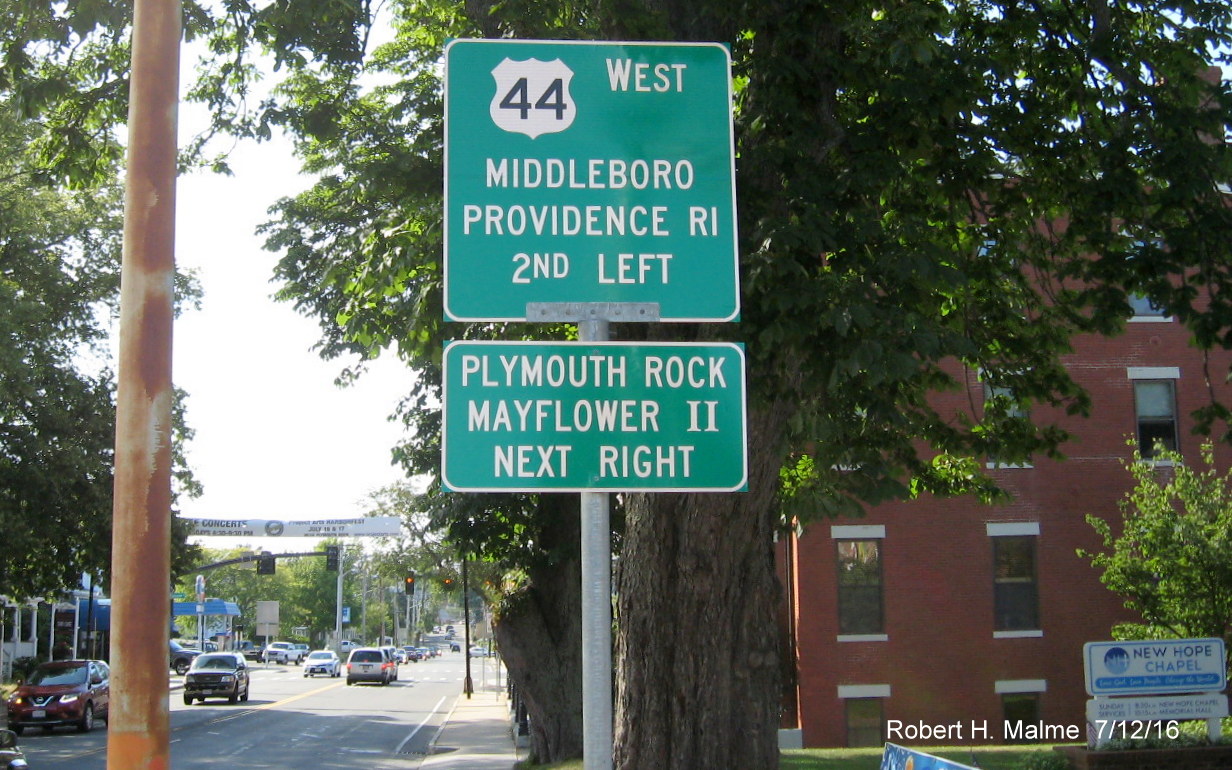 Have suggestions on other routes needing better signage, feel free to

E-mail me at

rmalme7374 at gmail.com.
(c) Robert H. Malme 2020