MA 3/Pilgrims Highway Exit List
43 Miles, From US 6 in Bourne to I-93 in Braintree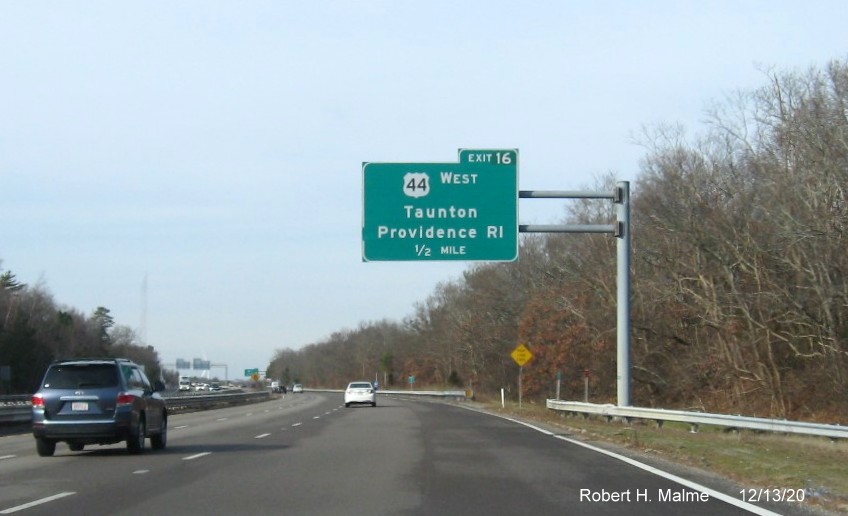 Exits Renumbered as of December 14, 2020
Interchange

Milepost

New Exit Number

Old Exit Number

West

- Buzzards Bay, Falmouth (SB)


0.1

1A

1A


East - Sagamore, Hyannis (SB)




0.1

1B

1B


North

- Cedarville, Manomet




2.5

3 (2)*

2


Clark Rd -

Pine Hills


7.1

7

3

Plimoth Patuxet Hwy - Manomet (SB)

**


12.3

12 (12A*)

4

Long Pond Rd - Plymouth Center




12.7

13 (12B/12 NB)*

5


East - Plymouth




14.5

15A (14A)*

6A




Samoset St

- W. Plymouth, Carver


14.5

15B (14B)*

6B


West

- Taunton, Providence, RI




15.6

16 (15)*

7


Smith Lane

- Rocky Nook


16.9

17 (16)*

8


- Kingston, N. Plymouth




17.8

18 (17)*

9


to

- Kingston, S. Duxbury

19.4

20 (19)*

10


- Duxbury, Pembroke

22.3

22

11

- Marshfield, Hanover




26.6

27 (26)*

12


- Hanover, Norwell




31.7

32 (31)*

13


- Hingham, Rockland




34.8

35 (34)*

14


Derby St

- Hingham, Weymouth

36.1

36


15

North - Weymouth (Abington-NB)




38.1

38A (38 NB)

16A (16 NB)


South - S. Weymouth, Abington (SB)

38.1

38B

16B

Union St - Braintree, S. Braintree




40.5

40

17


Washington St - Braintree (SB)

41.7

41

18

Burgin Pkwy - Quincy Center




42.0

42 (42A NB)*

19


(

)

North - Boston

(NB)




42.6

43A (42B)*

20A


(

) South to

- Canton

(NB)




42.6

43B (42C)*

20B

This exit list contains both the current exit number and future exit number when MassDOT converts Route 3 to the Geographic Reference or Milepost Exit Numbering system in December 2020. MassDOT started converting exit numbers starting in October 2020 with routes in the southeastern part of the state. This project was first planned for 2016, but eventually

postponed.

The future numbers listed are those provided at the MassDOT Exit Renumbering Project website, downloaded Nov. 21, 2019.
*Numbers in ( ) listed for the postponed 2016 Renumbering Project.
**Name changed in 2022 from Plimoth Plantation Highway to reflect changed name of museum site.
PHOTOS
Removal of Left Exit tabs from Route 3 signs
The yellow Left exit tabs on signs for the I-93 and Plimoth Patuxet Highway exits have been removed as part of project seen on other highways in the state:
I-93 South exit (Exit 43A)

The 1 Mile advance now without the yellow Left Exit message above the Exit 43A tab.
Same story for the 1/2 Mile advance diagrammatic sign.
And also on the exit sign for I-93 (US 1) South. (Meanwhile, still no US 1 for the signs, or even a trailblazer).

Plimoth Patuxet Highway (Exit 12):
The 1 mile advance on Route 3 South in Plymouth, the Left exit banner was removed here in August.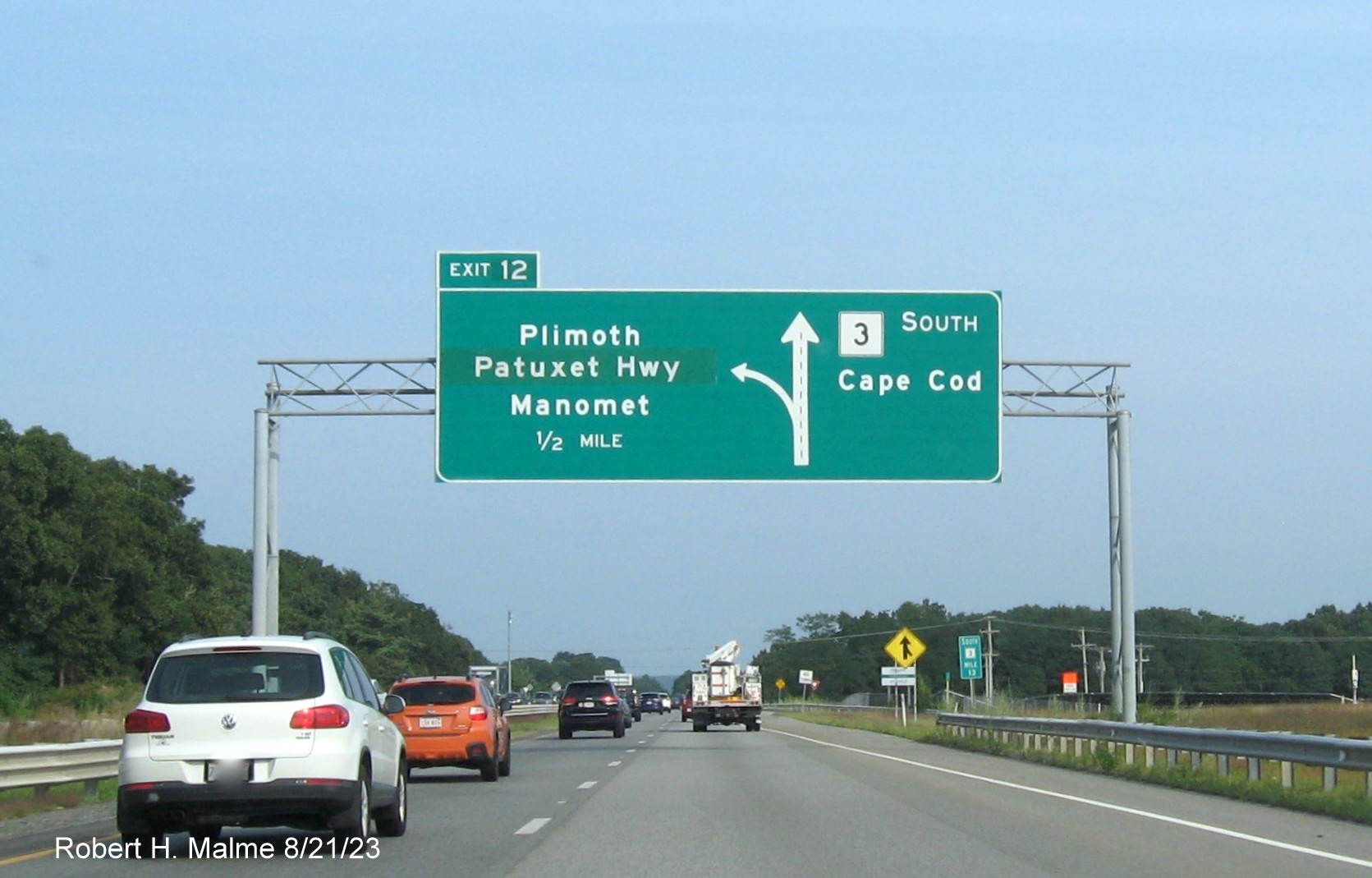 Same story for the 1/2 mile advance diagrammatic sign.
The Left exit banner also no longer present at the exit.
Recommended Changes in 2016: MassDOT was to review the proposed exit numbers for the later postponed project for possible changes prior to work to create the new exit tabs. Here's the changes I'd suggested and [those that came to pass]:
1. Currently, there is no proposed number listed for the last exit southbound, US 6 West. There may be no need for a number for US 6 East, since MA 3 joins it without exiting, but there currently are numbers for these exits. It would be consistent with other routes if the West US 6, at least, got to be Exit 0.

[2. MA 228, the proposed exit number is 34, but the exit is barely one mile from Derby Street, Exit 36. It may make more sense to have this numbered as 35.]
[3. The proposed list has the Burgin Parkway and Washington Street exits with separate numbers (41 and 42), however they use the same exit ramp southbound and using 42 also for I-93 makes those exit numbers as 42B and 42C northbound. It would be simpler to have the southbound exits as 42B and 42A while northbound the Burgin Parkway exit would just be 42. I-93 would then be the simpler 43A and 43B.]
© Robert H. Malme 2014-2023