Segment 4
Where: 'I-73 Connector', and Bryan Blvd. from NC 68 to Greensboro Urban Loop (Future I-73/I-840)

Length: 4 Miles

Needed: Build New Freeway and Bring Existing Highway Up to Interstate Standards*

Completion Date: May 2017 (*Segment from Loop to PTI Airport was Completed in 2009)
Segment Info
Original I-73 Routing Plan
The routing of this segment has changed since plans for I-73 were first proposed. Initially it was assumed I-73 was to be routed onto NC 68 south from the end of the NC 68-US 220 connector to I-40. Though NC 68 is a divided highway for this entire length, it is not actually a freeway for 1/3 of a mile between the I-40 interchange and the Triad Center Drive intersection (which has a stoplight). The freeway portion north of there is also not up to Interstate standards with narrow shoulders and insufficient ramp acceleration and deceleration lanes. The current interchange between NC 68 and I-40 would also have had to be vastly upgraded, something not done when I-40 was widened a few years ago.
Impetus for Routing Change
In May 2003, the Greensboro Urban Area Metropolitan Planning Organization announced major highway planning initiatives around the Piedmont Triad International Airport (PTIA). Their proposals included a new 6-lane freeway to start at a relocated Bryan Boulevard and running to the proposed eastern half of the Winston-Salem Northern Beltway (later dubbed the I-73/74 Connector, listed as an unfunded project in the 2009-2015 STIP) with an additional spur leading to I-40 west of Greensboro at the split of Interstate 40 and Business 40 and a new I-73 routing which, from the NC 68-US 220 connector, put I-73 briefly onto NC 68 and then onto Bryan Boulevard (the western part to be relocated due to the need for a new airport runway for the FedEx hub facility) to the Greensboro Urban Loop freeway (I-840). (For a map of these proposed highways and more about this Future NC Interstate, go look at my NC Future Interstates Site). The impetus for this new route was to avoid the expensive reworking of the NC 68 interchange with I-40 and to take I-73 traffic off of I-40 between Winston-Salem and Greensboro.1,2 In August 2003, NCDOT added all the Greensboro MPO PTIA area highway proposals to its list of Division projects, committing state funds to more fully study the proposals, and build them once approved.
Plans Affected by New Interchange Built for PTI Airport
In March 2004 NCDOT let the $44.3 million contract for the construction of the Bryan Boulevard relocation and the PTI Airport Authority gave permission to the contractor to start construction on April 23, 2004.3,4 The relocated highway opened in November 2006 and included a new, temporary, entrance to the airport. Eventually by the time the Hub opened in 2009 a permanent airport interchange involving four bridges and nine ramps was completed to connect Bryan Blvd to the PTI terminals.5 (The other roadways proposed by the Greensboro MPO, if built, won't be constructed until at least 2020.)
New I-73 Routing Plan Studied by NCDOT
Though NCDOT never announced a change in I-73's route, maps put out by NCDOT, both for their Strategic Highway Corridors initiative and regarding their US64/NC 49 corridor study showed Bryan Blvd between NC 68 and the Greensboro Loop as I-73. (To look at a Loop map and other connected projects,go to the NCDOT project map). And it was also shown in the map above from a report on the economic benefits of I-73 and I-74 (see the I-73/I-74 Links page), which says the routing information came from NCDOT. The 2009-2015 STIP, however, only listed a feasibility study in progress (Number FS-0507A) "To Determine Routing of Future I-73 in the Greensboro Area."6 At a June 2005 meeting in Greensboro when NCDOT announced the start of this study they said it could take two years to complete and would involve looking at four 15-mile corridors (two of which a spokesman said were almost likely to be ruled out, one of which was a route using US 220 south of Summerfield to the Greensboro Loop that would have required cutting through some of Greensboro's water supply lakes, the other was probably the routing along NC 68 to I-40), up to three miles of which would involve new construction. Greensboro officials stated at the time that they would like the study completed sooner, since the building of the FedEx hub had increased development pressures in the area and they would like to know as soon as possible what land should be preserved for I-73.9 The study was to produce a recommendation by July 2007, however, no formal announcement was ever made, and the feasibility study was still listed in the 2007 STIP.
New I-73 Routing Plan Eventually Revealed
A newspaper article in early August 2007 indicated that it was 'likely' I-73 would be routed on the Greensboro Urban Loop from US 220 to Bryan Blvd, as depicted in previous NCDOT documents.(7) At a public meeting in Summerfield later in September 2007 NCDOT officials discussed the two options for an I-73 interchange with NC 150 before local residents. This would only be needed if I-73 would be using the NC68-US 220 Connector.8 Finally, signs put up along the completed Greensboro Loop section in December 2007 referred to the route as either 'Future I-73/I-840' or 'I-40/I-73,' clinching the new route as official (see photo in Segment 5). Signs on Bryan Blvd at the the Loop interchange, however, only indicated 'To I-40, Winston-Salem.' A photo below shows that the new road built near the future Airport interchange may be up to Interstate standards, the interchange will be around the corner where a traffic lighted intersection currently exists. The roadway beyond the lights to the Greensboro Loop interchange appears to be built to interstate standards as well. The study's apparent recommendation came in October 2008, NCDOT and the Greensboro MPO agreed on a plan which takes I-73 off the Loop at Bryan Blvd then takes Bryan Blvd west about 1.8 miles beyond the airport interchange. Following this interchange, I-73 will continue west but be routed on a new freeway 1.2 miles long to an upgraded NC 68 where it will turn north where after less than a mile it will leave on the NC 68-US 220 connector (See I-73 Segment 3). The cost of upgrading all 3 miles between NC 68 and the Loop was estimated to be $144.3 million according to the 2014-2023 STIP released in September 2012.10
Construction Plans Provide Clues as to Future I-73 Signage between Loop and NC 68 North
In July 2013, NCDOT released plans for constructing the next segment of the Greensboro Loop from Bryan Blvd to US 220/Battleground Ave to start in the fall of 2013. As part of the project, the exits on the I-73 portion of the Loop north of I-40 will be changed to reflect I-73 mileage. The exit number for W. Friendly Road will changed from 2 to 104 and I-73 and Bryan Blvd will become 107 northbound, remaining Exit 3 the other direction. The exit signs will also be updated along the current Bryan Blvd section between the Loop and the PTI Airport exit. The exit sign will read Old Oak Ridge Road/ PTI GSO Airport and will be given the exit number 109. I-73 North signage accompanying the exit 109 signage will list Martinsville, VA as a destination, or control, city. It is unknown whether NCDOT plans to change the exit signs and numbers along the existing roadways at the end of the project, or while the next segment of the Loop is being constructed.11 Here's a few images of the signage plans for Bryan Blvd, these signs started going up in April 2016, see the photo section for images of the first two signs shown below: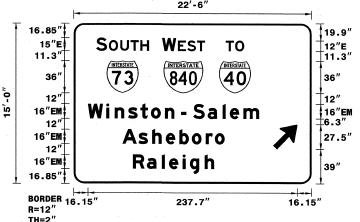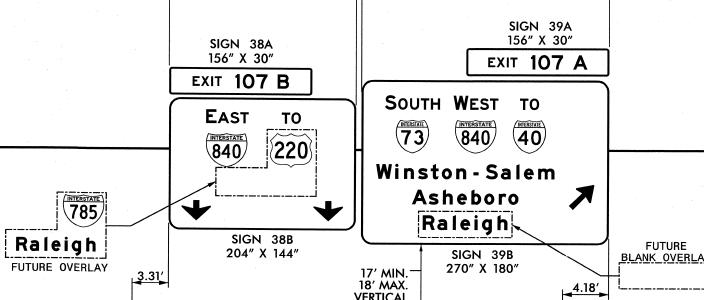 Here are a few more images of signage plans along the "I-73 Connector" portion of this segment, from contributor, Strider going North to South: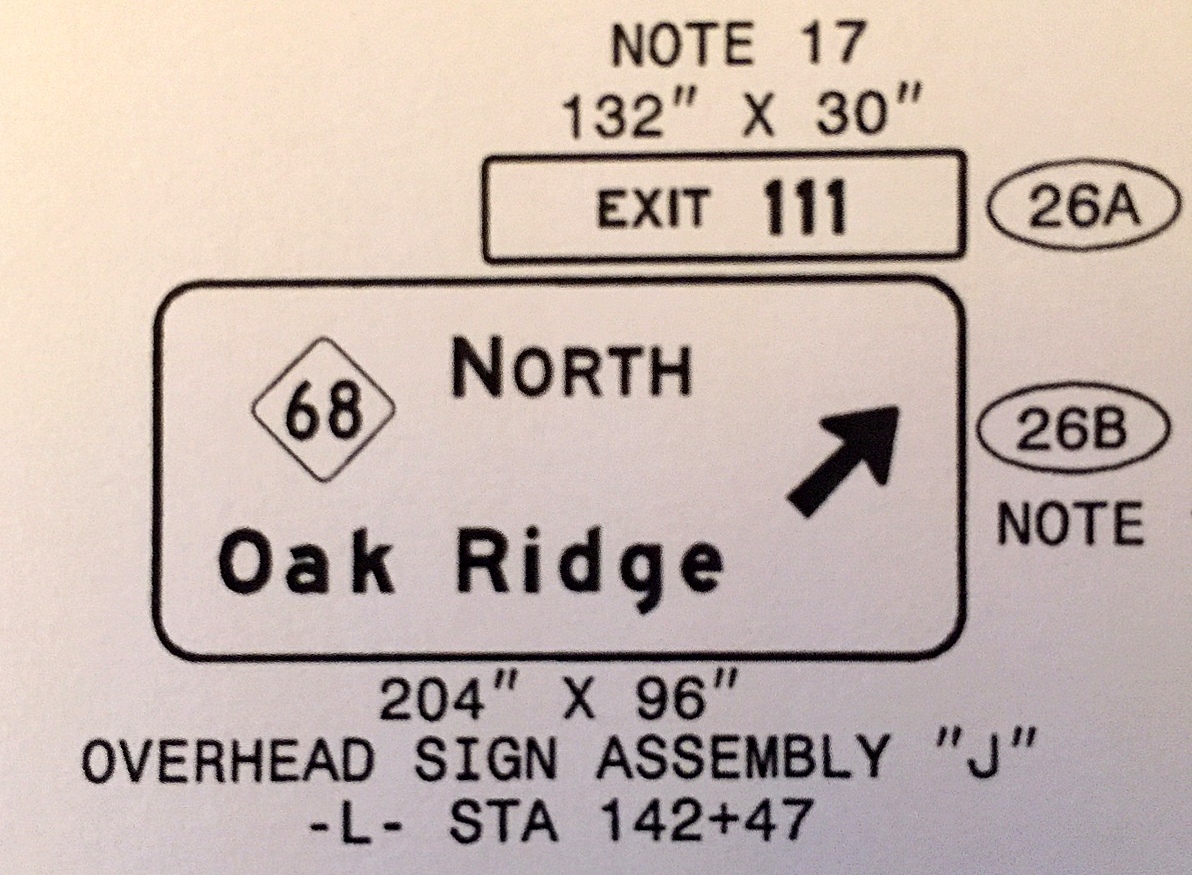 Plans for 1 Mile advance sign for NC 68 along I-73 North along segment that parallels NC 68.
---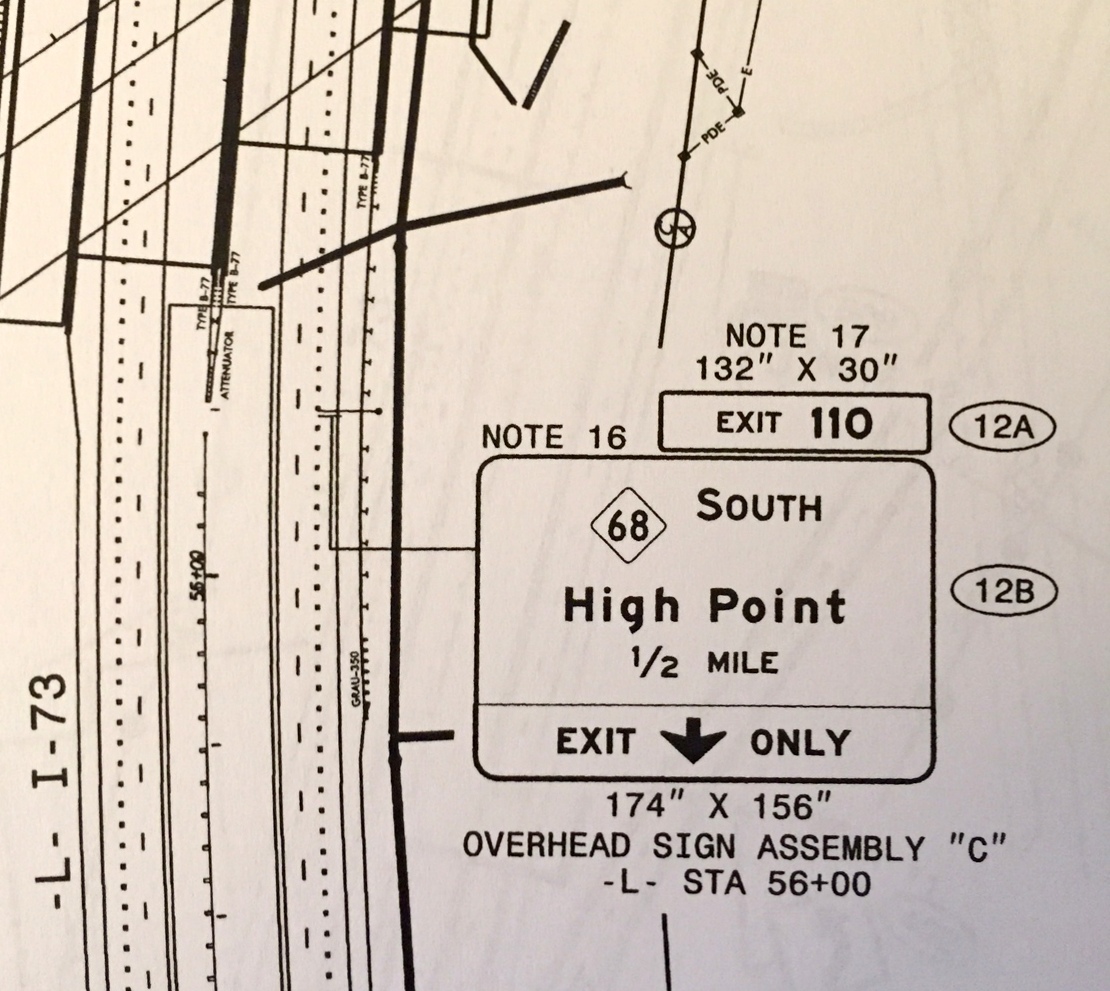 Plan showing location for NC 68 South 1/2 Mile Advance sign on I-73 South.
---
---
View of overhead signs to be placed along I-73 North just after splitting from Bryan Blvd and heading west toward NC 68.
---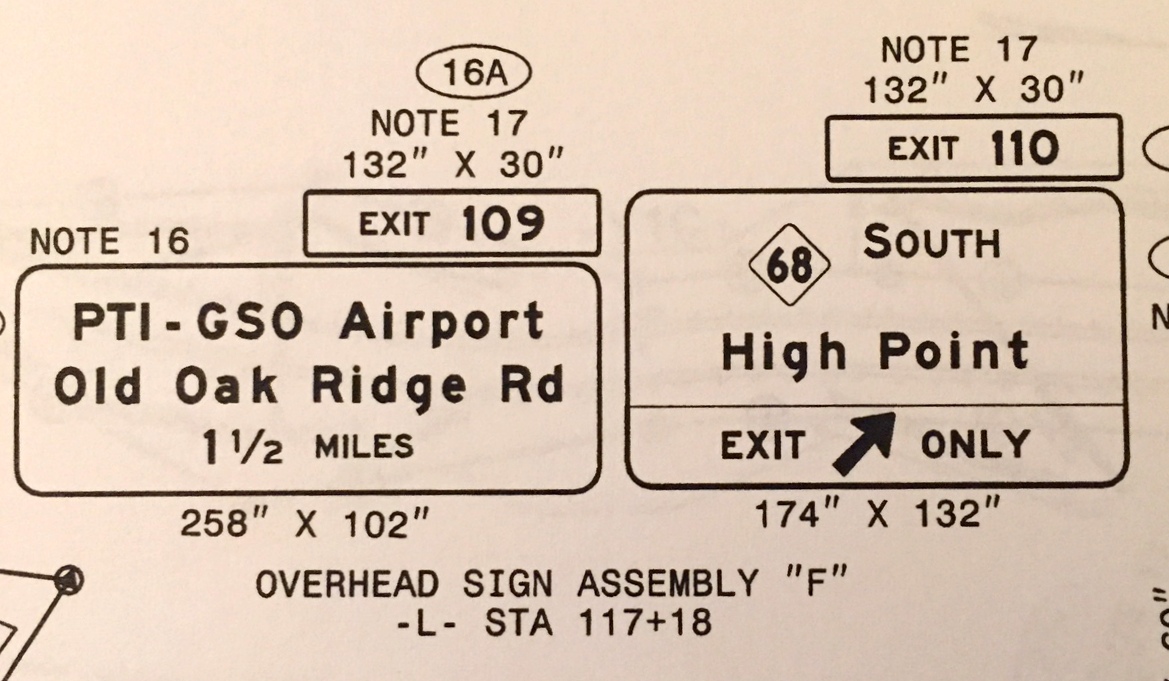 Overhead signage to be placed at NC 68 exit on I-73 South with 1 1/2 mile Advance Sign for PTI Airport, I-73 to turn to the east after the exit.
---
Overhead signage at ramps from NC 68 to I-73 at northern end of parallel section.
---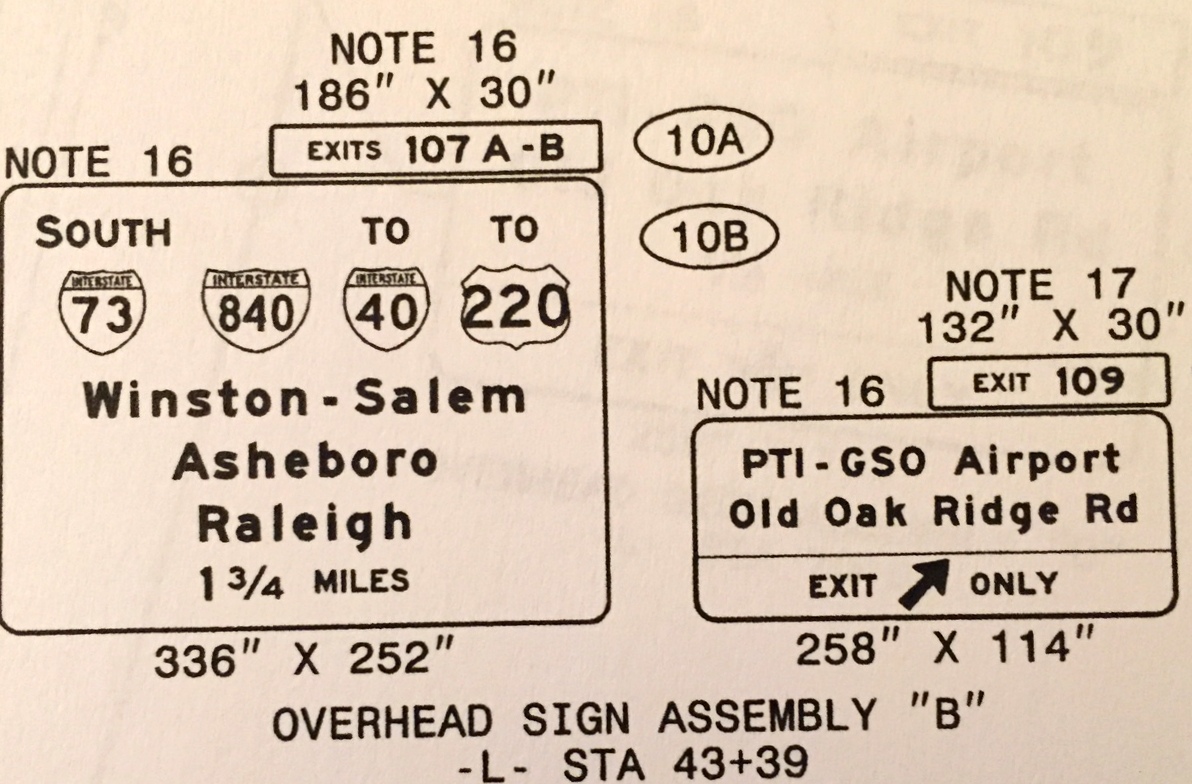 Overhead signage to be placed at PTI Airport exit on I-73 South with advance signage for I-840 Greensboro Loop, the northbound versio of the Exit 107 sign is up and can be seen in the photo section below.
---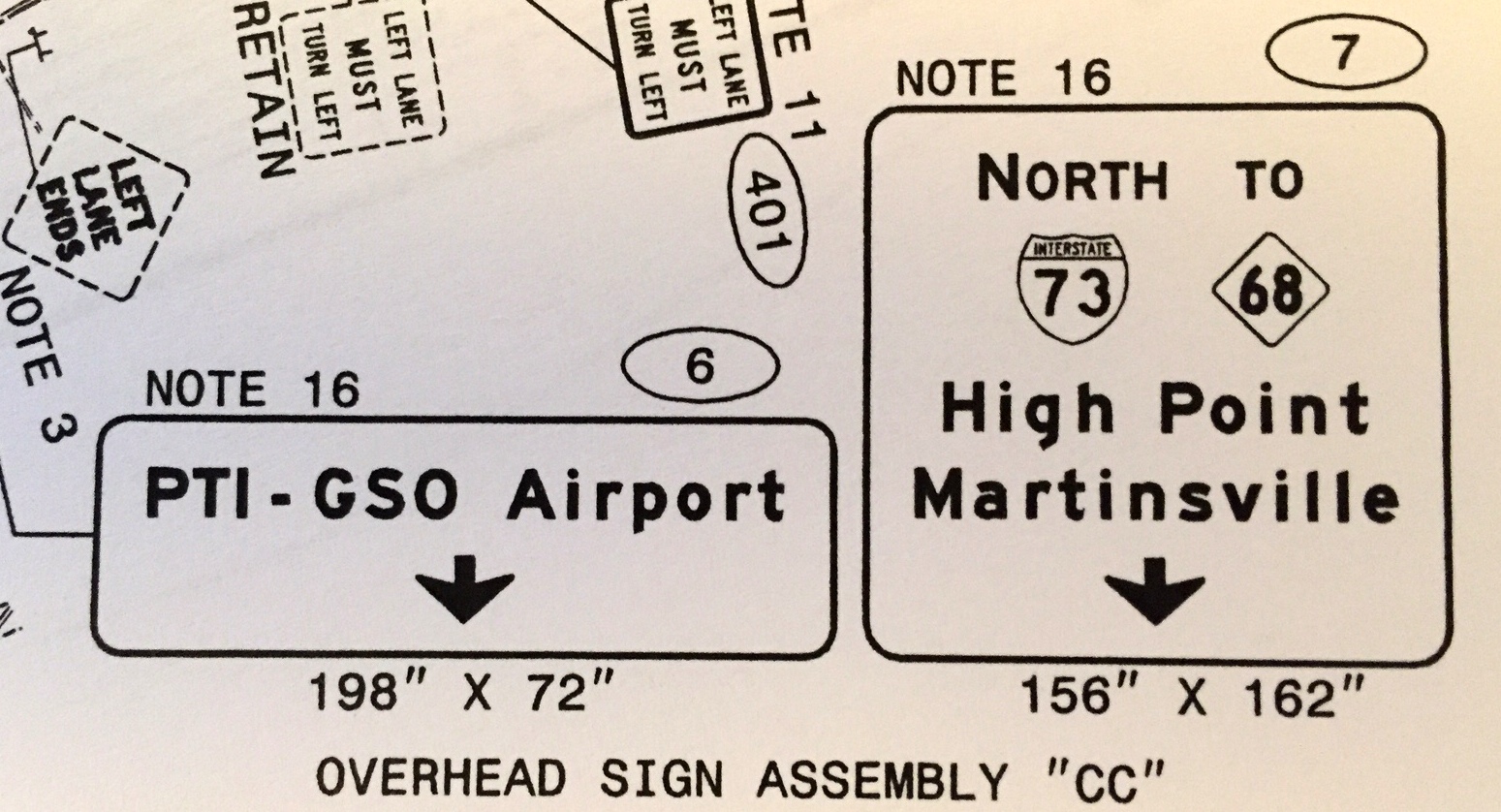 Signage to be placed along ramp system for PTI/Old Oak Ridge Road interchange that will guide non-airport traffic to I-73 North.
---
No new overhead signs have gone up along Bryan Blvd East for the I-840 Loop interchange. For now, NCDOT has posted several To I-73 South trailblazers along Bryan Blvd. heading east such as seen through this link to Google Street View.
Construction Timetable for I-73 Connector Moved Up to May 2014
Meanwhile, it was announced in late May 2013 that the timetable for construction of the I-73 Connector had been moved up from 2016 to the Spring 2014, pending the completion of an environmental assessment by URS Corp. The I-73 construction project (Tip No. I-5110) also includes building an additional taxiway for PTI Airport and developers of land adjacent to the airport, that can only be reached by the new taxiway, urged the timing of the project to be sped up so not to lose out on the major manufacturing companies that would like to build there. The NCDOT spokesman indicated if the project started on schedule, it could be completed during 2015.12 In September 2013 NCDOT posted the letting list for its Design-Build Projects over the next year. The I-73 Connector project was now combined with the project to build the 'NC 68-US 220 Connector', TIP Project R-2413, Parts A and B, and the combined design-build contract was let in April 2014 and work started in early May. The project was awarded to a joint venture of Flatiron Constructors and Blythe Development Co. for $176.6 million. Work has started on clearing the freeway's path and removing dirt for construction of the taxiway near the PTI Airport. As of the first week of February 2017 work was 94.2% complete. The completion date for the entire project (from PTI Airport to US 220) is now listed as October 2017.13 However, in January 2016, NCDOT officials indicated that the later date was for the taxiway not I-73, and that they planned to open the entire stretch of I-73 from the Airport to US 220 (see Segment 3) by the end of 2016.14 However, a report surfaced in December that the entire stretch from PTI Airport to US 220 would not open until the work in Segment 4 was complete, hopefully by May 2017. Though, as of October 2016, revisions to the work contract have moved the completion date for the I-73 Connector portion back to June 2017.15 NCDOT also announced on July 9, 2015 that the project that will complete the final upgrades to the I-73/Bryan Boulevard/I-840 Greensboro Loop interchange (work originally part of the I-73 Connector project contract, but separated out before that was awarded) was awarded to Flatiron/Blythe for $5 million. Work began on September 8, 2015 and the project was competed in October 2016, with the exception of remaining work needed on the southbound ramp to I-840 along with planting, reforestation and permanent vegetation with the ramp work supposed to be completed as of late November 2016. Earlier, in May the new Inman Road bridge was completed, and was opened to traffic in June 2016.16
Progress on this segment as of early February 2017 as reported by contributor Strider:
Exit 107: I-73/I-840/Bryan Blvd interchange: Work has been completed on rebuilding the interchange, and widening of the ramps to I-73 North from 2 to 3 lanes and adding a lane to the ramp that will carry I-73 South onto the Loop.
PTI Taxiway area: The taxiway bridge is finished. Work to fully grade the future I-73 roadway underneath is still under construction, however.
Future Exit 110: I-73 / NC 68 South interchange: Work is proceeding on completing the bridges near the Pleasant Ridge Rd intersection and ramps are graded along interchange itself.17
For diagrams of the route to be constructed and, possibly, the latest news, on the project, visit the NCDOT site:
Photos from Segment 4 (Hover over to Get Larger Image):
Latest Photos from Site contributor Strider from February 2017:
New photo taken on February 19 from NC 68 North showing progress grading future ramps for I-73 from the direction of Bryan Blvd.
---
From earlier in February, taken from NC 68 South, showing progress in building ramp bridges to and from I-73 North (NC 68-US 220 Connector) over the roadway.
---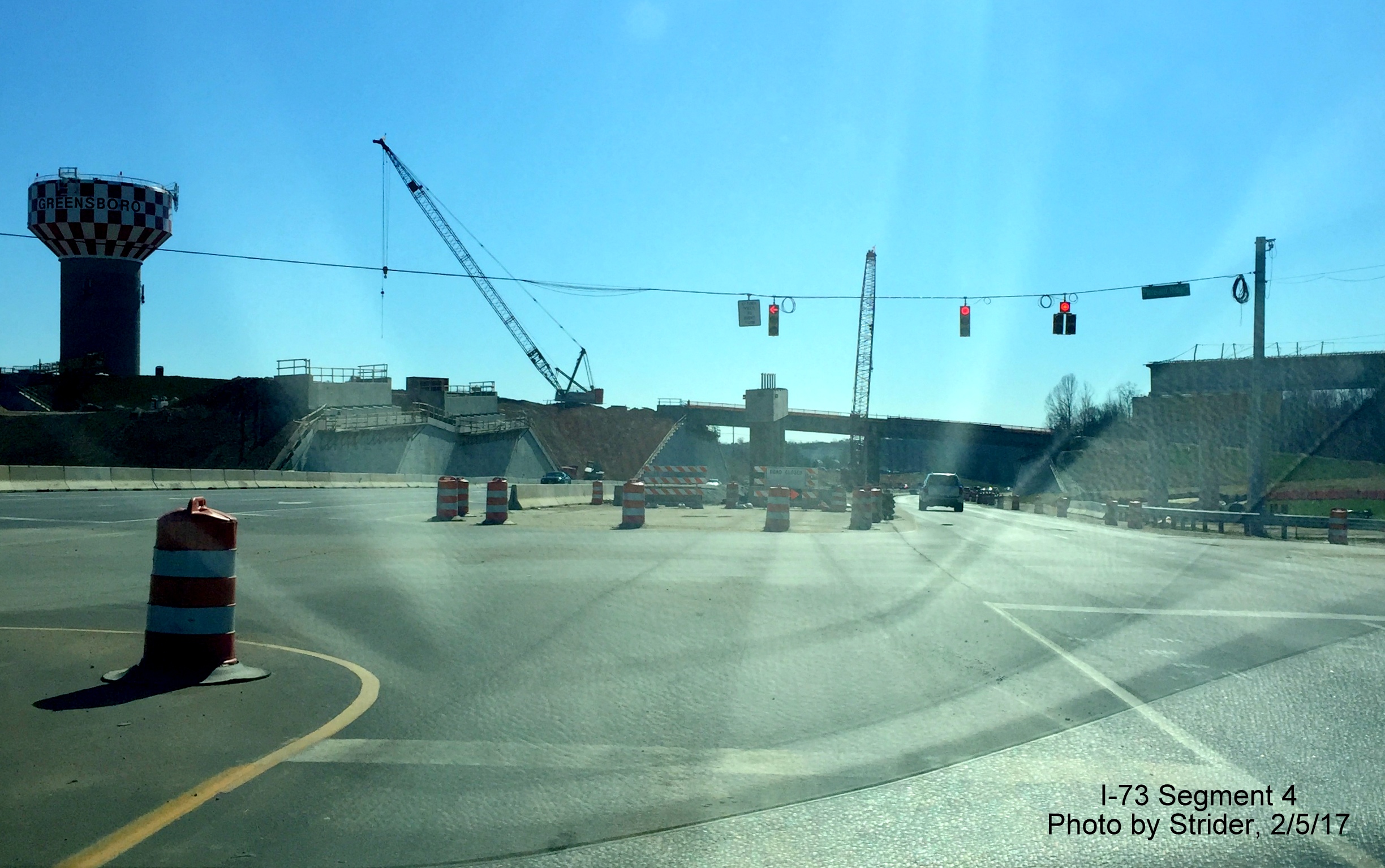 Further south in NC 68 prior to Pleasant Ridge Road showing one bridge built over the roadway for the I-73 connector to Bryan Blvd., while others remain to be completed.
---
On the other side of the construction project, a closeup view of the PTI Taxiway bridge over the future I-73 lanes, as seen from Bryan Blvd.
---
Earlier Photos from Site contributor Strider from December 2016: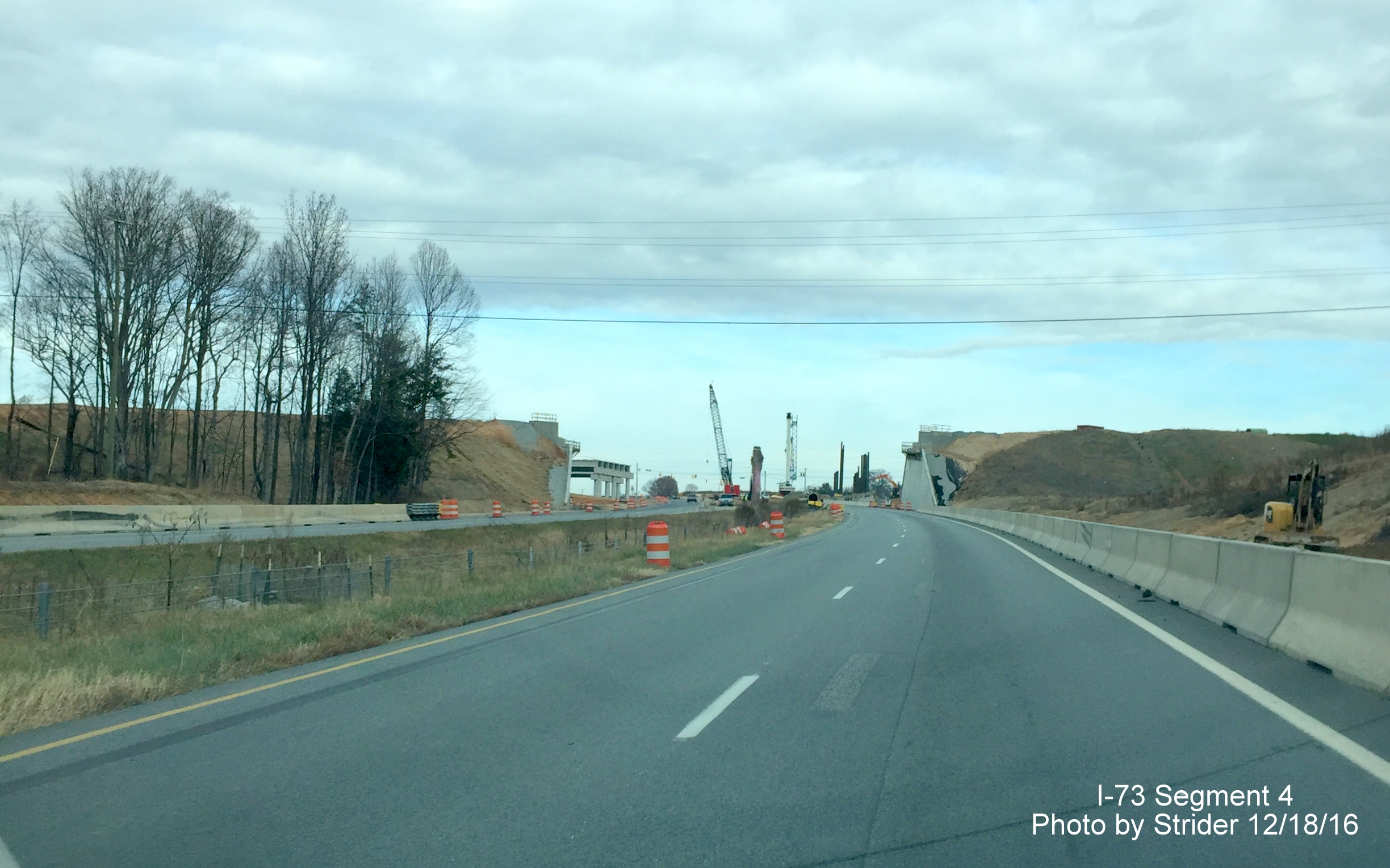 Looking north on NC 68 entering I-73 construction zone showing progress in building ramps that will take I-73 across the highway.
---
Close up view of bridge supporting structures being built near Pleasant Ridge Road for future I-73 bridges.
---
Looking at bridges being built on opposite side of NC 68 near Pleasant Ridge Road with crane for placing supports above the roadway.
---
On the other side by Bryan Blvd: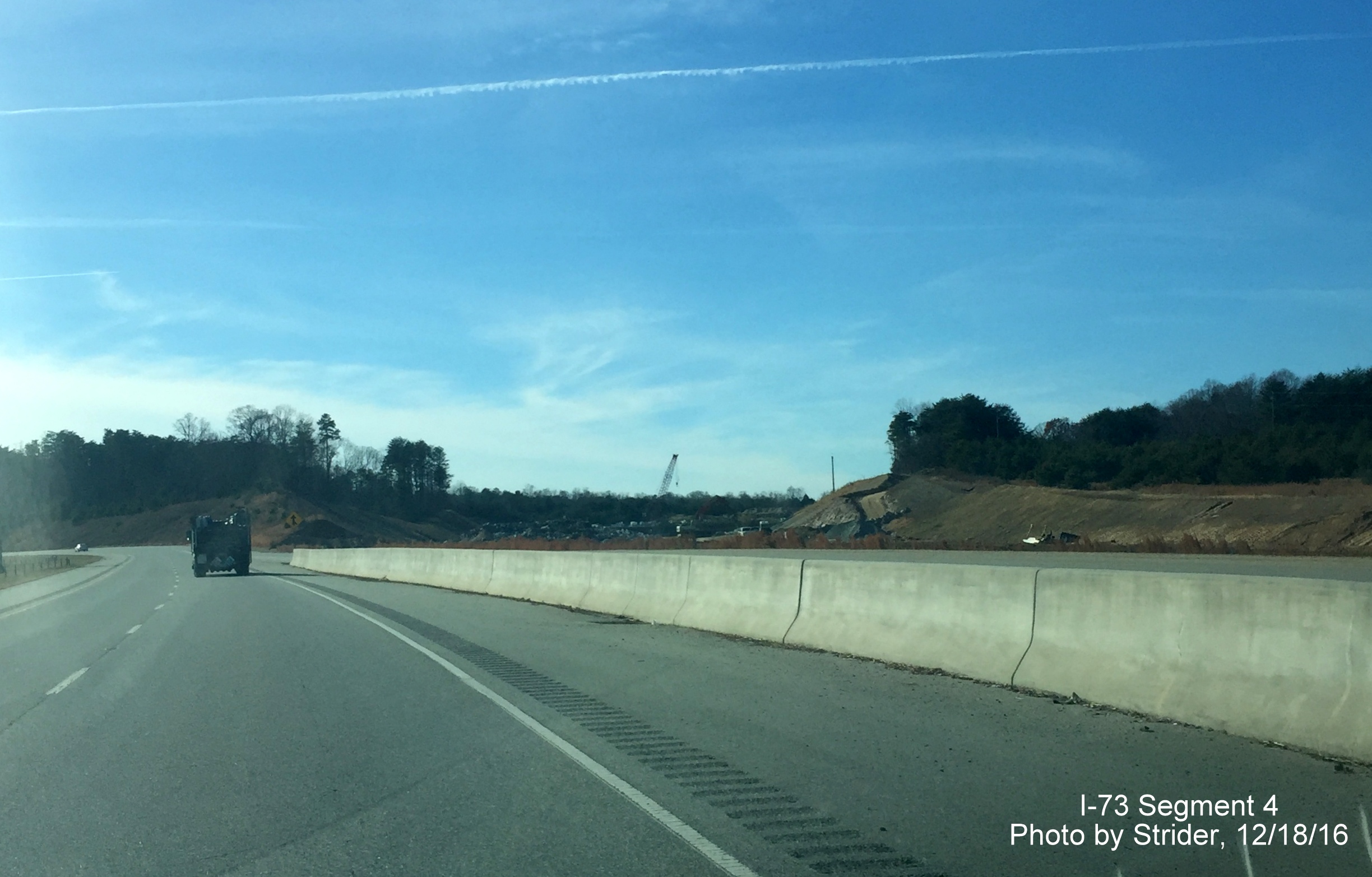 View looking west on Bryan Blvd to start of Future I-73 Connector showing a clearer view of the Taxiway under construction now that a hill in front along the path of I-73 has been removed.
---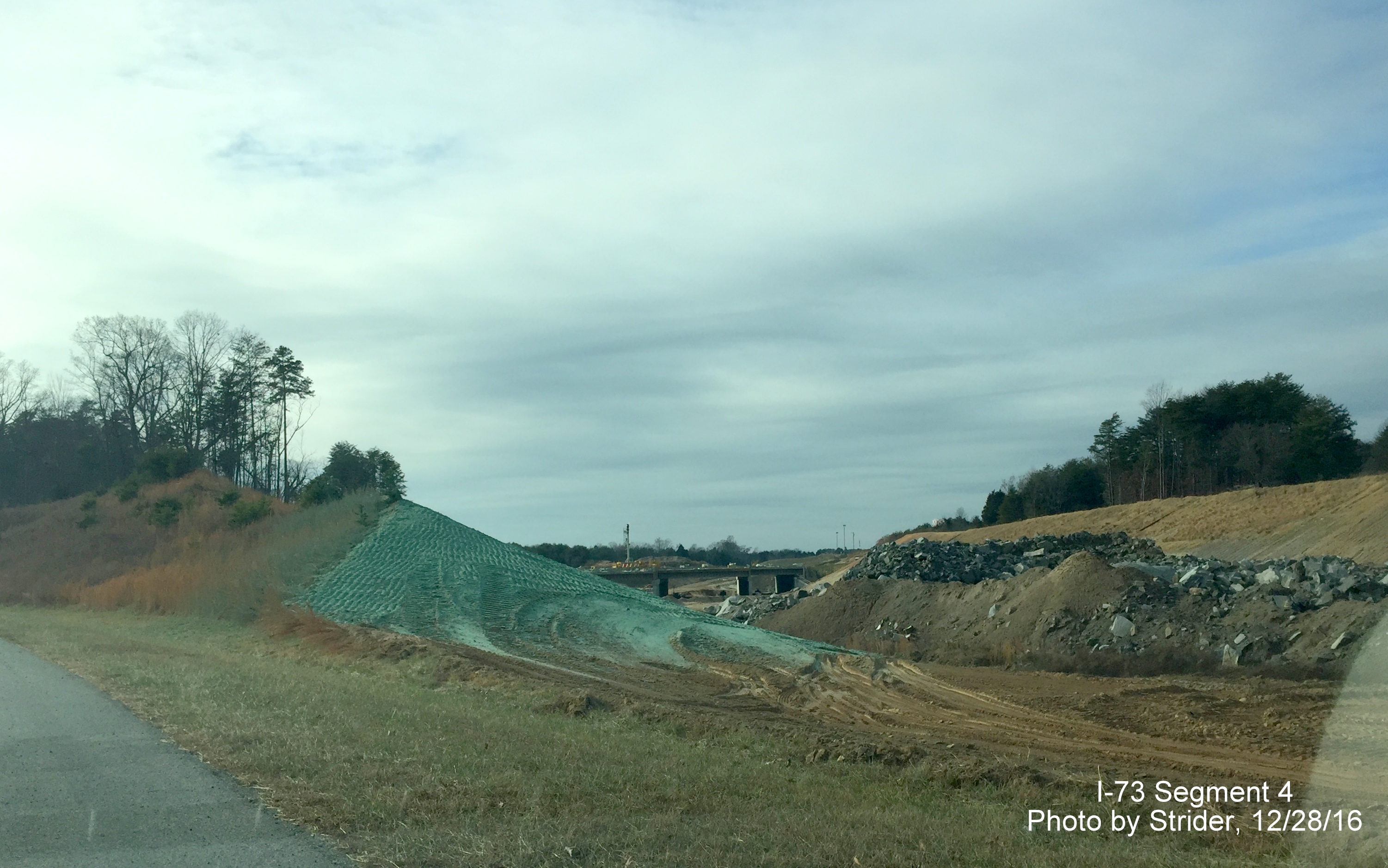 Closer look from Bryan Blvd. at I-73 roadway and PTI Airport Taxiway bridge construction, photo taken by Strider on 12/28/16.
---




















Previous Photos by Strider, date on lower right corner, starting in November 2016:
View from NC 68 North approaching I-73 interchange area, work has recently been restarted in this area.
---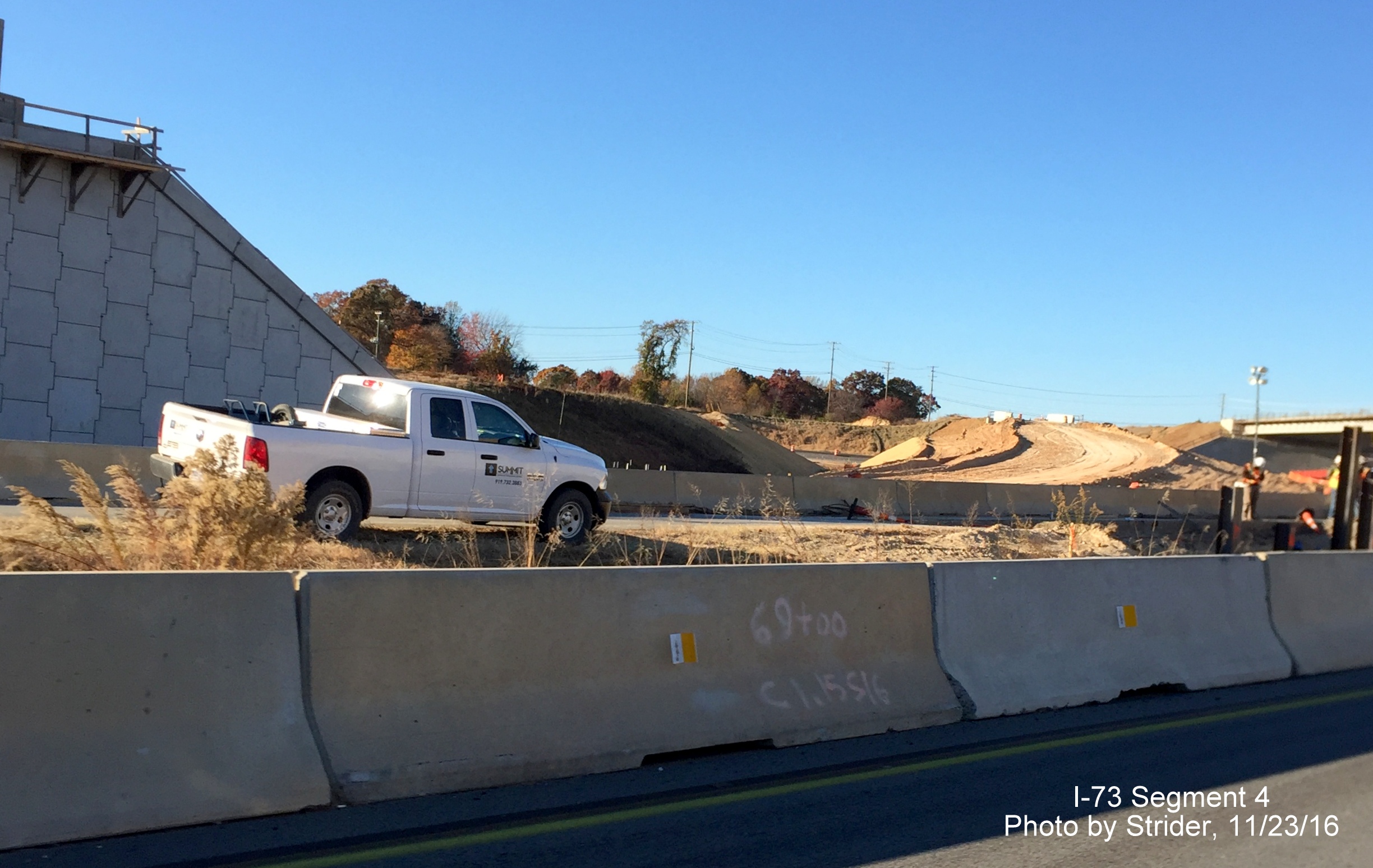 Further north on NC 68 looking across the highway at progress in building the future on-ramp from I-73 South to NC 68 South.
---
Another photo taken from NC 68 north showing the future widened roadway in vicinity of the Future I-73 interchange.
---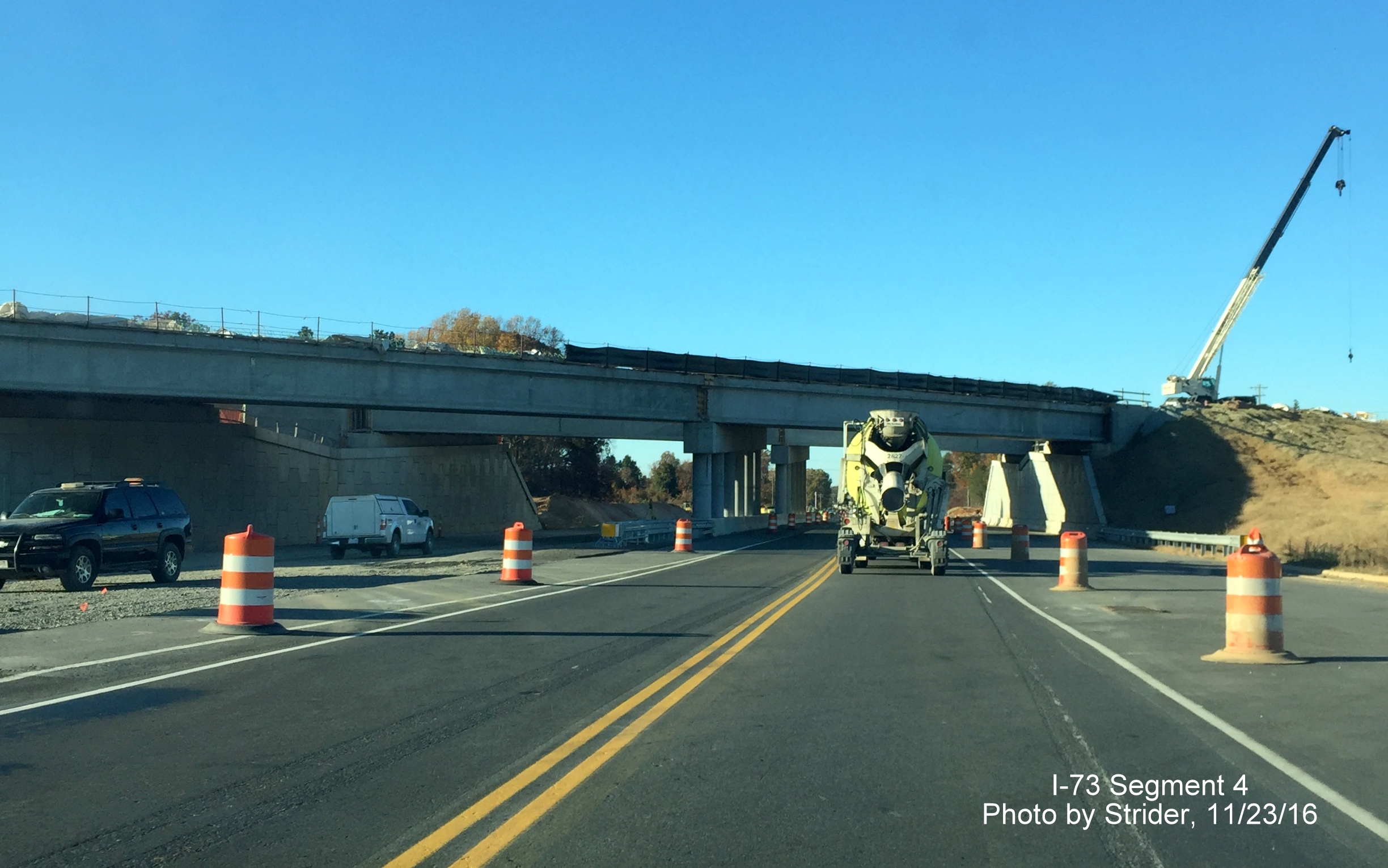 Further north on NC 68 approaching nearly completed future I-73 bridges.
---
PREVIOUS PHOTOS
Bryan Blvd Area (Photos by Strider from October 2016):
View from the top of the ramp from Old Oak Ridge Rd to Bryan West (I-73 North) showing that the PTI Taxiway is about to be completed.
---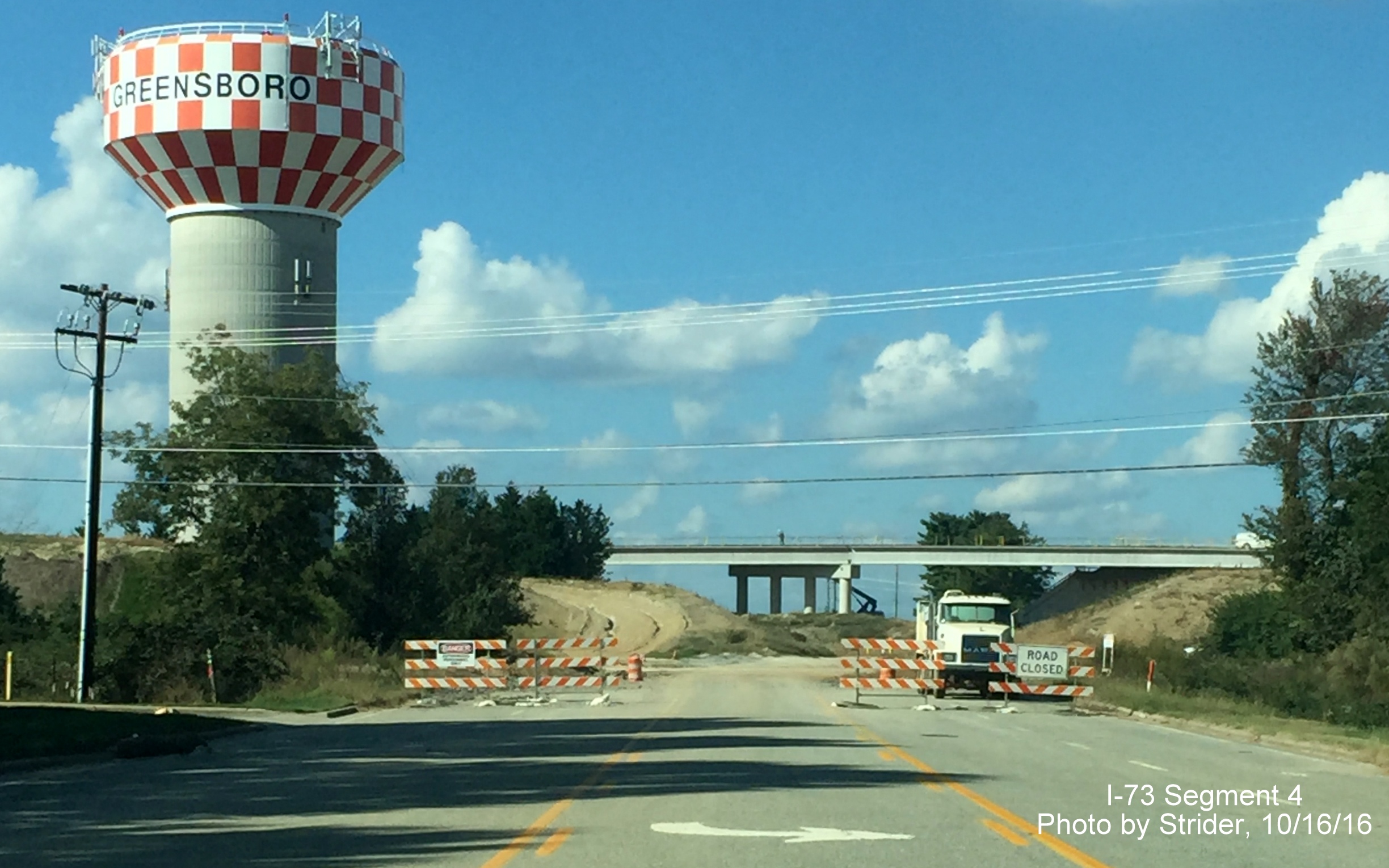 NC 68 AREA-View at the north end of Regional Road where you can see the NC 68 South flyover taking shape that will take traffic to NC 68 south from I-73 North.
---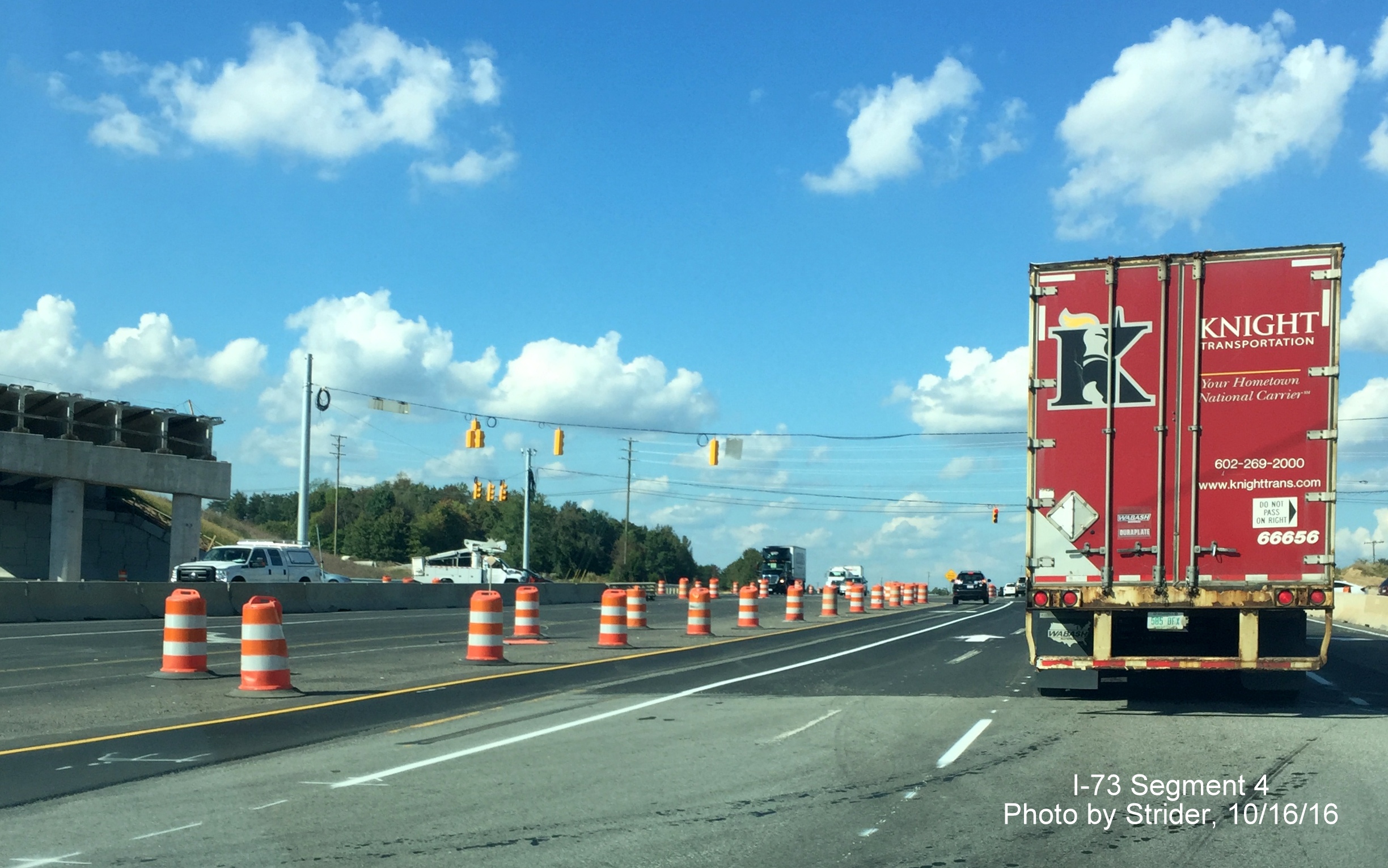 Taken from NC 68 north facing the relocated Pleasant Ridge Rd intersection. Traffic has been taken off the old road so they can start working on the completing the main I-73 bridges that currently ends abruptly on the left side of the photo.
---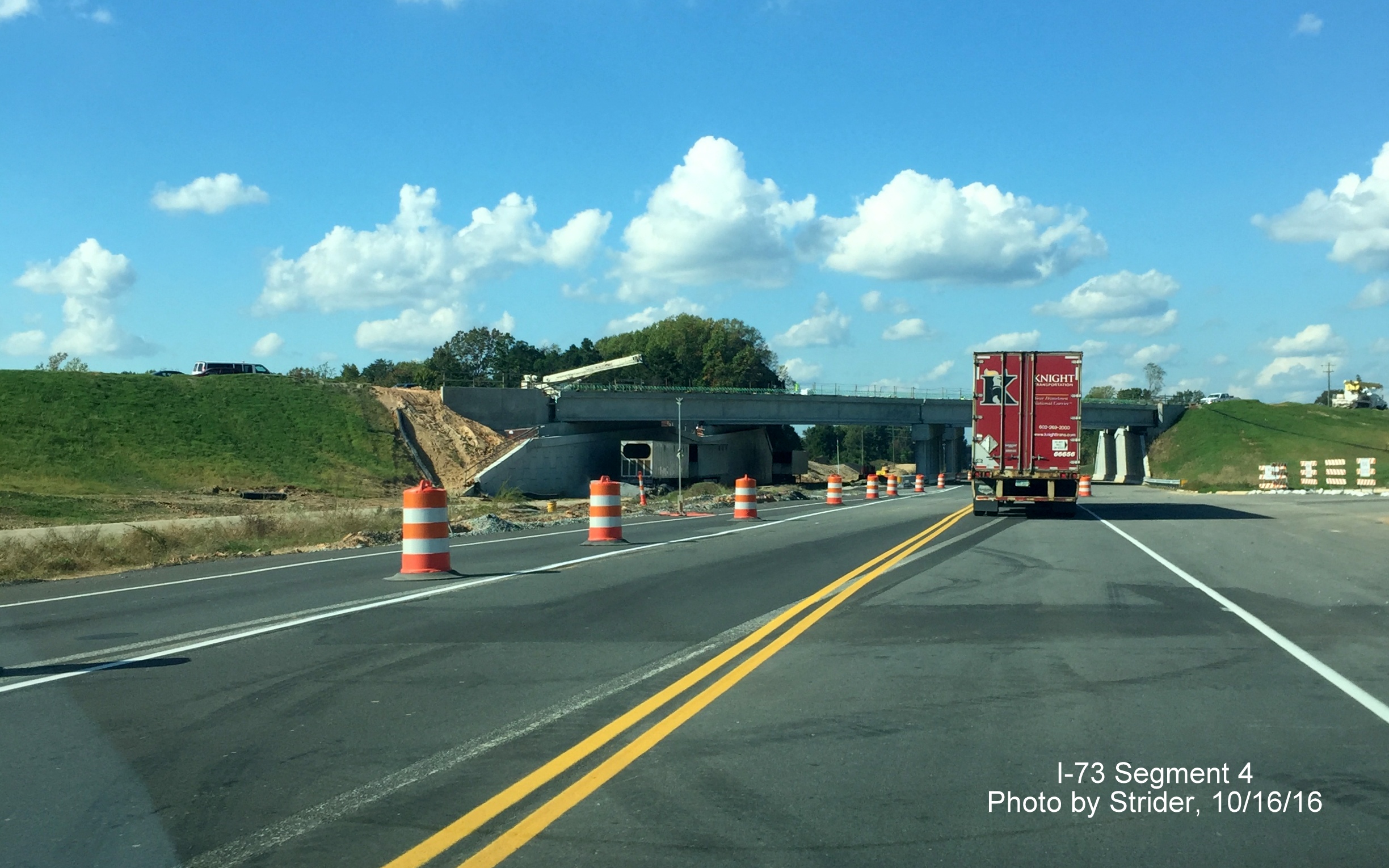 Taken further north on NC 68 approaching the next set of I-73 bridges. The crews are working on placing the road decks on the bridges. To the right is the ramp to the US 220/NC 68 connector that should be open by the end of the year.
---
View from NC 68 South at the relocated Pleasant Ridge Road intersection showing the I-73 flyover bridges under construction that will carry I-73 over NC 68 to the I-73 connector to Bryan Blvd.
---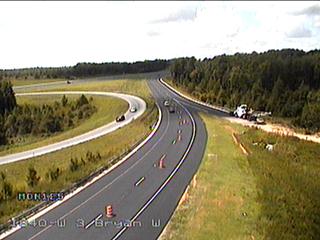 View from NCDOT Traffic Camera showing completion of paving project along Future I-73 North ramp from the I-840 Greensboro Loop to Bryan Blvd. Photo taken 8/18/16.
---
View from Inman Road on August 20, 2016 showing recent paving on future I-73 Northbound lanes continuing from ramp from I-840 East onto Bryan Blvd. Work is to start on revising ramp from Bryan Blvd to I-840 Greensboro Loop West to contain two lanes later this month, photo by Strider.
---
View from New Inman Road Bridge shows Bryan Blvd (Future I-73) northbound lanes being widening and paved for the ramp merge onto I-73 from I-840 East. Facing west toward Exit 109, the PTI-GSO Airport and Old Oak Ridge Rd interchange.
---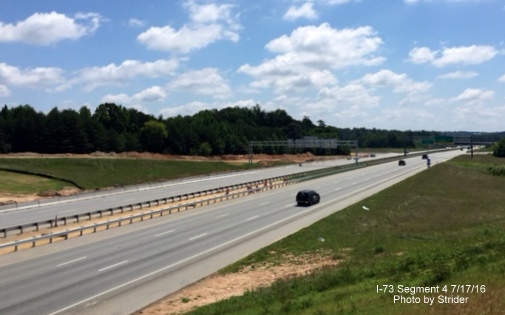 Another view from new Inman Road Bridge, but facing East toward the future I-840 interchange (Exit 107) showing widening being done to future I-73 on-ramp.
---
View of Future I-73 North from PTI Airport exit on-ramp showing the PTI Taxiway over Future I-73 lanes in the distance nearly completed.
---
Image of new overhead signage put up in April 2016 that has first use of I-73 South and I-840 West for the South Loop exit. The blank space on left sign is for I-73 North. According to the sign plans above, Raleigh was to be covered over until I-840 was completed. Photo courtesy of MazdaStrider.
---
Another new overhead exit set after the Loop exit features the Future I-73 exit number for the PTI/Old Oak Ridge Rd Exit, Photo courtesy of MazdaStrider.
---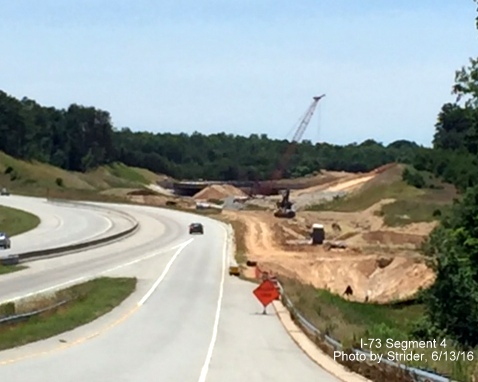 View from Oak Ridge Rd/Airport exit by Strider on June 13, 2016 showing nearly complete left bore for future Airport Taxiway over I-73 with work on the right bore continuing.
---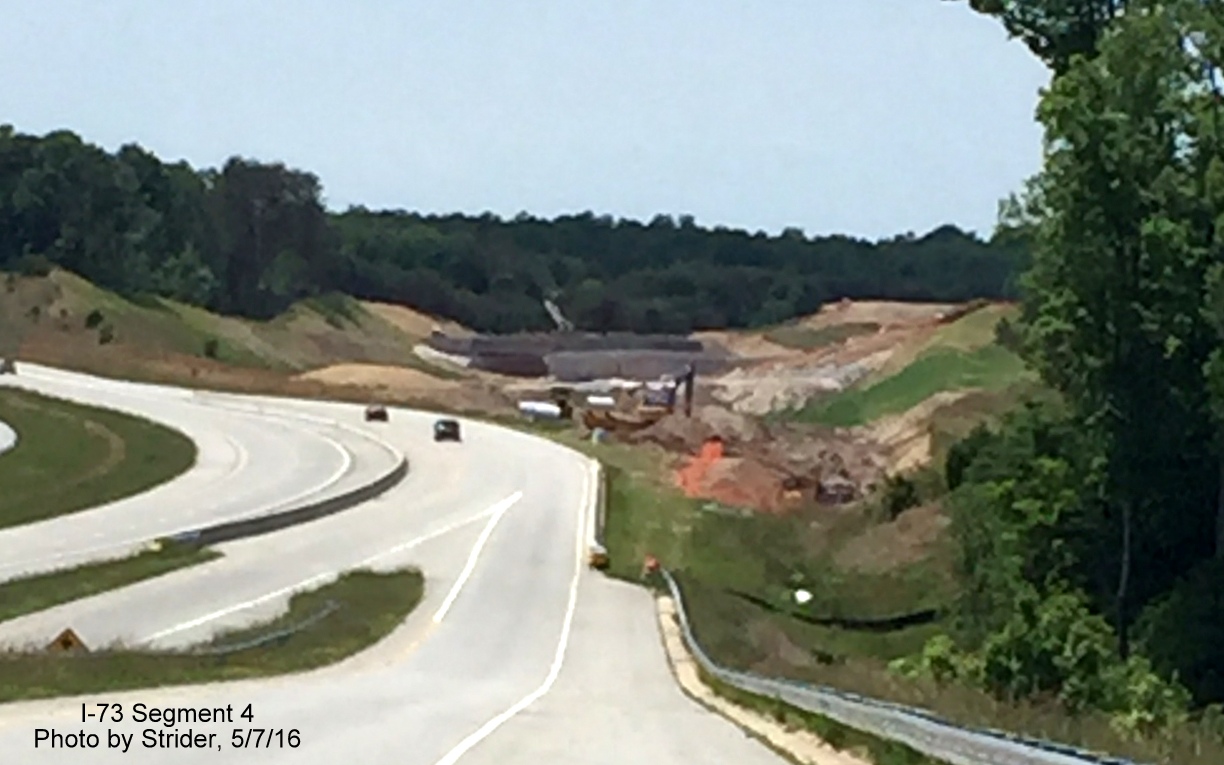 View from on-ramp from PTI Airport Exit looking at cleared area for I-73 North and construction of new taxiway for PTI Airport, from Strider, May 2016.
---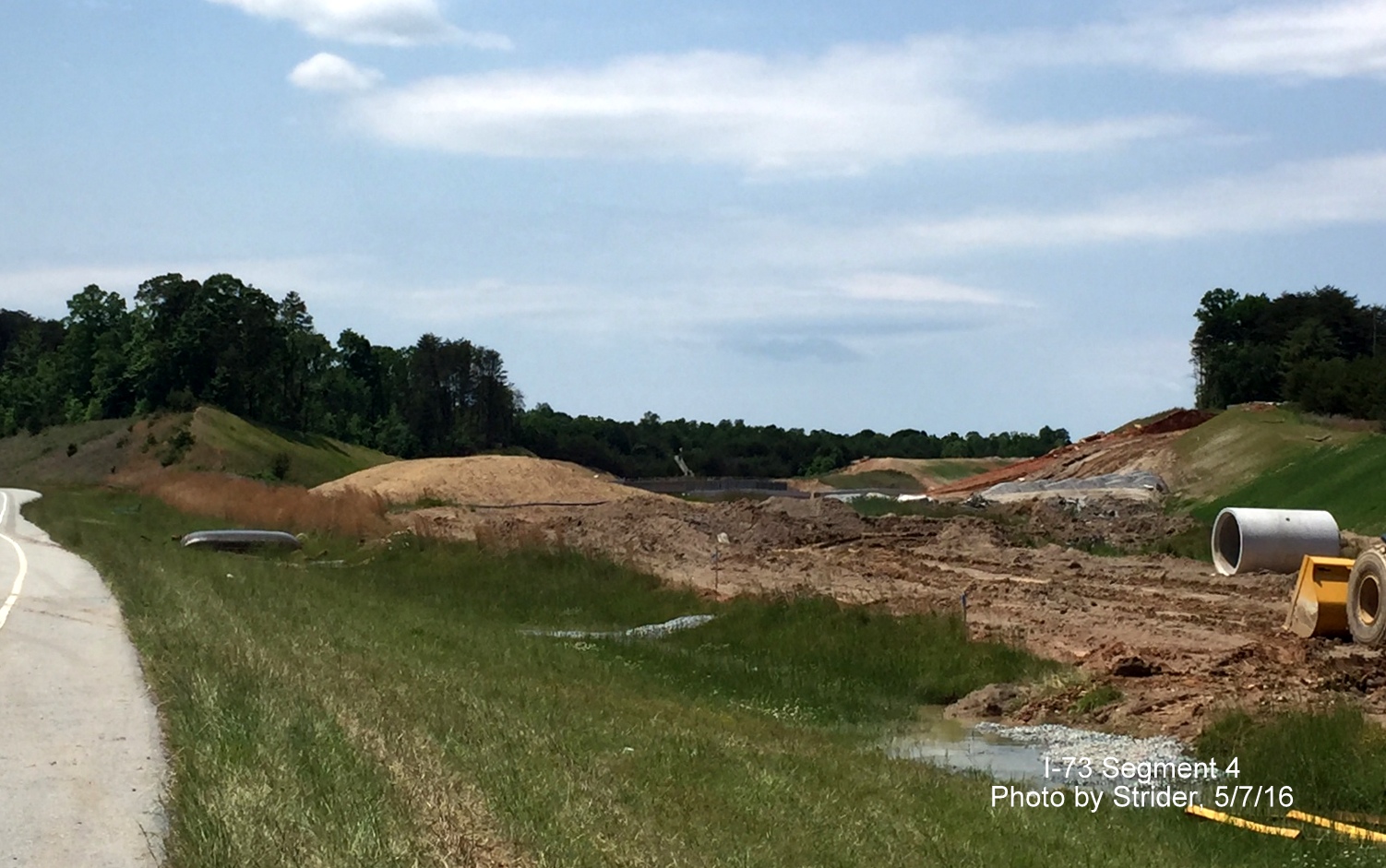 Closer look at future I-73 alignment leaving Bryan Blvd with construction of PTI Airport taxiway in distance. Photo courtesy of Strider, May 2016.
---
Looking west at clearing at eastern end of project area, I-73 will go straight onto the Connector as Bryan Blvd. curves to the left. (Photo courtesy of Strider, August 2015).
---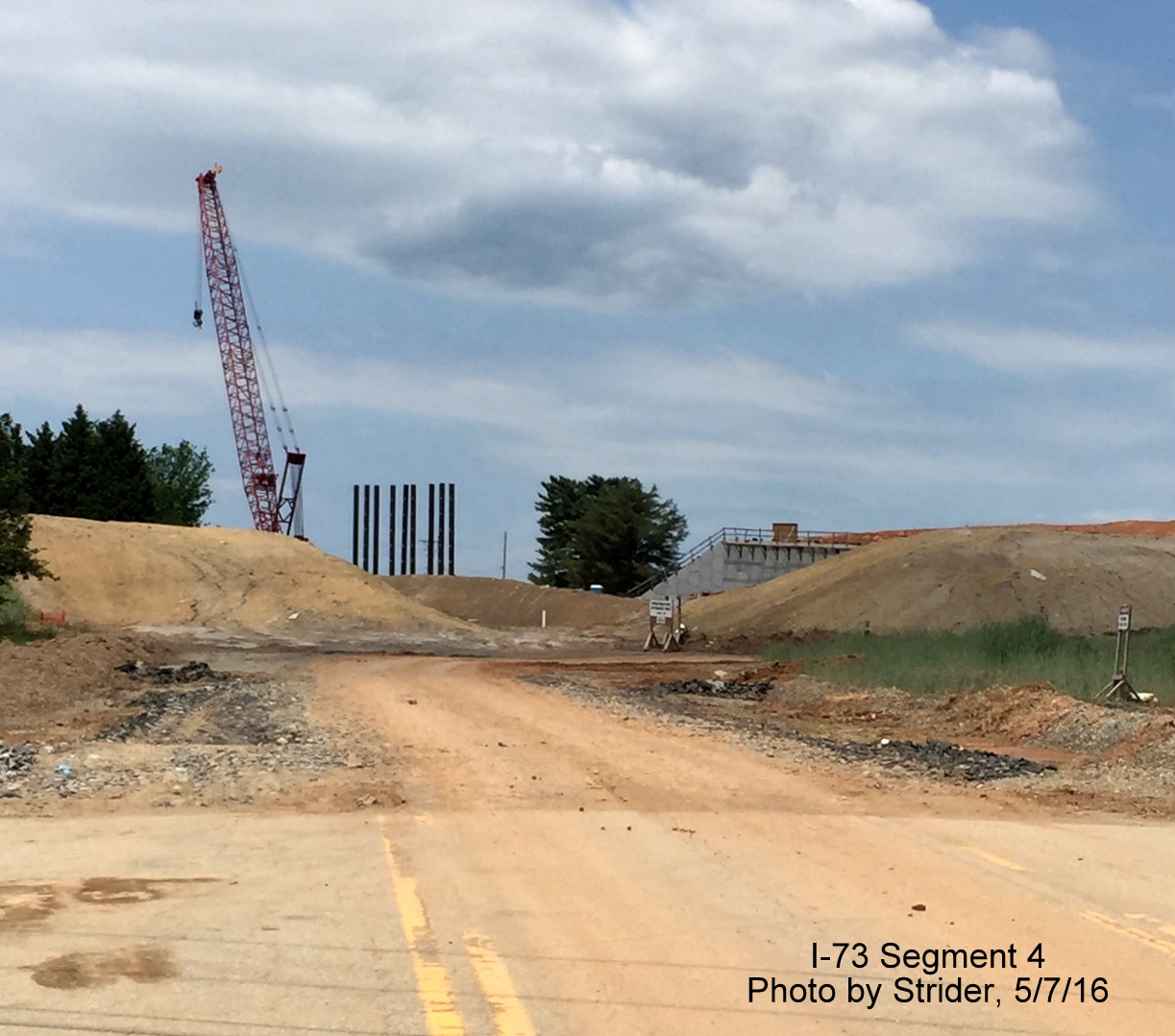 Looking from now dead end of Regional Rd looking at construction equipment building the taxiway over the future I-73 highway lanes. Photo courtesy of Strider, May 2016.
---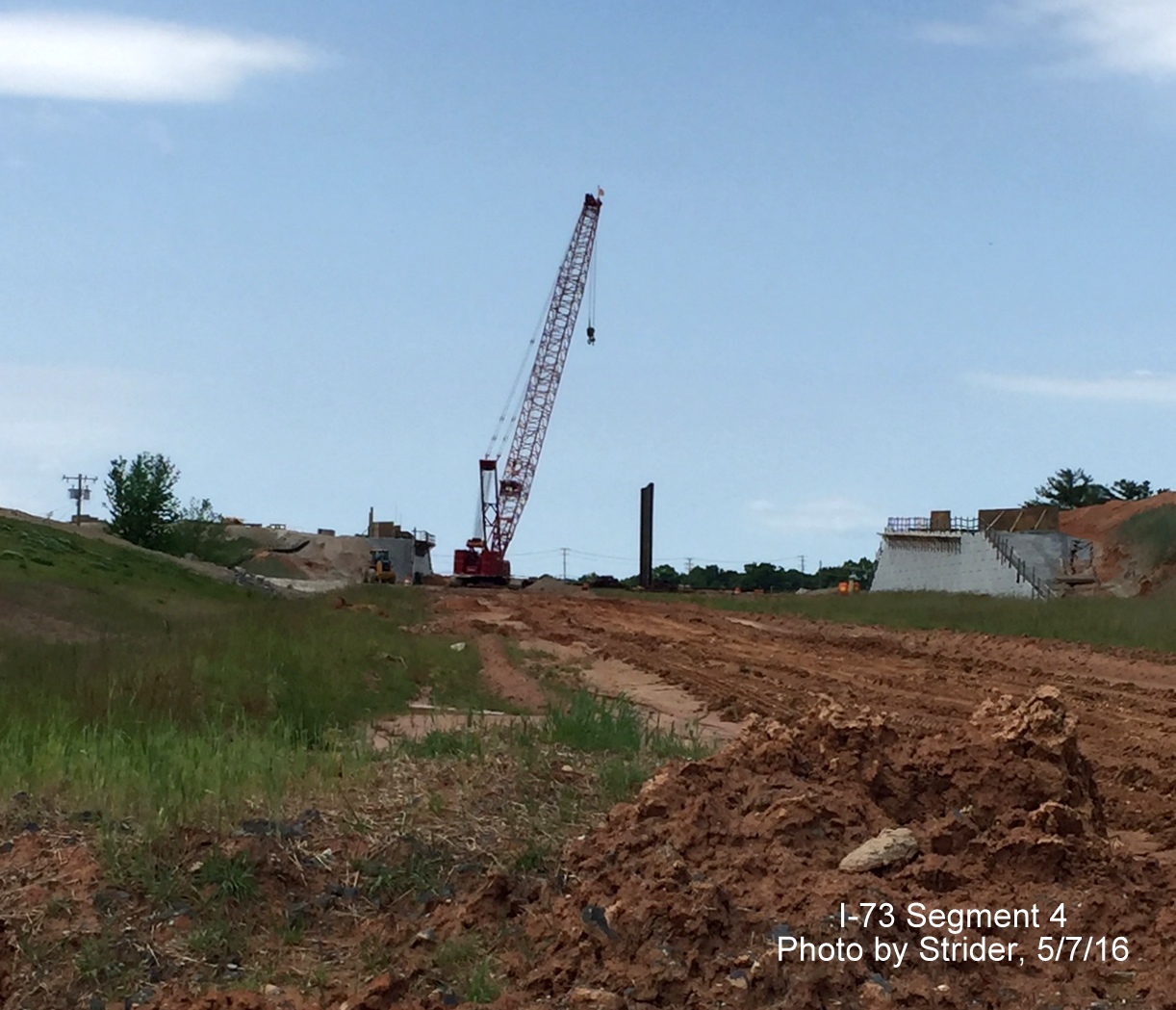 View from the future I-73 Northbound lanes looking at bridge being constructed over highway. Photo courtesy of Strider, May 2016.
---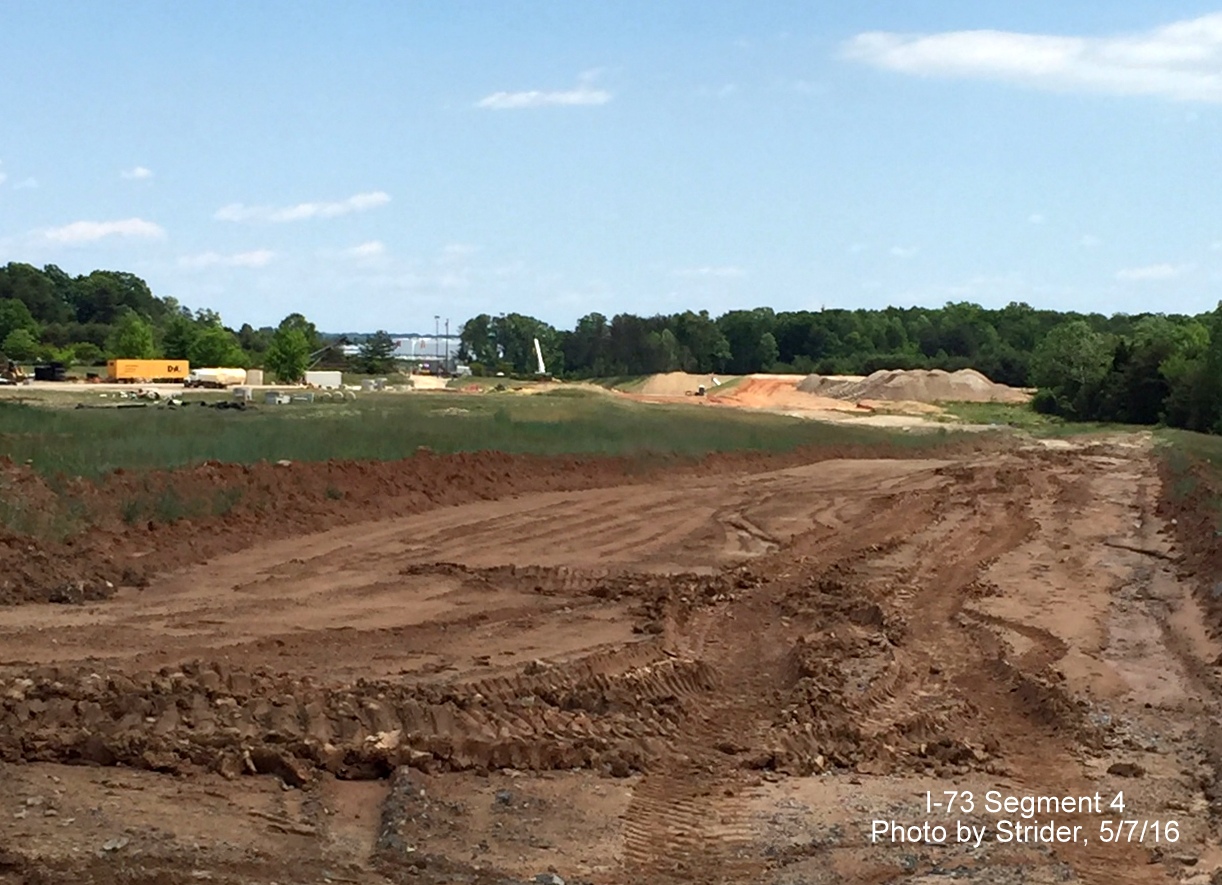 View from future I-73 North Lanes looking east toward PTI Airport showing progress in grading roadbed.
---
Traveling along NC 68 North, near Pleasant Ridge Rd. viewing the clearing for the future interchange with I-73 (and a rerouted Pleasant Ridge Rd).
---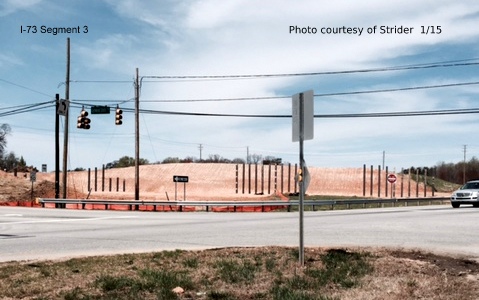 Looking at the intersection of Pleasant Ridge and NC 68 and the start of construction of bridge piers for I-73 to go over NC 68 and Pleasant Ridge Rd.
---
From the route of Future Pleasant Ridge Rd, the road will go under I-73. These three piers under construction will carry the NC 68 south ramp, I-73 Southbound lanes, and I-73 Northbound lanes.
---
Looking at Pleasant Ridge Road at the NC 68 intersection where you can see the massive clearing taken place where I-73 will turn to the east to connect with Bryan Blvd (avoiding the water tower?)
---
Traveling farther north on NC 68, you can see the hill being made in order to build future I-73 bridges over NC 68 and for the future NC 68 North interchange.
---
Comment: If the freeways proposed by the Greensboro Urban Area Metropolitan Planning Organization between Bryan Blvd and I-40 and/or Bryan Blvd. to I-74 along the Winston-Salem Northern Beltway are constructed, why not give one an interstate designation such as I-273?