Segment Information
Under the routing proposal announced by then Governor Easley in 2003, Interstate 74 would follow the NC 211 corridor from US 74-76 near Bolton to the US 17 Shallotte Bypass, I-74 would then follow an upgraded US 17 south for about 10 miles until just north of the SC border where it would jog slightly west of US 17 continuing south on a new highway that would connect with a northern extension of South Carolina's Carolina Bays Parkway (SC 31) (approximated on dotted line on the map above).1 (To see a map of this proposed routing at the NCDOT Carolina Bays Parkway Extension project website, click HERE.)2
NCDOT and SCDOT held joint public workshops on this Carolina Bays Parkway connector proposal in Ash, NC and Little River, SC in February 2004.3 On February 11, 2005 SC and NC agreed upon a deal whereby North Carolina would build I-73 from the US 74 freeway near Hamlet, NC to the SC border in exchange for SC to finance building a 5-mile extension of the Carolina Bays Parkway from SC 9 to the NC border. NCDOT would then build a new 3 to 4 mile freeway from US 17 to the border to tie into SC's extended Parkway, all of which would then be designated I-74 (or a spur of I-74).4 (All of this I-74 segment would have been tolled under a later proposal that was studied, and then rejected, by the North Carolina Turnpike Authority, for more details see the I-74 Segment 18 Page).
Proposal to Build Extension Comes Back to Life in 2016 and 2019

After more than a decade of inactivity, NCDOT announced in June 2016 that an engineering firm had been hired to complete the environmental study of the North Carolina portion of the proposed route corridor. NCDOT indicated that after the study is complete, a final decision will be made to go ahead with construction, estimated to cost between $202 and $280 million.5 This action seems to be in response to renewed interest from South Carolina in early 2016, when money was obtained for renewed project development and environmental studies, though not for any right-of-way acquisition or construction.
In September 2017 it was reported that both NCDOT and SCDOT had begun planning studies again for building the extension. The planning area runs along US 17 from Shallotte,NC to the North Myrtle Beach, SC. The 2017 estimated cost is now $552 million, with NCDOT's share being $367 million. SCDOT already has $125 million earmarked for the project from local option sales tax revenue. A set of alternative alignments for the route is to be announced in 2019.6
Back in 2005, NCDOT started work on a feasibility study for the Parkway extension in NC. (For a link to the study, go to NCDOT's Carolina Bays Parkway Extension website). At a meeting on October 11, 2005 in Shallotte the public was invited to comment on six alternative corridors for the CBPE. The response was overwhelmingly negative to most of the proposed alternatives, four of which would take out the landscaped entrance to the Brunswick Plantation. Public input was to be used to narrow the choice to three alternatives, though no subsequent announcement was made public, probably due to the money for the study running out at the end of 2006 (see below).7 The feasibility study was given a number, FS-0303A in the Draft 2007-2013 STIP,8 but was dropped from the final document. No funded projects have appeared in STIP documents through 2016. Therefore, it is still unclear when this highway would be signed as I-74 (or perhaps an I-74 spur) since its contingent on the upgrading of much of US 74 east of I-95, building a connecting freeway between US 74/76 and US 17, and/or bringing US 17 south of Wilmington up to interstate standards, projects currently neither funded nor listed in the 2016-2025 State Transportation Improvement Plan.
In September 2009 there was a push by the town of Little River to speed up construction of the Extension since their town was getting the bulk of the traffic exiting from the current highway's northern terminus. A spokesman for SCDOT stated that I-73 was the state's priority and there was no money currently to fund the CBP Extension project in SC's budget and that if construction were to occur it probably would not be for another 7 to 9 years.9 A project to build a Rest Area/Welcome Center for I-74 at the state line was included in the 2009-2015 STIP (Project K-4001), but the project was unfunded, and thus not included using the new criteria of the STIPs after 2012 which leave out unfunded contracts.10
Newsletter and new website suggest larger project and construction after 2021
In December 2018, NCDOT both released a newsletter on the Carolina Bays Extension project and posted a new website regarding an upcoming feasibility study, with SCDOT, on building the Parkway extension. The newsletter indicates the new study expands the scope of the project in North Carolina from 4 miles to 14 miles by including the area surrounding 10 miles of US 17 further north to the Shallotte Bypass.11 The website indicated planning was in the early stages of the planning process and that no potential corridors for the route have been chosen. The project costs were estimated to be $919 million with NCDOT contributing $367 million and SCDOT $552 million. The site's project timeline state public meetings would be held in the spring of 2019, a draft environmental impact document would be released in spring 2020 followed by a public hearing over that summer. A preferred alternative would then be chosen in fall 2020 and a final environmental document published in the summer of 2021, after which right-of-way acquisition and construction would occur, but no specific dates for each. The site stated SCDOT in its 2017-2022 STIP has funds for ROW acquisition, but NCDOT does not have any funds programmed at this time (though potential exists in the upcoming 2020-2029 STIP). The site does not specifically mention Interstate 74.12 The extension project then reappeared in the 2020 to 2029 STIP document first released as a draft in January 2019. The project, R-5876, is set to cost $366.7 million, but is listed as taking place post-years, meaning after 2029. Unfunded projects through 2029 are not supposed to appear in the STIP, so perhaps it was placed due to the funded feasibility study.13 NCDOT held 2 public meetings in early December 2019 along asking for comments on 9 potential corridors and placing maps of each on on their project website. The corridors vary in distance and where the extension meets US 17, two do not even go into North Carolina at all. Here's a map of the alternatives presented at the meeting:14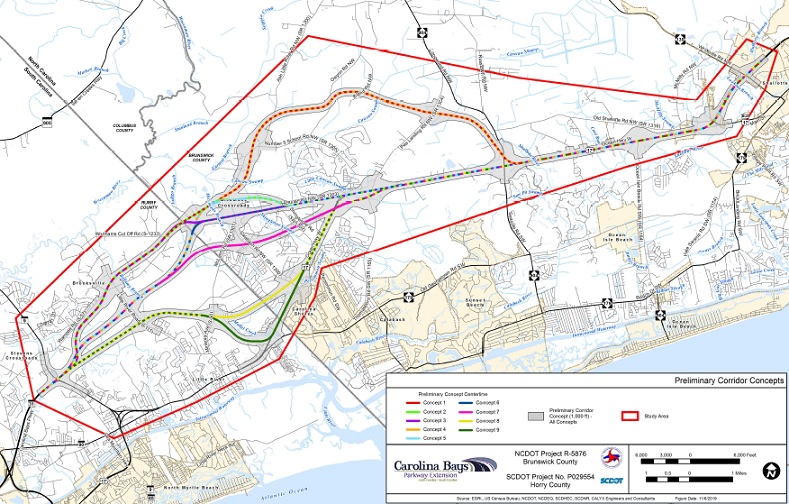 The public input will help choose a final alternative for the draft environmental impact report due in spring 2020.