Segment 9 / Segment 10



Where: I-73/I-74 "US 220 Bypass" from NC 134/Bus. 220, Ulah to US 220A near Candor

Length: 26 Miles (12 miles of new construction, 14 miles of previously existing freeway)

Status: COMPLETE*

Signed as:

*except for 14 miles of needed shoulder widening
Segment Info
The US 220 Bypass was opened by May 1997 from Ulah to Steeds and was the first freeway to be signed as Interstate 73 and 74.1 The constructed bypass ran between two older sections of US 220 freeway. Later the interstate signage was extended further south to Candor on the previously existing US 220 freeway built in the 1980s.2 This part received the Interstate designation, though it is not up to current Interstate standards. NCDOT was allowed to sign this 14-mile section as an Interstate with an agreement to fund a project to correct the remaining deficiencies in this section of the highway. Project No. I-4406 was to start in 2011 and increase the widths of the shoulders in this portion to interstate standards, 10 feet, in 2011 at a cost of $3.7 million.3 However, in the spring of 2011, NCDOT revised its project list and defunded the project, thus technically moving it to after 2027.4 The project did not appear either in the Draft 2024-2033 STIP, meaning no project until at least 2035. (For examples of some of the interchange and road signage in the area see the photos below.) Exit numbers along the new freeway (along with mileposts), ran from 39 to 51 and reflected US 220's mileage, the remaining exits on the older portions were not numbered. This changed during the fall of 2013 when a contract to upgrade exit signage south of Asheboro to Ellerbe was completed. All the exit signs now have numbers reflecting I-73's mileage, matching the numbers put up on new I-73 mileposts along the freeway, and on the exits through Asheboro after construction to bring that highway up to interstate standards was completed in 2012. For a list of the I-73 exit numbers, go to the bottom of the page.
"Drive" this Segment viewing these Videos
Taken by Tar Heel Travels, in June 2022 (New 12/14/22):
I-73 South/I-74 East between US 220 Alt Exits
Taken by RoadwayWiz taken during the Summer of 2021 (New)
I-73 North/I-74 West, Exits 52 to 68 I-73 South/I-74 East, Exits 70 to 61
I-73 North/I-74 West, Exits 44 to 52 I-73 South/I-74 East, Exits 61 to 52
I-73 South/I-74 East, Exits 52 to 41
"Drive this Segment using Google Maps Street View (Updated)
I-73 South/I-74 East from NC 134/US 220 Business Exit: At Off-Ramp to NC 134/Bus. 220 (Sept. 2021)
I-73 South/I-74 East from NC 24/27 Exit in Biscoe: Using On-Ramp from NC 24/27 East (Oct. 2021)
I-73 North/I-74 West from US 220 Alt Exit near Ether: Using On-Ramp from Alt. 220 North (Sept. 2021)
I-73 North/I-74 West from US 220 Alt Exit near Emery: Using On-Ramp at beginning of Alt. US 220 (Oct. 2021)
Segment Photos (Hover over for enlarged views)
Images from Google Maps Street View taken in April 2018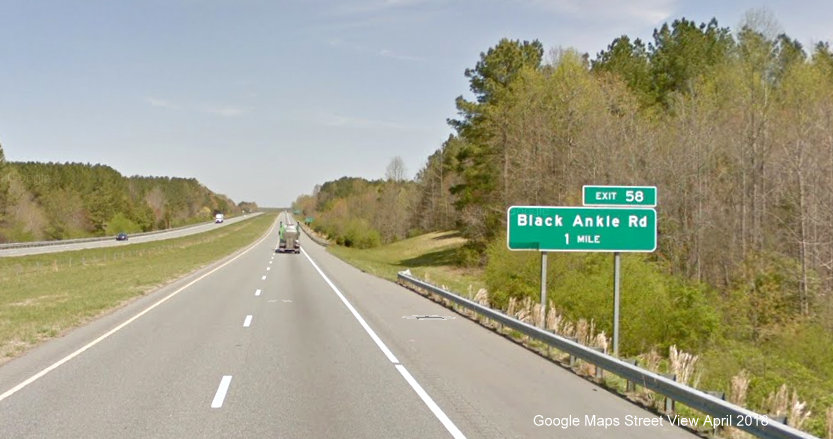 View of one of the new signs placed along the original section of I-73/I-74 in the fall of 2013, this the 1-Mile Advance for Black Ankle Road.
---
The upgraded signage for the Star/Robbins exit on I-73 US 220 South/I-74 East put up in 2013, compare with the previous sign in photo below taken in July 2012.
---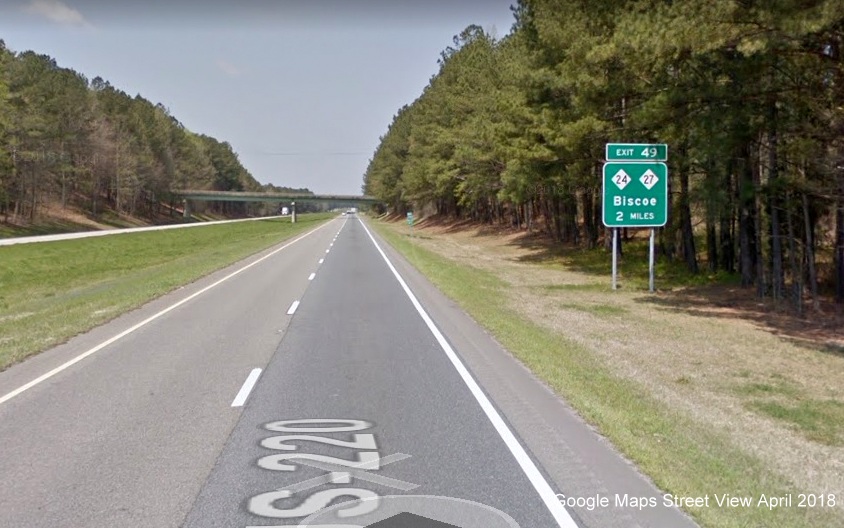 The 2-Miles advance sign for the NC 24/27 exit on I-73 US 220 North/I-74 West. Notice the still substandard shoulders more than 20 years after the interstate(s) was first signed.
---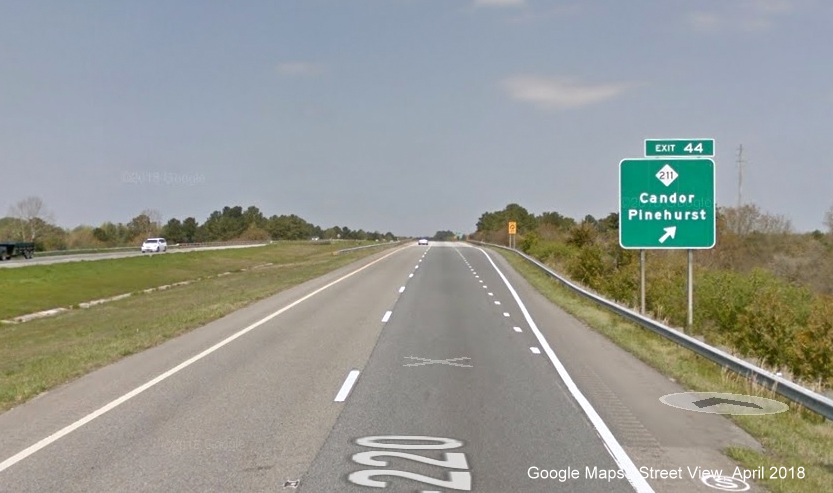 Ground mounted sign for the NC 211 on I-73 US 220 North/I-74 West put up in 2013, the southernmost exit on this segment.
---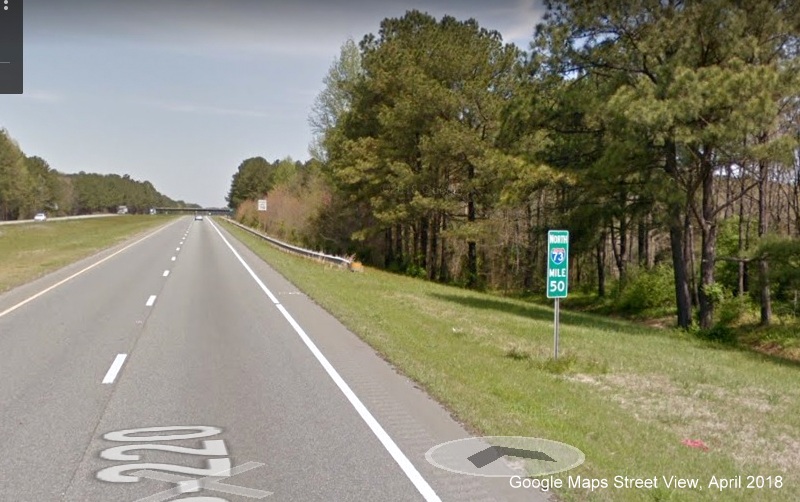 The I-73 North Mile 50 marker after the NC 24/27 exit.
---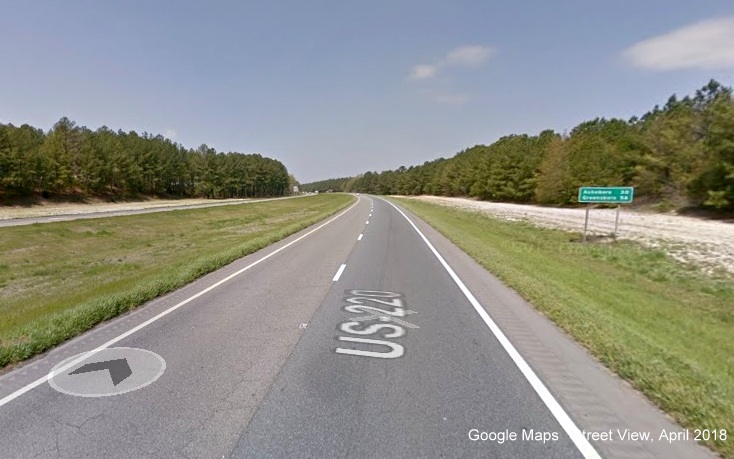 A 2013 era post-interchange distance sign on I-73 US 220 North/I-74 West after the NC 211 exit, again showing the non-standard right shoulder.
---
---
Photos Taken in June 2017 by David Johnson
Exit sign installed in 2013 for Alternate US 220 at start of pre-1997 part of segment in Ether.
---
Exit sign at southern end of segment for South US 220 restored to its old routing in Candor in 2013.
---
Photos from November 2009
Junction I-73/74 US 220 signage on new portion of US 220 Bypass Freeway, note signs of wear on the then 12 year-old shields (11/8/09).
---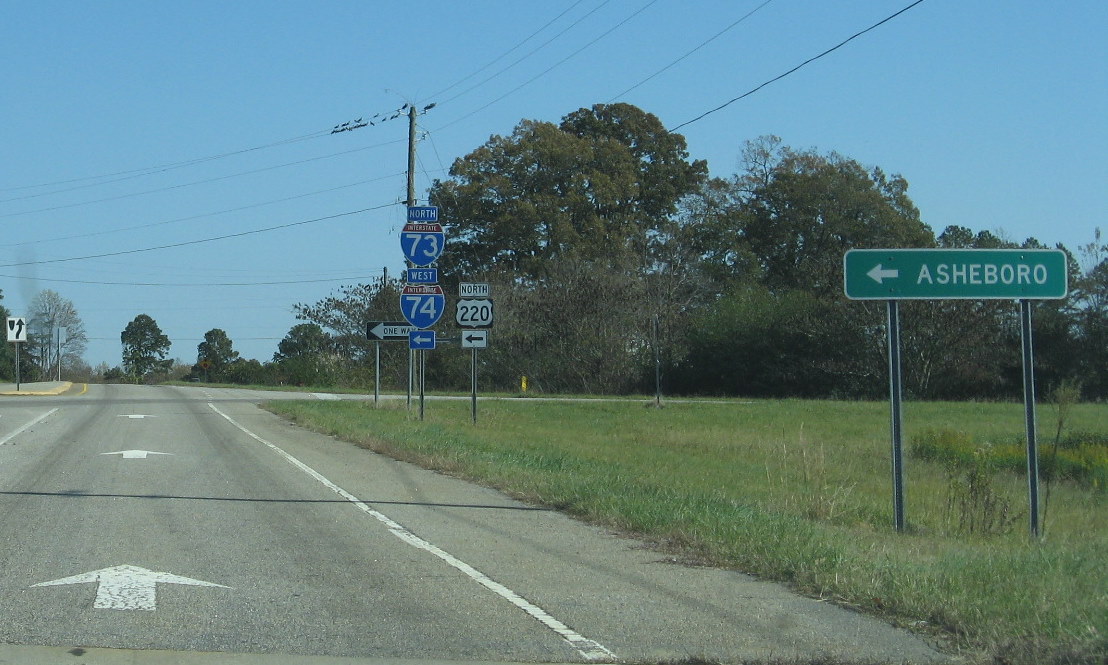 Typical Interstate 73/74 US 220 signage at on-ramps south of Asheboro. This interchange is on the part of Interstate 73/74 signed on the newer US 220 freeway. (For a list of exits in this segment, Go to the I-73 Exit List.)
---
Signage for then Exit 45, NC 705. The barrels are from a rest area under construction (see below). (11/8/09)
---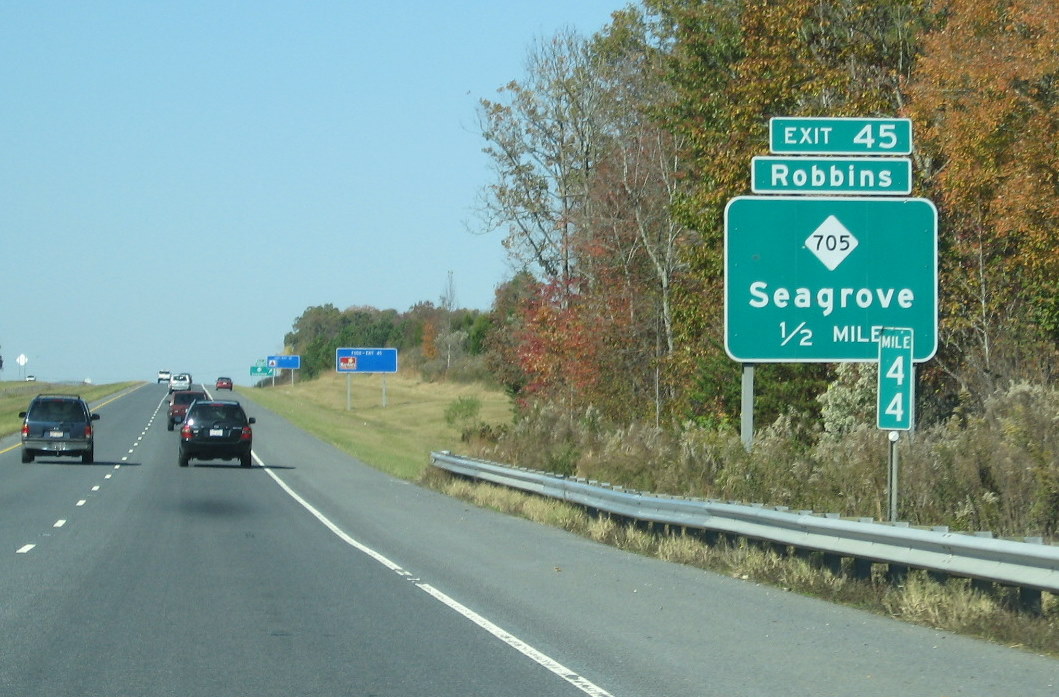 Another sign for Exit 45 showing the US 220 milepost the exit numbers were then based on. (11/8/09)
---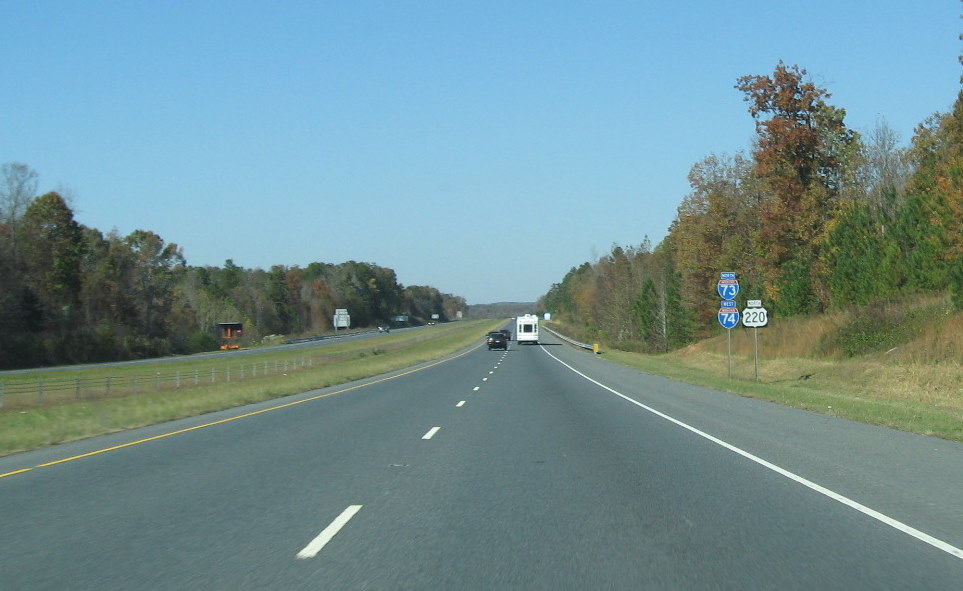 Typical view of route signing and freeway landscape in this segment. (11/8/09)
---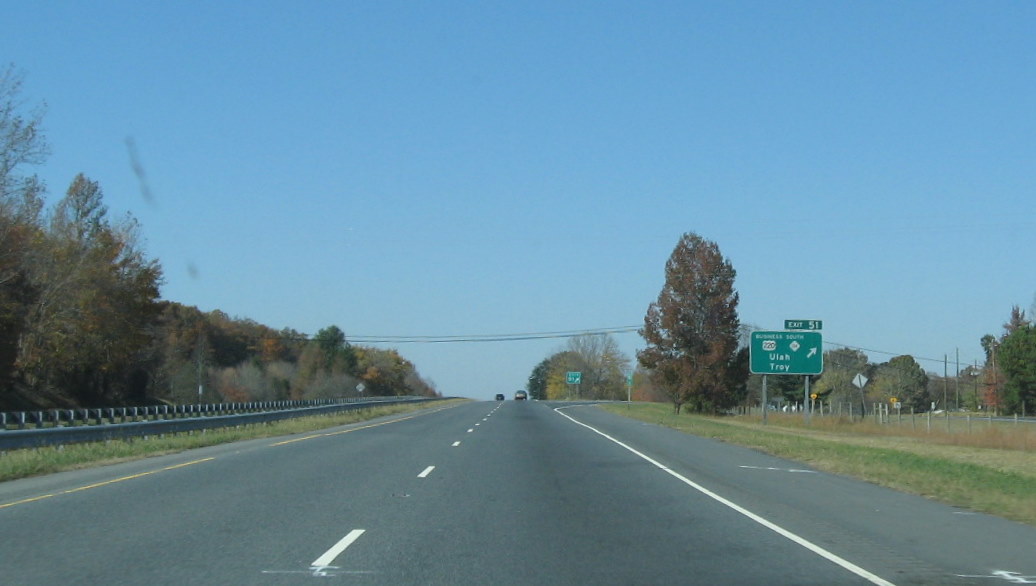 The last exit in this segment heading north, and the end of this segment of I-73 and I-74, after then Exit 51 in Ulah (Alternate US 220 begins here going south but is not signed). (11/8/09)
---
New exit number for Business 220/NC 134 Exit South of Asheboro. (7/28/12)
---
I-73/I-74 shield assembly on NC 211 West in Candor dating to time of Interstates' extension South in 1997. (7/28/12)
---
View on North I-73/West I-74 near NC 24/27 exit showing substandard conditions of shoulders along this segment of I-73/74. (7/28/12)
---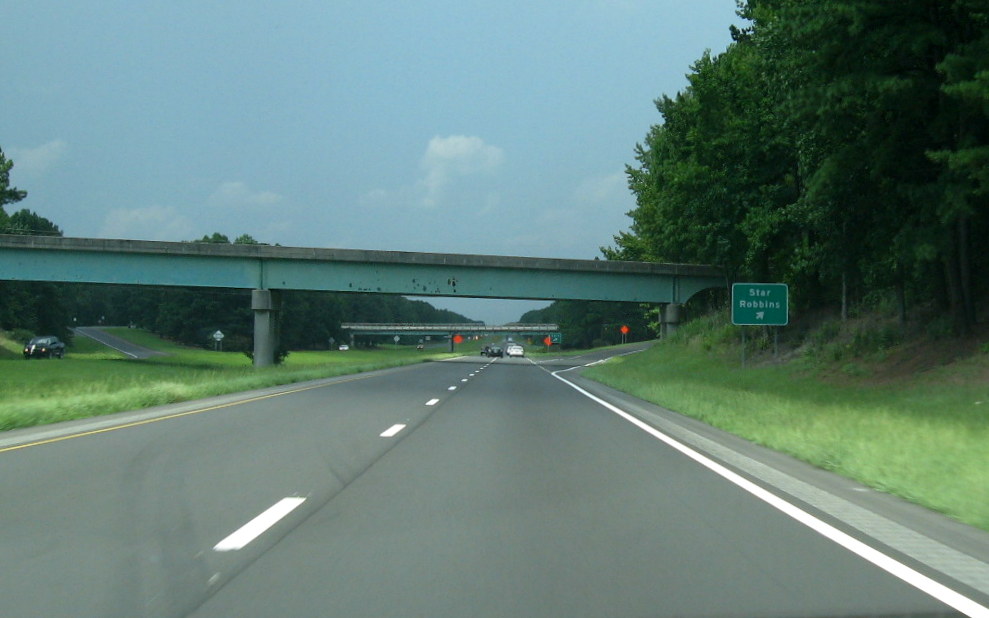 View along North I-73/West I-74 approaching Star/Robbins Exit showing substandard condition of Exit Signs (that were replaced in summer 2013). (7/28/12)
---
View of then new I-73/I-74 sign assembly just beyond now Exit 68 South/Westbound. Similar assemblies have been put up south of McConnell Road in both directions in the Asheboro segment. The remainder of the new signs were not put up to the south until the end of summer 2013. (7/28/12)
---
"Classic" Photos from June 2002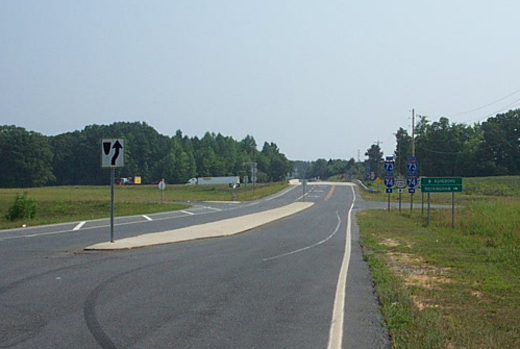 Signage at the I-73/74 and US 220 Interchange with To US 220A and NC Zoo, looking East.
---
Signage at Intersection of US 220A and the road leading back to I-73/74. The Interstate is 1/2 mile behind where the picture is taken, these signs direct people to go left or right, probably safer than trying to turn around.
---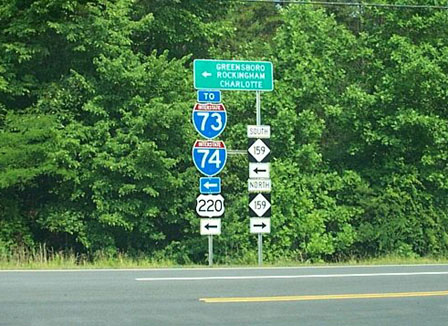 Signage at the entrance to the NC Zoo in Asheboro, one of the several I-73/74 sign assemblies miles from the freeway itself.
---
The Two 'Visitor Centers'
The only new construction on this stretch (until the shoulders are widened on the southern section*) after 1997 was the building of two rest areas on the north and southbound roadways near Seagrove in Randolph County just north of the Montgomery County line. The contract (C201776) was let on February 19, 2008 and work began in 6 weeks later on April 2. The estimated completion date for these rest areas was the end of 2009. Work fell slightly behind though in 2009, particularly on the southbound side. The northbound area opened on January 15, 2010 but the southbound side was not opened until about a week later. These rest areas serve also as 'Visitor Centers' meaning they are run by local groups supporting regional tourist attractions, in this case North Carolina's Pottery Region. There was some controversy when the NC legislature passed a bill that would make the rest areas more expensive 'Welcome Centers'. The bill was criticized as an unneeded expense, since Welcome Centers are run by the state with state personnel, and ridiculed for, unlike the normal Welcome Center at the state line, these would be 50 miles from the SC border. The legislature quickly passed a bill to make them the supposedly less expensive Visitors Centers, but, as the photos show below, the complexes are still impressive.5
Approaching the Northbound Visitor Center. (1/28/10)
---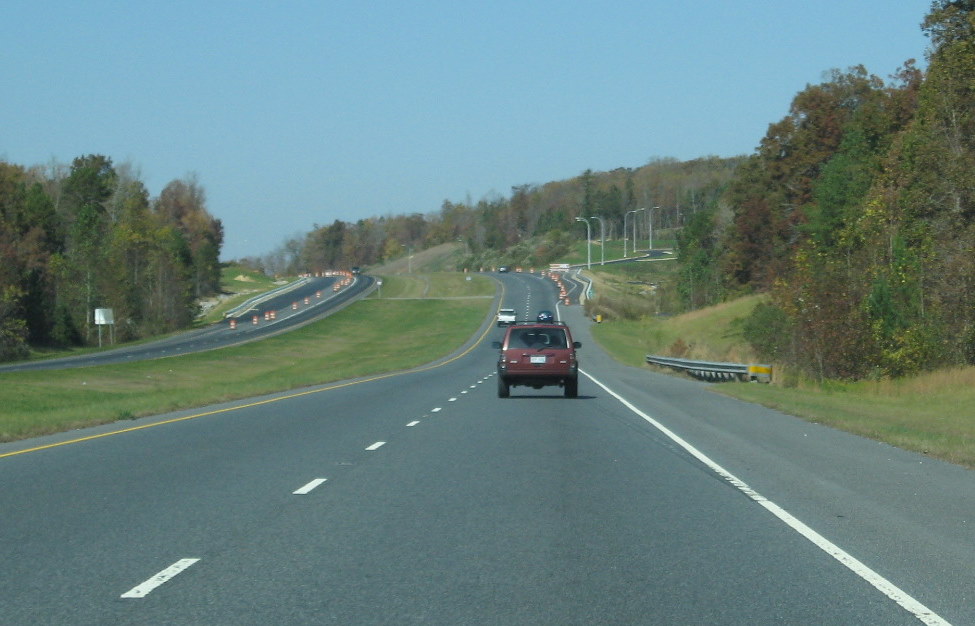 Construction progress on the northbound rest area in November 2009 (11/8/09)
---
View in the distance from a year earlier, showing the progress made (10/20/08)
---
The Northbound Visitor Center itself, showing that, in size, it's similar to NC's Welcome Centers. (1/28/10)
---
The Center has a fountain in front, not the case with the Southbound Center (which has a flowing stream). (1/28/10)
---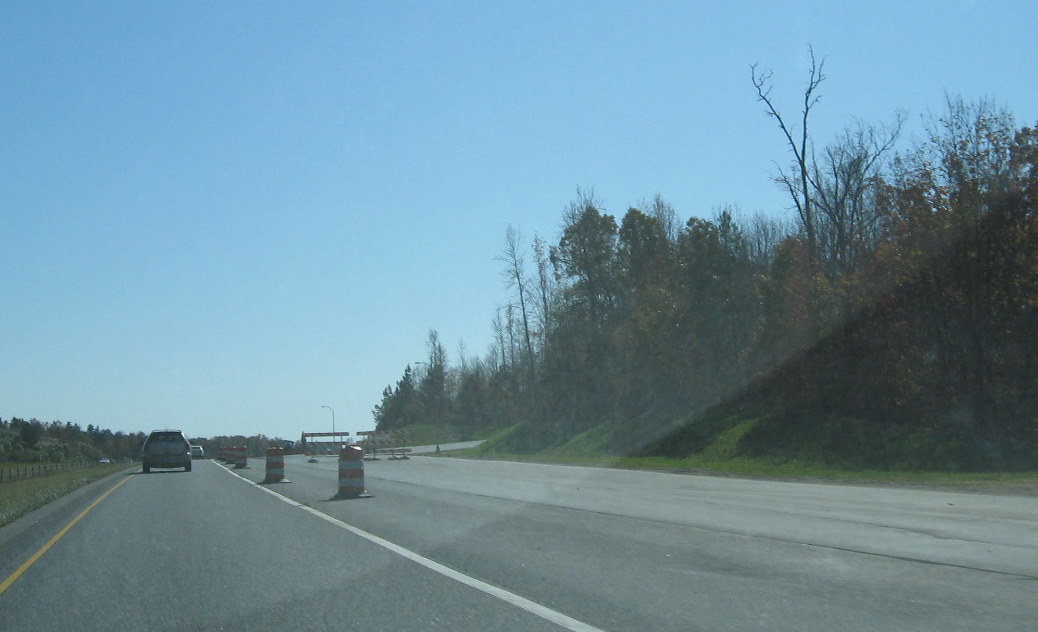 The southbound Visitors Center is on top of a hill overlooking the freeway, the best I could do at that time was show that the road was still one-lane in this direction and the southbound on-ramp. (11/8/09)
---
The Southbound Center is on a hill allowing a view of the surrounding landscape, including the Northbound Center. (1/28/10)
---
The Southbound Center features picnic tables above the Center buildings taking advantage of the hilltop location. (1/28/10)
---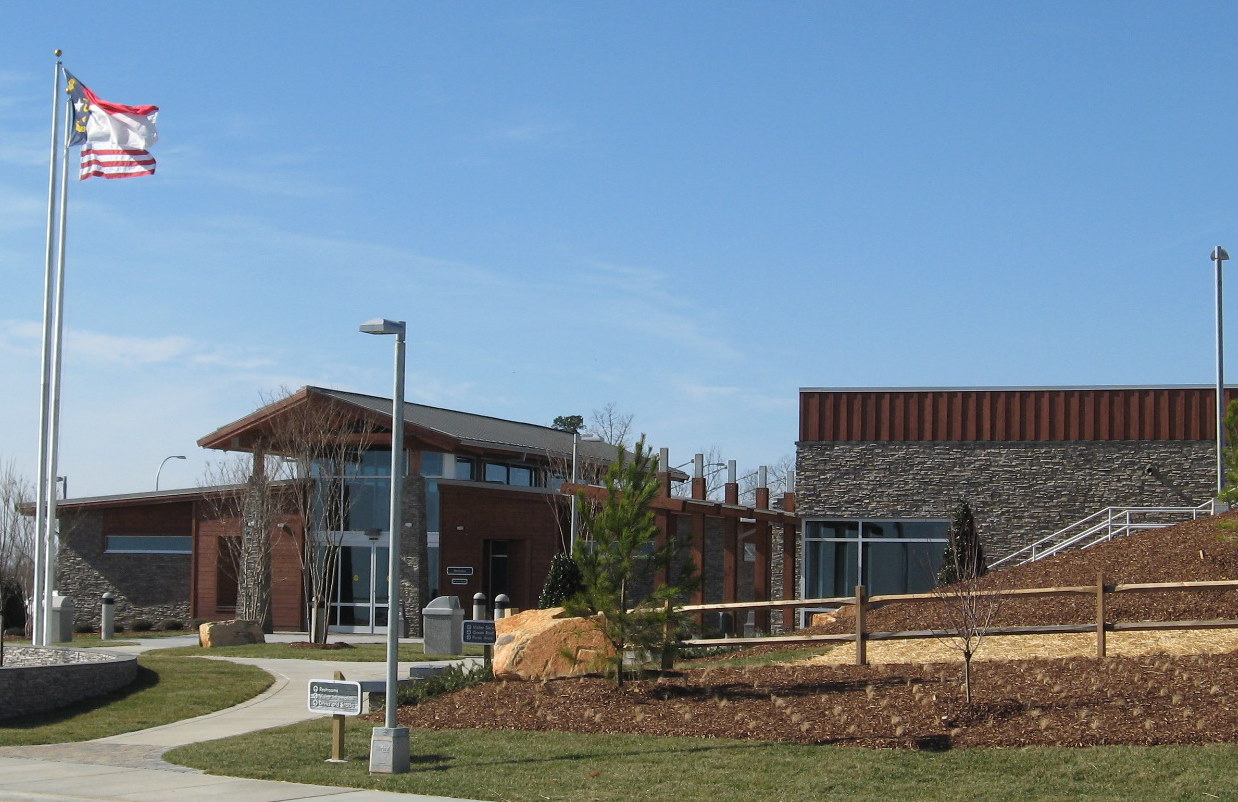 The Southbound Center Complex, the Center is on the right, restroom facilities on the left, behind the rest rooms are soda and food vending machines. (1/28/09)
---
This Segment's Exit Number Scheme Using I-73 Mileage, Going from North to South. All of signs were switched to the new numbers in August and September 2013:6
Interchange Old Number New (I-73 Mileage) Number
Business 220/NC 134 51 68
New Hope Church Rd 49 66
NC 705 Seagrove 45 61
Black Ankle Rd 42 58
Alt US 220 Esther Steed 39 56
Star Robbins -- (36)* 52
NC 24/27 Biscoe -- (33)* 49
NC 211 Candor -- (28)* 44
US 220 South Candor 24 41 7

*Exit was not numbered, based on Closest US 220 Mile Marker.