Segment 10 / Segment 11



Where: US 220 Bypass Freeway from US 220A near Emery, Montgomery County to South of SR 1448, near Ellerbe, Richmond County

Length: 17 Miles

Status: Complete (though not signed as I-73/I-74 until December 2013)


Completion Date: January 7, 2008

Route Signed as:

Segment Info
This section of I-73 and I-74 opened on January 7, 2008. The highway was initially planned as the extension of the US 220 bypass freeway route from it's previous end near Candor to about a 1/2 mile south of Ellerbe. The previous US 220 in this stretch was a congested 2-lane highway that passed through the towns of Norman and Ellerbe, and was one of the last 2-lane stretches of US 220 in the state. The new freeway parallels the old route mostly to the east (see map above). The contract for construction on this project (No. I-2231) was let in August 2003 to BMCO Construction Inc. with a cost of $65 million. The project was actually split into two contracts, with one covering construction the portion from where NC 73 would intersect US 220 south of Norman to the existing I-73/74 freeway and the other from NC 73 connecting to the existing 4-lane US 220 south of Ellerbe.
Construction of the new highway began in September 2003. The entire freeway was scheduled to be completed by December 31, 2006, but apparently there were some problems with the contractor, especially building the southern end of project. NCDOT had indicated in 2006 that the freeway would not open until both sections were completed.1 While much of the northern part was technically complete in early 2007, the southern stretch, particularly south of the future interchange with the 'NC 73 Extension' east of Ellerbe was still only graded in the spring, with asphalt only placed north of this interchange. An NCDOT official indicated at the end of March 2007 that the contractor had run out of money and had been taken over by the firm's bonding company.2 The project resumed in May 2007 with new completion date of December 31, 2007, (later pushed back to early January 2008). The final asphalt was put down by the end of December thanks to unusually dry and warm weather conditions. For some construction photos taken before the route opened in July of 2006 and March, August and December of 2007, see below.
Because the freeway was completed before NCDOT had asked the FHWA to include it as part of the Interstate system, the highway was signed as US 220/Future I-73/Future I-74, not as a full interstate. Exit numbers ran from 24 at Alternate US 220 near Emery to Exit 8 for Business US 220 south of Ellerbe reflecting US 220's mileage. According to an agreement NCDOT made with the FHWA in June 2010, the route could be signed as official I-73/I-74 after the project to upgrade the section through Asheboro was let. Though the project was let later in the month NCDOT did not officially ask for FHWA approval until July 2011 and did not change all of the signs until December 2013. This turned out due the wait for the I-73/74 section through Asheboro to be completed so NCDOT could let a contract in December 2012 to update all the signage along US 220 between Greensboro and Ellerbe at the same time. This contract, Project I-5329, upgraded, starting in March 2013, the exit signage, changing the exit numbers to those based on I-73 mileposts (see list for numbers below), and, most significantly, removing the Future I-73 and I-74 shields (or signs in this case) and replacing them with I-73 and I-74 shield assemblies. The project was scheduled to be completed by October 2013 but was delayed so that it was not until late December when the last of the future banners on the interstate signs at the entrance ramps at each interchange were removed.

As part of this project, US 220 signs were removed from this segment and its route was put back on its old alignment.3 Between 2008 and the end of 2013 the old alignment of US 220 was designated on maps and exit signs as Alternate US 220 in the north and US 220 Business at the southern end (where the change in designations was was not indicated, though Google Maps seems to place it at the northern intersection with NC 73), most of the signs, however, did not get any Business of Alternate banners and NCDOT never applied to AASHTO to get these designations, thus there was no problem 'returning' US 220 to its old route. The lack of placing new banners now seems a conscious decision on NCDOT's part.
NCDOT also apparently had second thoughts about the proposed routing of NC 73. A contract, No. R-3303, publicized as the extension of NC 73 2 miles to the east from its current southern intersection with US 220 north of Ellerbe to the new freeway cost $5 million to build and was completed on October 22, 2006. This would have resulted in I-73 and NC 73 sharing the same roadway for several miles from the intersection with the new extension north to where the existing NC 73 highway crosses US 220.4 However, when the road was opened, exit signage listed only the northern exit as NC 73 while the southern exit for the 'NC 73 Extension' only got a 'To West NC 73' auxiliary sign at the exit ramp. Perhaps NCDOT thought the proposed plan too confusing. New signage for this interchange will have NC 73 and I-73 related signage on separate assemblies approaching from NC 73, unlike most of the other interchanges with other numbered routes. A newspaper article touting the opening of the highway however, listed separate exits for NC 73 West and East.5 In May 2006 a group of Ellerbe area officials set up a committee on how to encourage travelers to keep visiting local produce stands and area attractions along current US 220 after Interstate 73/74 opens to traffic.6 Apparently this included persuading NCDOT to return US 220 to its original alignment, as referred to above.
"Drive" this Segment with Videos
Taken by Tar Heel Travels in June 2022
I-73 South/I-74 East from Candor to Ellerbe
Taken by RoadwayWiz made in the Summer of 2021
I-73 North/I-74 West, Exits 30 to 44 I-73 South/I-74 East, Exits 44 to 30
"Drive" this Segment with Google Maps Street View (Updated-October 2021)
I-73 South/I-74 East at US 220/US 220 Alternate: Using Off-Ramp at Start of US 220 Alt. North
I-73 South/I-74 East at NC 73: Using On-Ramp from NC 73 West

I-73 North/I-74 West at US 220: Before On-Ramp heading for US 220 North Exit
I-73 North/I-74 West at Tabernacle Church Rd: Using On-Ramp from Westbound Roadway
Latest Photos taken in June 2017 by David Johnson (hover over for larger image):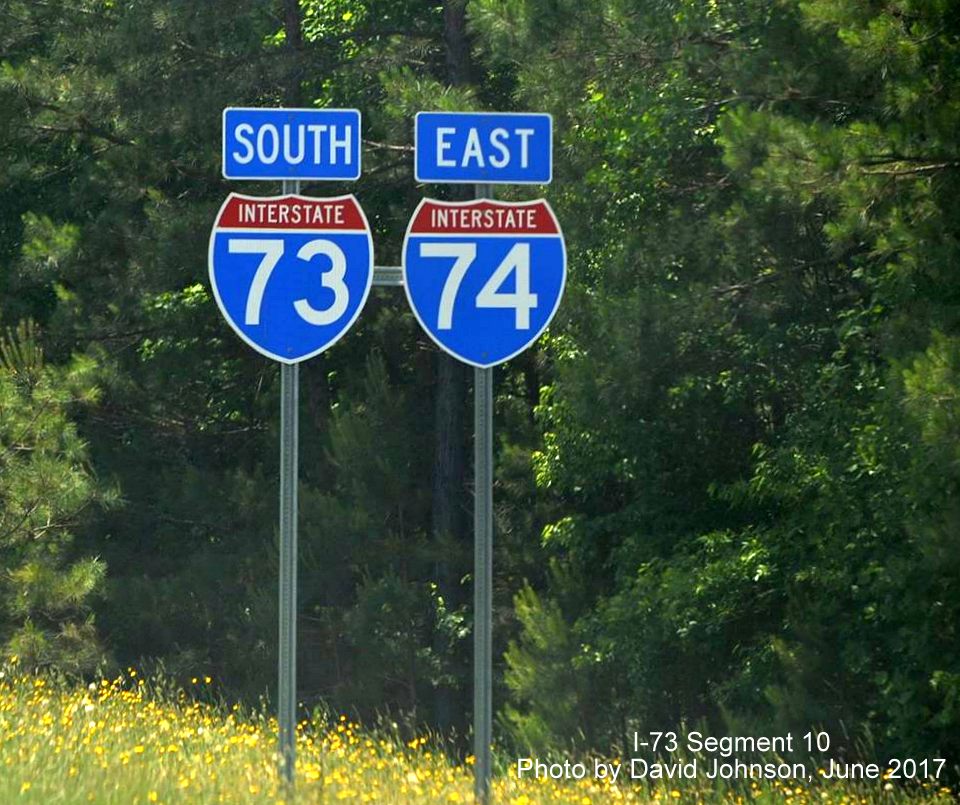 A pair of reassurance shields southbound, these were posted in 2013 replacing green signs with US 220 and Future I-73 and I-74 shields (see below).
---
View looking south along I-73 South/I-73 East approaching the city of Norman. The US 220 roadway is to the right.
---
Overhead exit signage at the ramp to US 220 North, currently the last exit on I-73 South. The US 220 South sign on the left will presumably be replaced by a larger one with I-73/I-74 when the first segment of the Rockingham Bypass is completed in 2018.
---
Photo of then New End I-73 South/I-74 East signs, by Chris Curley put up in 2013.
---
Photos taken in January 2014 by Mark Clifton:
Closeup of new Begin I-73/I-74 signs at newly renumbered Exit 25, South of Ellerbe.
---
Photo showing re-establishment of US 220 along its old alignment, and thus leaving I-73/I-74, at Exit 25 south of Ellerbe.
---
Looking Southbound at northern end of Segment with new Exit 41 sign with US 220.
---
Photos taken 2002-2012 (hover over image for larger version)
Photos taken both after completion and during construction: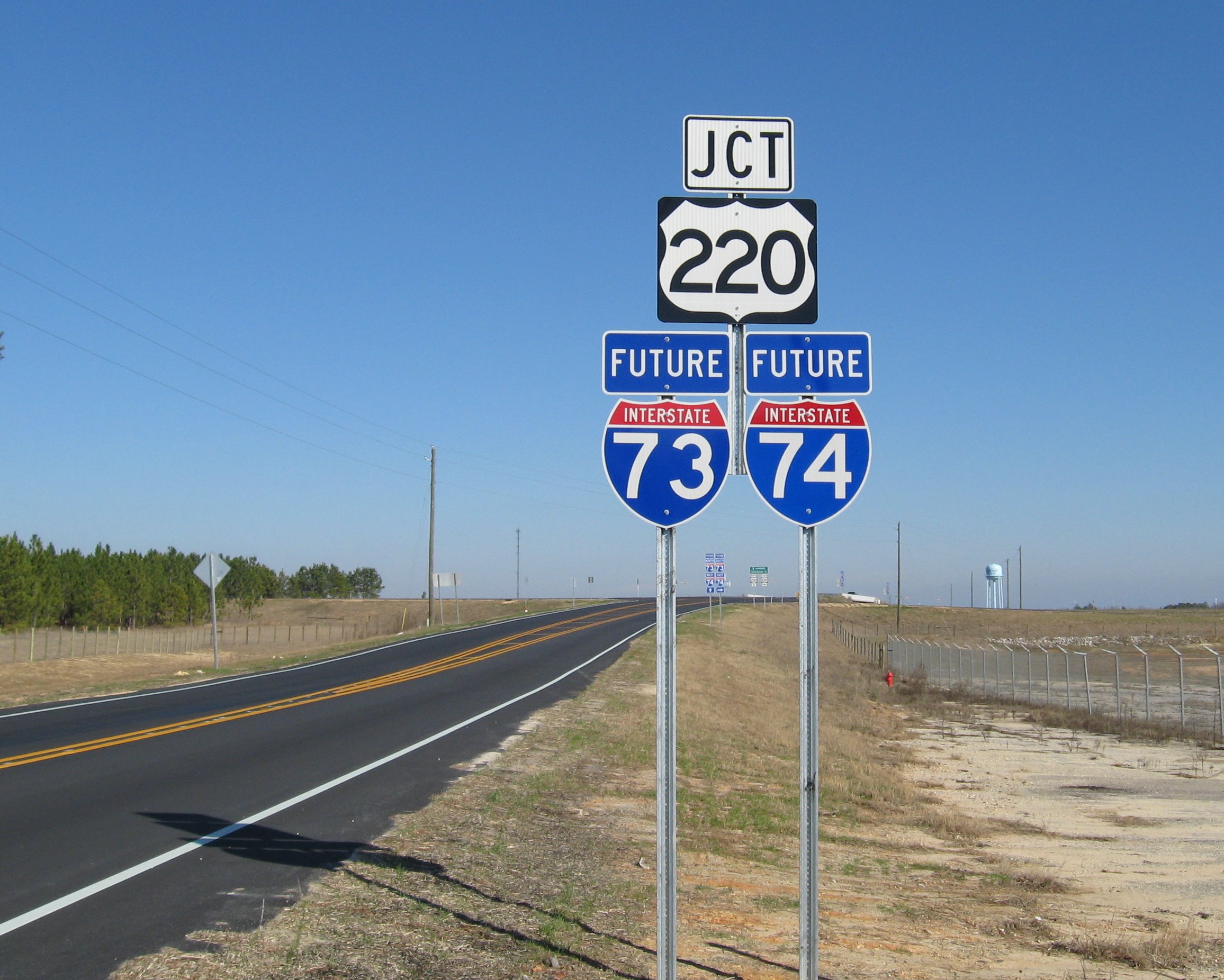 Typical Junction signage approaching the new bypass (at the NC 73 interchange) January 2008.
---
Signage closer to the interchange itself, notice the signage with the control cities did not include I-73/74, this allowed for a quicker removal of the US 220 signs when the Future banners were taken down in 2013.
---
View I could get looking north from the interchange for the new road extending from NC 73 at current US 220 showing progress on building the future I-73/74/US 220 roadbed in December 2007, since March asphalt or additional asphalt has been added to the roadbed. What was called the NC 73 extension was completed in October 2006, however this was not to be the road's designation upon opening. The signage in the distance seen through binoculars only includes route shields for US 220 and Future I-73 and I-74, no mention of NC 73.(December 2007)
---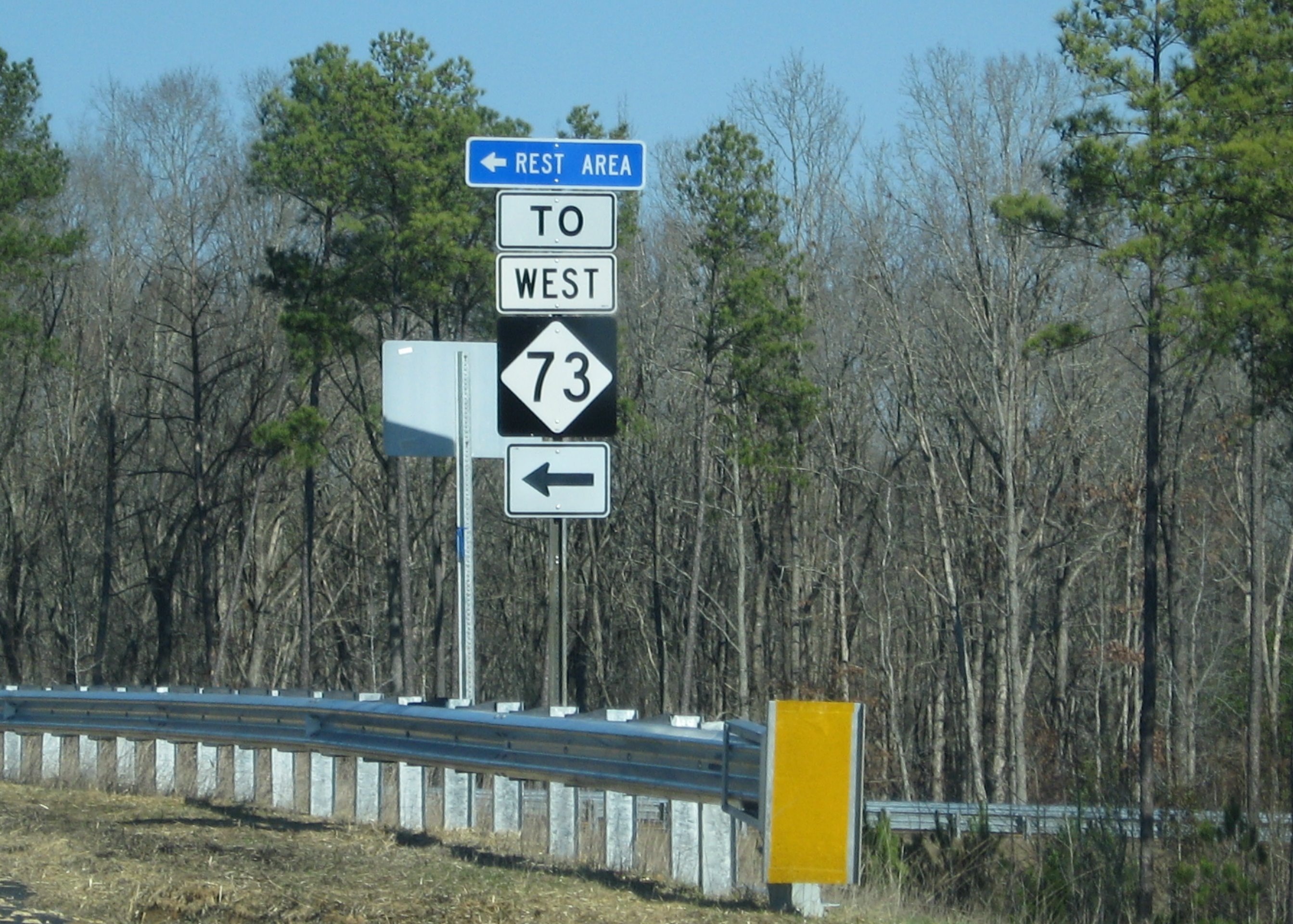 Signage since put up for the exit for 'Millstone Road' only contains 'To West NC 73' signs on the northbound on-ramp and the west-bound road itself, the rest area refers to the one at the NC 73 former US 220 intersection a couple miles west. New signs placed in 2013 include NC 73 shields on the exit signs themselves.
---
The ramp at the US 220/ NC 73 interchange shows NC 73 along its pre-existing alignment and not using the new freeway. (January 2008)
---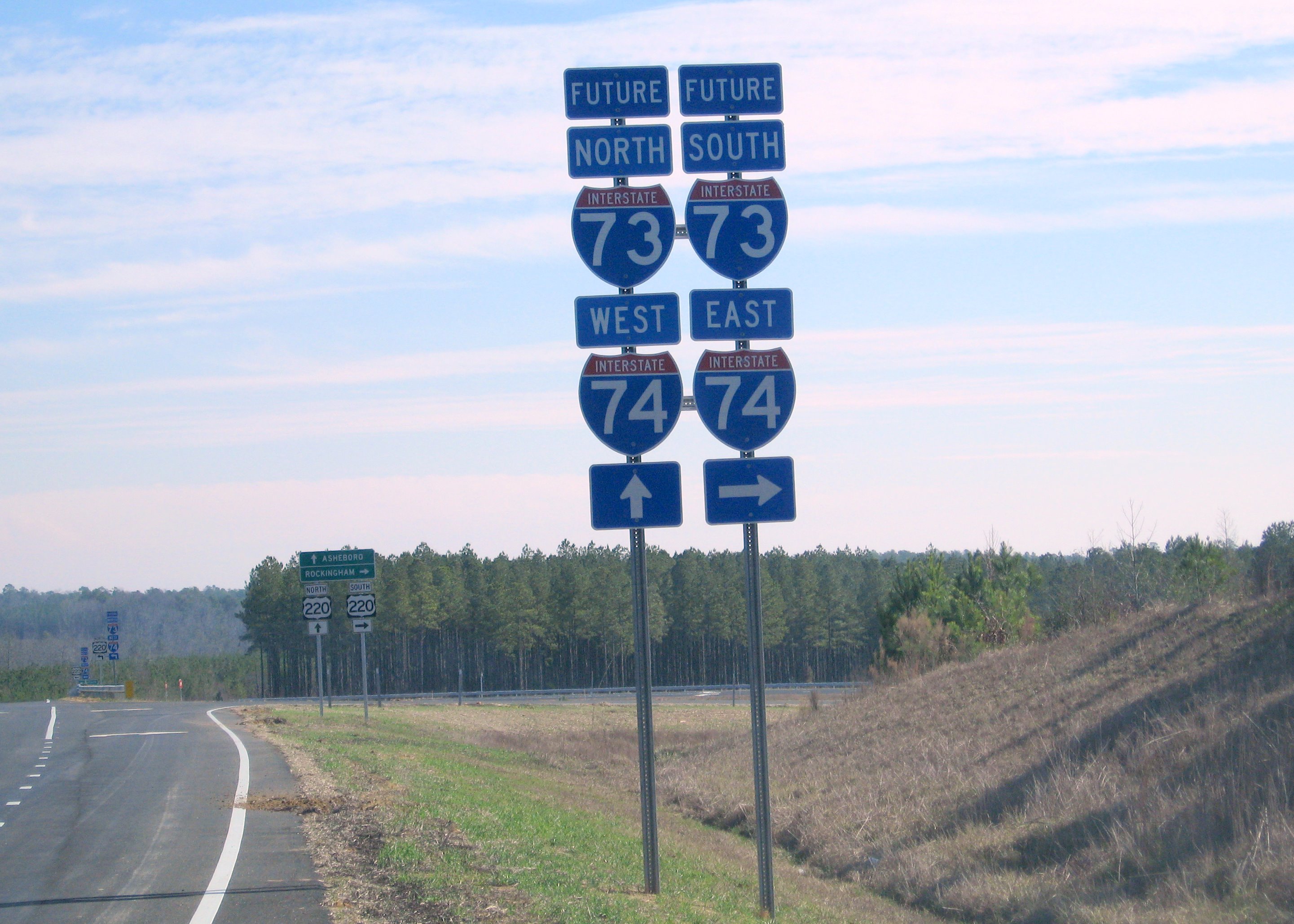 More signage at the Millstone Road interchange, no evidence of NC 73 signs. The signs were designed so that the Future banners could be quickly removed when I-73/I-74 was officially signed in 2013. (January 2008)
---
View looking north at progress on constructing the I-73/74 roadbed from Tabernacle Church Road bridge. The only construction activity that remains to be done is to put signs on the existing signposts. (August 2007)
---
Here's a view from the bridge showing the signposts in place at the exit ramps awaiting their route shields. (August 2007)
---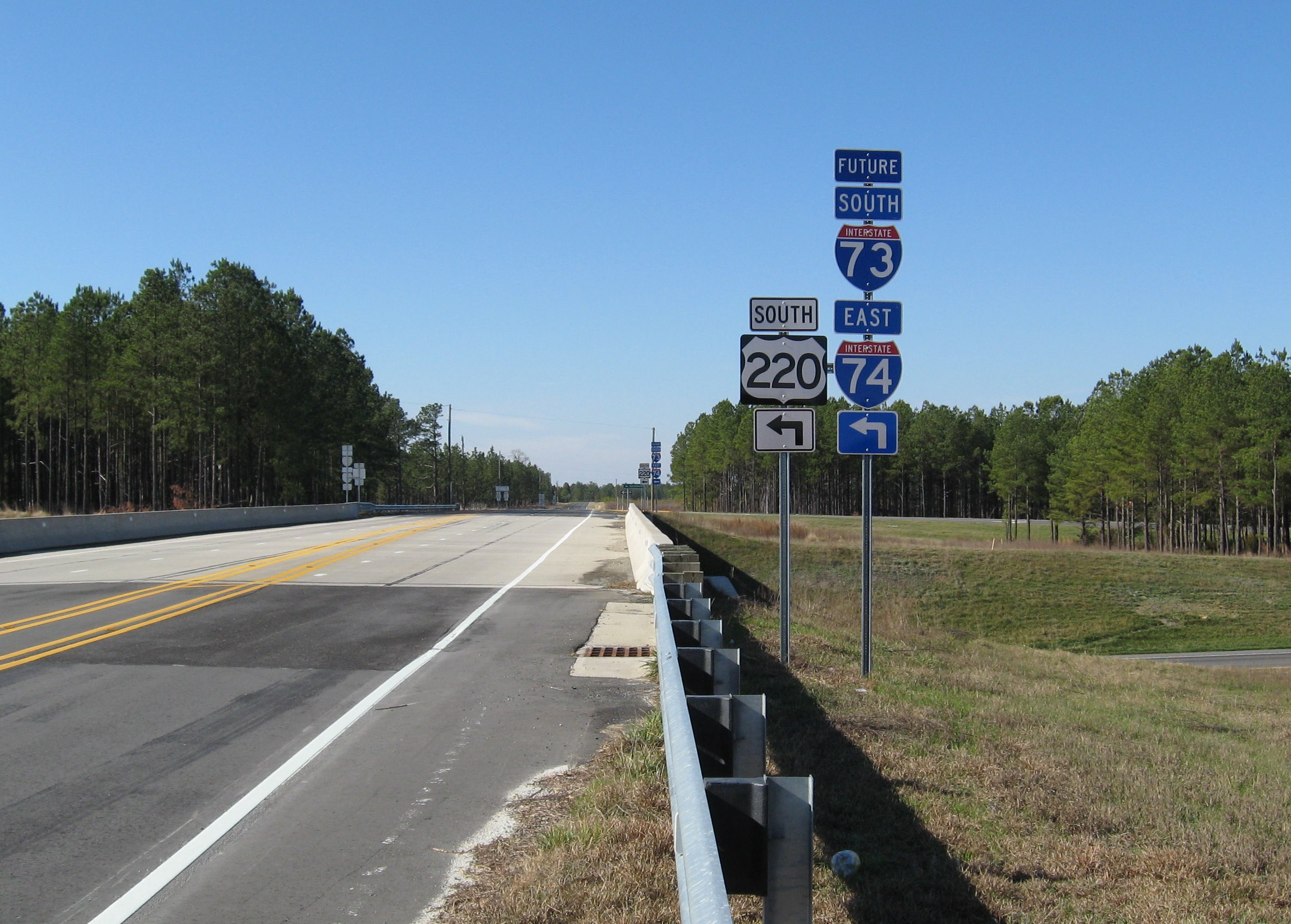 Here's the view in January with the route open and the then Future bannered I-73/74 shields attached. (January 2008)
---
View looking south from Tabernacle Church Road bridge showing where future US 220 (for now Alternate US 220) will cross the freeway, at the bridge in the distance. (August 2007). There is no direct interchange here, traffic will use the interchange two miles to the north or take Tabernacle Church Road for access (on and off ramps can partially be seen in front of the trees on both sides of the highway).
---
The junction assembly approaching the Tabernacle Church Road interchange (January 2008). The Future banners were placed so they could be quickly removed when the road became I-73/74 in the fall of 2013.
---
Future I-73/74 US 220 signage along the roadway that was put up in September 2007. The route was marked as a Future Interstate until the section to the north though Asheboro was upgraded to interstate standards in the fall of 2012. Directional labels could then be put over 'Future' above the Interstate shields. However, because the US 220 designation was removed from the freeway, these signs were taken down and replaced with Interstate signs on their own support posts.(Photo courtesy of Adam Prince)
---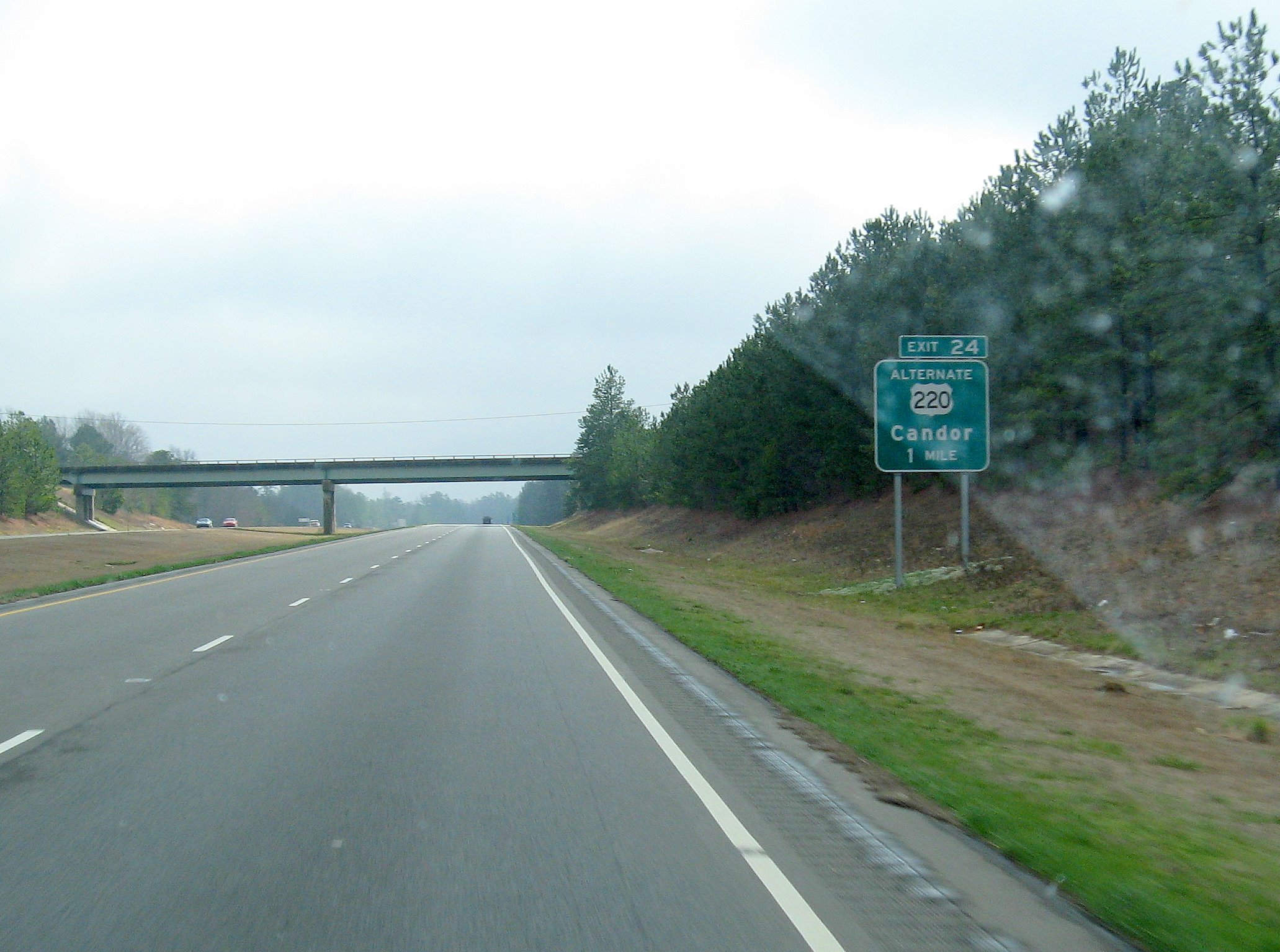 The first new exit sign for the Bypass going south is Exit 24, Alternate 220, this is where the US 220 freeway used to end (and until 2013 signs indicating I-73 and I-74 end stood). (2/23/08) The sign replacing this in 2013 reads 'South US 220/North Alt US 220 Candor.'
---
Six miles further down the Bypass is the exit for the first town the new freeway bypasses, Norman (2/23/08)
---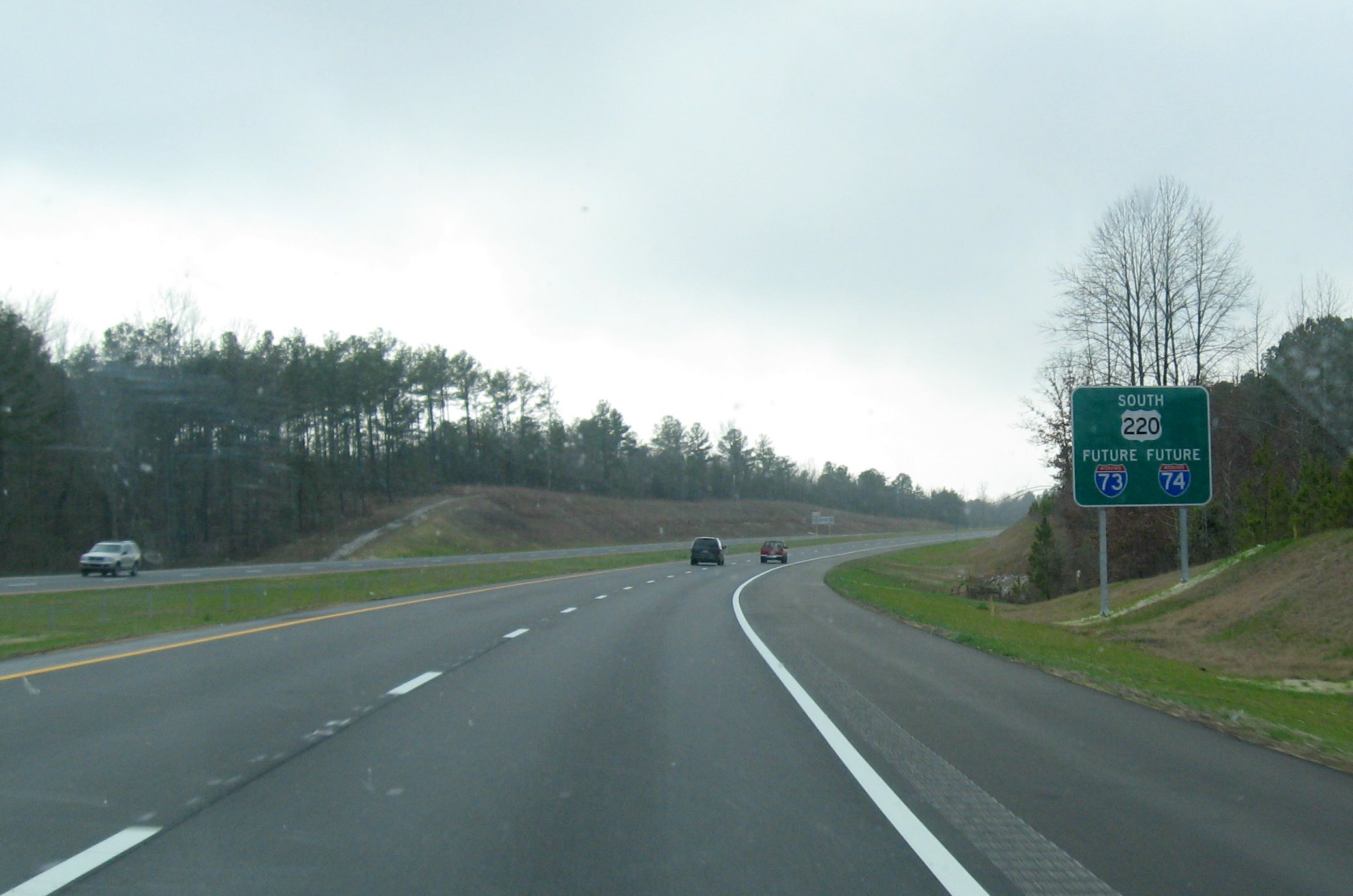 Continuing Southbound near Ellerbe, another example of the 2008-2013 route signage after each exit. (2/23/08)
---
The last exit on the Bypass, as seen through a slight rain shower is for Business 220. It was unclear where Business US 220 ended and Alternate US 220 Began, but is no longer an issue when the route became US 220 again in 2013. (2/23/08)
---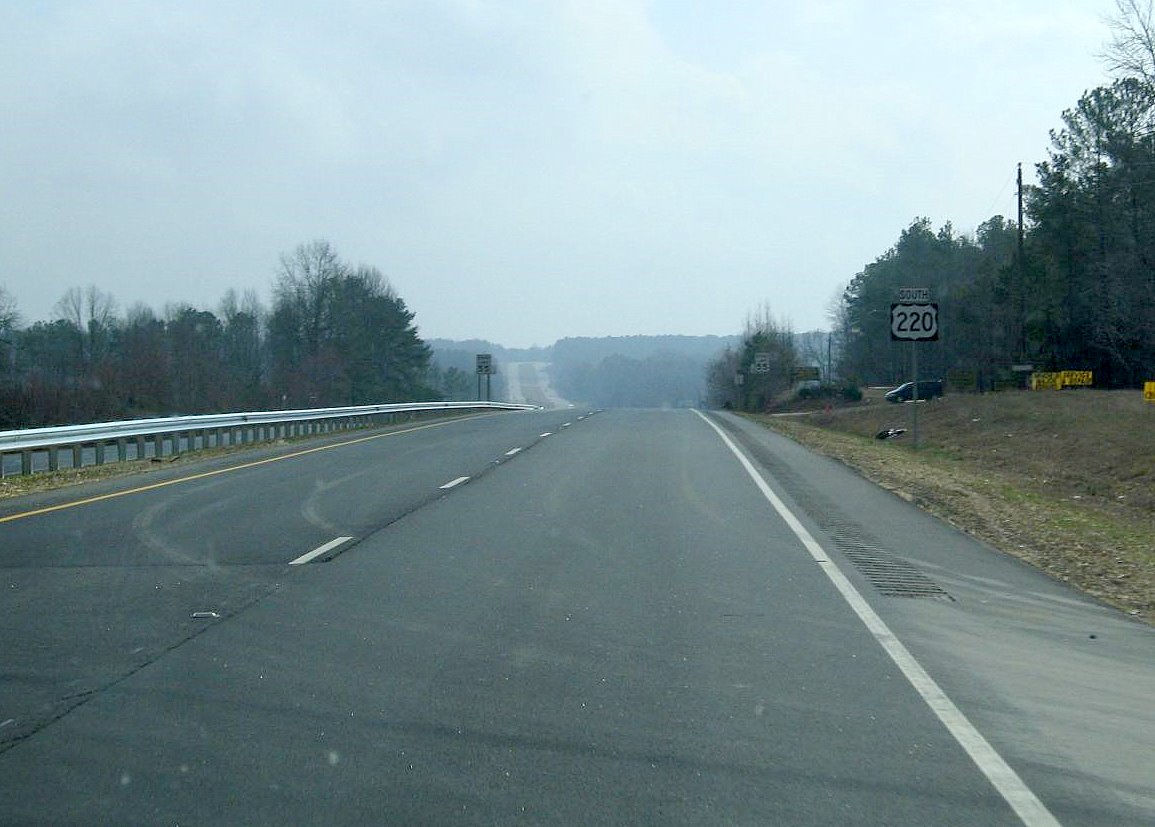 After the Business 220 Exit the Bypass joins the original US 220 and Future I-73/74 ends (though you wouldn't know it with the signs at the Southbound ramp). The next 3 miles or so will be upgraded to interstate standards as part of the Rockingham Bypass project. The 2013 signage project placed a temporary 'End I-73/I-74' sign assembly here, see photo above. (2/23/08)
---
Corridor signage that was placed near the former southern intersection of US 220 and NC 73 in 2002. Construction of the extension road from NC 73 to the east of this intersection is behind the camera, at least for now it is not signed as NC 73. These corridor signs were still up (and US 220 signage not changed) as of January 2008. Photo courtesy of Adam Prince.
---
List of Exit Numbers for this Segment, from north to south. Numbers changed in Sept. 2013: 7
Interchange Previous Number New (I-73 Mileage Number)
US 220 North Candor * 24 41
Tabernacle Church Rd 22 39
NC 73 18 35
Norman 16 33
Haywood Parker Rd 13 30
Millstone Rd (To NC 73) 11 28
North US 220 Ellerbe* 8 25
*NCDOT Plans to move US 220 off the freeway and back on its old alignment according to signage plans.