Segment 7 / Segment 8



Where: From Junction of I-74 freeway near Randleman, to North of SR 1364 in Asheboro, Randolph County

Length: 5 Miles

Signed as:

Completed: December 2013 by adding new Interstate 73 and 74 Signage
Segment Info
I-74 now joins I-73 at the end of the 'US 311 Bypass' freeway that was completed and opened in June 2013. The two interstates then proceed south to Asheboro. When the I-73/74 freeway south of Asheboro was completed in 1997, this segment of highway received Future I-73 and I-74 signage (south of the US 311 exit). The highway itself, especially the widths of its left and right shoulders, was not far from interstate standards. In fact, in design it was similar to the pre-existing US 220 freeway from Steed to Candor which got full Interstate 73 and 74 signs in 1997. NCDOT got the FHWA in 1997 to exempt certain design deficiencies along this stretch so it could be signed as Interstates 73 and 74. However, the FHWA would not allow NCDOT to do so until deficiencies in the roadway further south, through Asheboro were corrected.1
Despite the exemption, prior to the 2012-2018 STIP, the upgrade of this section of highway to Interstate standards was listed as an Unfunded Interstate Project, No. I-4921 (for more details see I-73 Segment 6) in the state TIP.2 In August 2004 G.R. Kindley, then vice chair if the state board of transportation, stated that federal authorities would allow allow NCDOT to sign the highway as a full interstate once the project to upgrade US 220 through Asheboro was complete (see I-73 segment 8/I-74 segment 9).3 Signs put up as part of the I-74 freeway contract on US 220 north in the summer of 2012 implied this was the case (see photos below). A project let in March 2013 to upgrade exit signage along the US 220 segments of I-73 and I-74 also included replacing the future interstate shields on US 220, and the additional Future Interstate signage put up in the early 2000's at the US 220 on-ramps in Randolph county and on highways near US 220 (see below) with I-73 and I-74 shields. This work was to be completed in October 2013 but was finished about 2 months late in December 19, 2013.4
"Drive" this Segment watching these Videos from RoadwayWiz taken in the Summer of 2021 (New)
I-73 North/I-74 West Exits 68 to 80 (Includes I-73 Segment 8)
I-73 South/I-74 East Exits 80 to 70 (Includes I-73 Segment 8)
"Drive" This Segment Using Google Maps Street View
I-73 South/I-74 East from I-74 interchange Using I-74 East Exit Ramp (June 2019)
I-73 North/I-74 West from SR 1364 Using Vision Drive On-Ramp (January 2014)

Photos taken in 2013 (showing progress in re-signing US 220 as I-73)
The covered overhead sign is for unopened I-74 exit on I-73/US 220 South beyond the US 311 exit. The Sign stayed covered until freeway was opened in May 2013, Photo courtesy of Strider. (4/6/13)
---
Photos taken in May 2021 by Adam Prince
Exit sign still with US 311 shield despite decommissioning of route.
---
Photos taken 2002-2012 (hover over image for larger version)
New center-post overhead sign for new I-74 exit on US 220 North south of Pineview Street. Sign was covered until freeway 2 miles north was opened in May 2013. (7/28/12)
---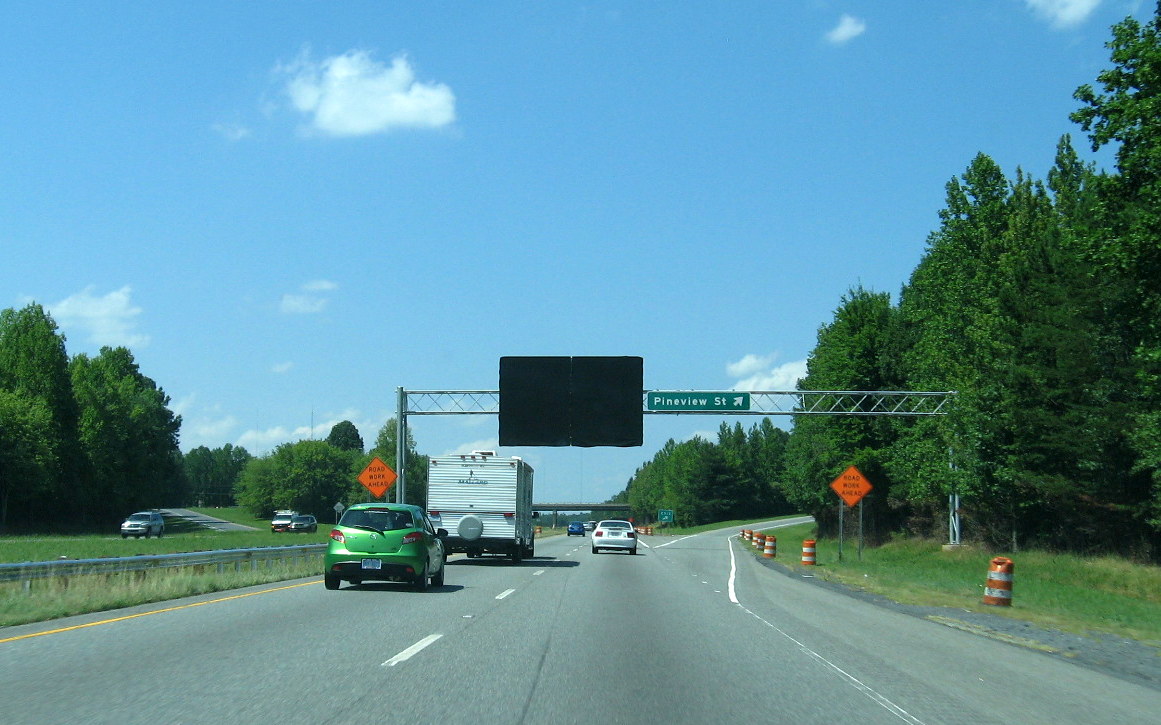 Overhead exit signs on US 220 North put up in July 2012 for Pineview Street and future I-74 freeway to High Point. No exit tabs were placed in these signs until 2013 where, as part of a sign upgrade project,, Pineview Street became Exit 79. (7/28/12)
---
More signage placed in July 2012 and partially uncovered at I-74 exit on US 220 (Future I-73) revealed the intention of NCDOT to designate this segment, and the rest of the highway to Greensboro, as I-73 once the Asheboro segment of US 220 was upgraded in 2013. (7/28/12)
---
Exit signage put up for the US 311 exit on southbound US 220 in July 2012 as part of the contract building the new I-74 freeway. Again no exit tab matching surrounding signs, but later added in 2013 indicating this was Exit 81, and the inclusion of US 311 indicated the part of that route between I-74 and I-73 remained after the I-74 freeway (carrying the US route from High Point) was completed. (7/15/12)
---
The overhead exit sign for Pineview Street on US 220 South in July 2012, the new lane to the right would later carry I-74 East traffic onto I-73/US 220 South. Again, no exit tab to match the than numberless exits to the south on this segment of Future I-73. (7/28/12)
---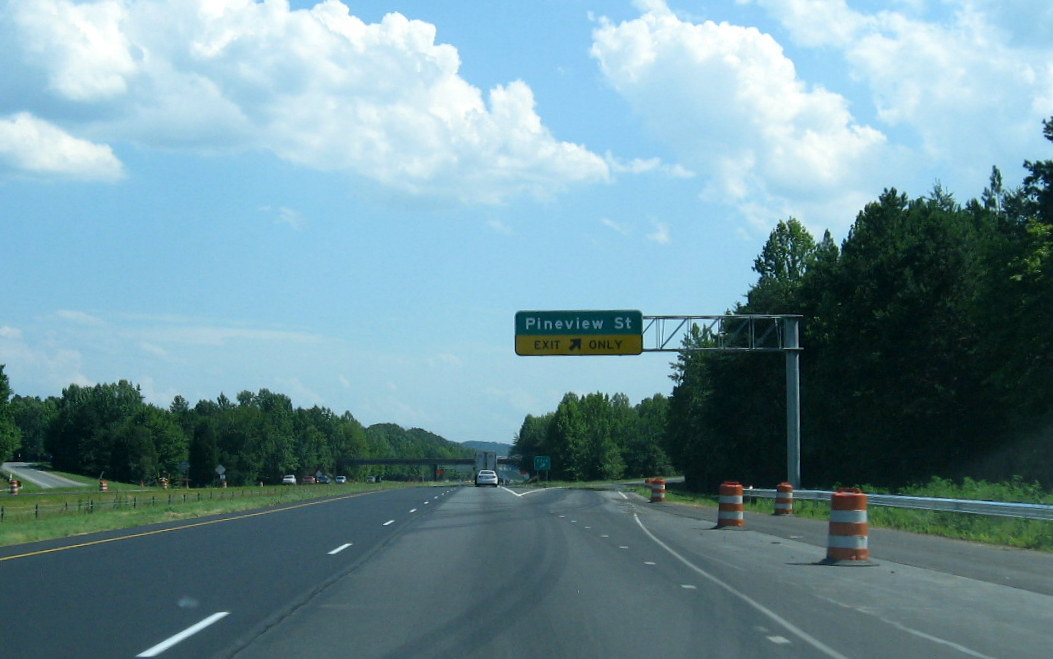 Sign at the Pineview Street exit on US 220 South put up in July 2012 as part of the contract building the I-74 freeway. The exit only ramp originates at the I-74 East on-ramp. (7/28/12)
---
Here was the end Future I-74 sign NCDOT put up after the US 311 exit on-ramp in 2007. I-74 actually joins I-73/US 220 now about a mile south. The sign was removed after the I-74 freeway to I-73/US 220 was completed in May 2013. (6/25/09)
---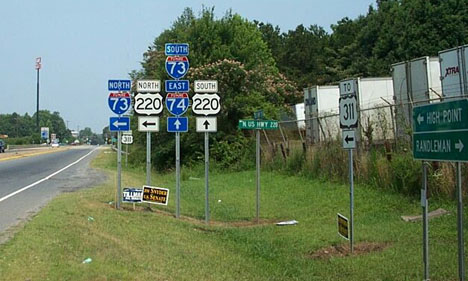 Signage at the intersection of US 311 and US 220 (Future I-73 North and Future I-73 South/I-74 East) prior to 2013. There were no West Future 74 signs because this was where the Future I-74 shields along US 220 ended. (US 311 began at this intersection as well, despite the 'To' banner).
---
Sign assembly at the intersection of US 220 Business between 1997 and 2013 at what was the original end of US 311, these Future I-73/74 signs were 1/2 mile east of the US 220 freeway.
---
2013 Sign and Exit Number Changes
In May 2010, NCDOT released plans for its next I-73 construction project, upgrading US 220 through Asheboro to Interstate Standards (see I-73 Segment 8). As part of the construction plans, NCDOT is renumbering the exits in that section from US 220 miles, currently used south of Asheboro, to I-73 miles used around Greensboro. New exit signage would start at the Spero Road interchange. Meanwhile, as part of the construction plans for the extension of US 311 (I-74) to US 220, the contractor for that project put new exit signs for the Pineview Street exit south of the new interchange. As seen above, the new exit was not given any number. NCDOT, however, under project started in March 2013, is updating the exit signage along US 220 both north to I-85 and south to Ellerbe at a cost of $654,000, upgrading the I-73 and I-74 shields to interstate status will be done under the same contract.5 In July 2013 exit number tabs with I-73 milepost numbers were added to the existing new signs, as well as other ones put up under the new contract. The future interstate shields, though, had not been replaced, but that should happen by October 2013. Here's a list of new exit numbers for this segment, based on contract plans on the NCDOT website6, going North to South:
Exit 80 West I-74 High Point, Winston-Salem (I-74 freeway completed in June 2013)*
Exit 79 Pineview Street
Exit 77 Spero Road

For a list of all exits, go to the I-73 Exit List.
*Despite the common name for the new I-74 freeway being the US 311 Bypass, US 311 ended up following the new freeway only as far as where the route met the the existing US 311 (see I-74 Segment 7) in Sophia. US 311 remained on its historic route east of the freeway to its end until it was decommissioned in 2018 to Winston-Salem. The signage will probably be removed some time in 2021, similar signage was removed further north in Guilford County in the spring of 2021.7