I-87 - Connecting Raleigh to Norfolk, VA
First Proposed: 2012
Part of Route Approved as I-495: 2013 (by AASHTO in May, FHWA in Dec.)
Entire Route Approved: May 2016
Currently Signed as I-87 (as of Sept. 2017), 12 miles from I-40/I-440 to US 64/264 Business 64 exit
The Official Route in NC: US 64 from I-440 at I-40 in Raleigh to US 17 in Williamston to VA border, 179 miles
(12 Miles from I-40 along I-440 to US 64/264 are signed as I-87, the remaining 167 miles to NC border signed Future 87 until route is upgraded to interstate standards-see sign photos below)
---
Interstate 87 is the new designation for a planned highway corridor between I-40 in Raleigh and I-64 in Norfolk, VA approved by AASHTO and the FHWA in May 2016. Here's the map of the corridor from NCDOT's AASHTO application.1

In February 2017 the FHWA officially approved I-87 signing along the western part of the route from I-40, along I-440 to the US 64/264 Knightdale Bypass, currently signed as I-495, then east to the Business 64 exit. Ground-mounted I-87 signs were put up in the Fall of 2017. It is unknown when overhead signage will be put up along these routes, however the route first appeared on Google Maps on June 16, 2017.2
Official Route of I-87
For now, the interstate highway will be signed as I-87 for only 12 miles from I-40/I-440 interchange south of Raleigh, for 2.9 miles over I-440, then for 10 miles to the end of the US 64/US 264 Knightdale Bypass at the US 64 Business exit. For the remainder of the route proceeding east along US 64 to its interchange with US 17 west of Williamston and then US 17 from there north to the Virginia border, NCDOT has placed Future I-87 signs along the roadway at the beginning of freeway segments and at county lines.3 Here's a closeup map of the route in the Raleigh area used as part of NCDOT's application to AASHTO to delete the I-495 designation:
History of Raleigh to Norfolk Interstate Proposal
Getting an interstate designation for the Raleigh-Norfolk corridor has been a continual effort over the past decade largely by Raleigh and Wake County business leaders and officials to boost economic development in the eastern Wake County area and encourage tourist travel from the I-95 corridor to North Carolina's capital city. In May 2005, the Capital Area Metropolitan Planning Organization (CAMPO), passed a resolution supporting the redesignation of US 64 as a I-X95 three-digit route, for which they chose the number 495 as an example of a possible designation.4 Several other political organizations passed similar resolutions, including the Greater Raleigh Chamber of Commerce, especially after the US 64/264 Knightdale Bypass was completed and opened to traffic later in 2005. In 2010, an umbrella group made up of several pro-transportation business groups, including the Raleigh and Franklin County Chambers of Commerce, called the Regional Transportation Alliance (RTA) also endorsed the concept of an I-495 route for US 64 on a page of their website. By 2012, however, RTA was promoting a larger plan of using US 64 as the western end of a Raleigh to Norfolk, VA interstate which they labeled I-44.5
Establishment of I-495
NCDOT did not seem to be too interested these interstate proposals, at least publicly, until March 2013 when they sent an application to AASHTO's Special Committee on US Route Numbering asking for the I-495 designation for US 64 and, at the same time, put a map of the proposed route on their Route Changes website.6 Within the application packet was a copy of a letter to the FHWA (more below) from NC Governor Pat McCrory seeking the same thing. AASHTO approved the I-495 designation in May 2013 conditionally pending final approval of the FHWA.7 FHWA approval was announced at RTA's 12th Annual Meeting in Cary on December 12, 2013 by Governor McCrory and NCDOT Secretary Tony Tata.

NCDOT started the placement of I-495 signs during mid-April 2014. Standard interstate shields were placed along the Bypass freeway from I-440 to I-540, with North and South directional banners. Green signs with Future 495 were installed on wooden posts along the rest of the US 64 freeway to I-95, first eastbound, and then back westward.8

Photo courtesy of NCDOT.




Congressional Bill Results in New Designation
Despite the I-495 designation, NC officials and business groups like the RTA still pursued an interstate designation for the entire US 64/US 17 Raleigh to Norfolk corridor. On December 15 2015, language specifically calling for an interstate route for the corridor, and along US 70 from Raleigh to Morehead City (Future I-42), was included in the new transportation bill passed by Congress, the Fixing America's Surface Transportation (FAST) Act. RTA and NCDOT immediately started the process of getting an interstate number for the corridor. RTA's suggested number, I-89, was applied for during the May 25, 2016 meeting of AASHTO's Special Committee on US Route Numbering.9 AASHTO agreed to approve the route, but only if it was numbered as I-87. In November 2016, the FHWA and AASHTO approved NCDOT's request that US 264 from US 64 in Zebulon to Greenville be designated an I-87 spur route, I-587.10 In February 2017 the FHWA Interstate Route Log was updated to include I-87. In May 2017, the AASHTO Special Committee on US Route Numbering approved NCDOT's request to delete the I-495 routes in favor of I-87.11
Future Construction

The US 64 freeway west of US 64 Business in Knightdale is currently not up to interstate standards. This part of the I-87 route needs to be upgraded before full interstate designation can be applied. The route therefore, for the immediate future, will only be signed as I-87 section from I-40 along 2.9 miles of I-440 and along the Knightdale Bypass for 10 miles to the US 64 Business exit. In September 2017 NCDOT began putting up I-87 signs both on I-440 and along the US 64/264 section that had the I-495 or Future I-495 designation (Future I-495 signs were removed in late August and early September). NCDOT started putting up Future I-87 signs (see below) in the fall of 2016 along US 64 east of I-95 and US 17, mostly at county lines. How long these Future signs will be up is unknown, currently there are no funded projects to completely upgrade US 64 through 2029. NCDOT's new Draft 2020-2029 STIP document does have some projects to upgrade parts of US 64 and US 17, however. Pavement rehabilitation projects starting in 2020 in Edgecombe and Nash Counties (Projects I-6041 and I-6046) and in 2024 from I-540 to the Nash County line (I-6001) will bring the shoulders of US 64 up to interstate standards, the former will connect to the existing interstate standard part of US 64 in Martin County that would take I-87 to Williamston. The only project listed to upgrade US 64 to Interstate Standards (U-6149) from NC 58 in Nash County to the Thomas Road overpass east of Rocky Mount, a total of 24 miles, is not to start until after 2029, though right of way purchases are planned to start in 2025.12 In 2025, NCDOT plans to widen US 64/264 from the current end of I-87 at Business 64 to the split on US 64 and US 264 (Future I-587) (Project I-6005).13 It is assumed interstate standard shoulders will be built as part of the construction project. A planned upgrade along US 17 from the end of the Elizabeth City Bypass to the Virginia border was dropped from the new STIP, in its place a less costly project of upgrading intersections along the Hertford Bypass is to take place in 2028, no other US 17 projects were listed.14 Elizabeth City officials are working with NCDOT to determine the final alignment of the interstate and have discussed projects including adding bike lanes along the route as part of a proposed Main to Florida bike trail called the East Coast Greenway. The Elizabeth City Council endorsed the bike route plan in December 2018 in hopes it might help speed the securing of a final alignment of I-87 through the area.15
NCDOT has 30 years from the future interstate designation to make the necessary upgrades. Therefore, it could be a long time before the entire route can be signed a full interstate. NCDOT did release a feasibility study (FS-1504A) about upgrading US 64 from the current end of I-87 to its intersection with US 17 in Williamston on August 16, 2017. NCDOT estimated the upgrade of the 86.4 miles of US 64 would cost between $267 and $369 million depending on what modifications were made. Two of the alternatives call for adding 1 or 2 extra lanes between the Wendell and the US 264 interchange. The most expensive alternative would revise some of the sub-standard interchanges, construct auxiliary lanes between some exit ramps, and re-align US 64 in the Rocky Mount area so the speed limit could be raised to 70 MPH, as it is along the rest of the study corridor. The study has no timetable for construction but uses forecasted 2040 traffic counts in the Level of Service estimates for each alternative.16
Sign Plans for Interstate 87
NCDOT plans to supplement its recently placed I-87 signs with new overhead signage. Here's some of the sign plans. Though signs were updated on I-40 approaching the I-87/I-440 interchange in April 2018, I-87 was not included on those signs. For more background on this project check out this Blog Post by Adam Prince:
Signage at I-40:


Signage at I-440:
For Business 64 in Wendell:
As the plans show, NCDOT will replace the current exit numbers with ones using I-87 mileposts. According to the Request for Proposals for the underway I-40 widening project east/south of I-440 to NC 42, the contractor for that project will be responsible for putting up the overhead signs. It is to be completed by July 2019 before major work gets underway on the widening project.17 See the revised exit list for the official numbers between I-440 and Wendell.


Photos along the Route of I-87
Photos taken along the path of I-87 between Raleigh and the Virginia Line, both currently signed as I-87 or Future I-87. Feel free to send me additional photos, especially of any new signs that go up in the future (hover over for larger image).
NEW-I-87 shield painted on Smithfield Road approaching Knightdale Bypass interchange (courtesy of Adam Prince):
I-87 trailblazer (courtesy of Brian Johnson):
Signage along US 64/264 put up in early September 2017 (photos courtesy of Adam Prince):

New (and last) South I-87 trailblazer put up prior to I-40 exit on East I-440/West US 64.


Temporary I-87 reassurance markers have gone up next to existing guide signs, in this case for I-495/US 64/US 264. Sign to be revised under an upcoming contract by July 2019 (see below).
Another South I-87 reassurance marker beyond where I-495 was signed between I-440 and I-540.
There are also some stand-along reassurance markers as well.
An additional photo by Ben Thurkill showing a new temporary end I-87 sign next to existing End I-440, this too will be replaced by a new sign with both shields:
NCDOT traffic image showing South I-87 reassurance marker put up next to existing US 64/264 West guide sign after Smithfield Road exit. Finally, An I-87 trailblazer from a Triangle Business Journal article:
NCDOT has placed a new Future I-87 sign on the former site of a Future I-495 sign on US 64 East in Franklin County, photo courtesy of Ben Thurkill on August 24, 2017:
Photos taken on March 31 and April 2, 2017:
Current signage approaching the Knightdale Bypass on I-440 West. The I-495 sign should be swapped out for I-87 in the not so distant future.
The next set of overhead signs taken approaching the Knightdale Bypass on I-440 West, the I-495 signs days are numbered.
Overhead signs at the exit itself, swapping I-87 shields for I-495 should not be too difficult.
This Begin I-495 sign just before the New Hope Road exit days are numbered, though still standing as of May 2018. The sign is already obsolete according to the FHWA.
Changing this reassurance marker sign following New Hope Road to I-87 should be simple enough.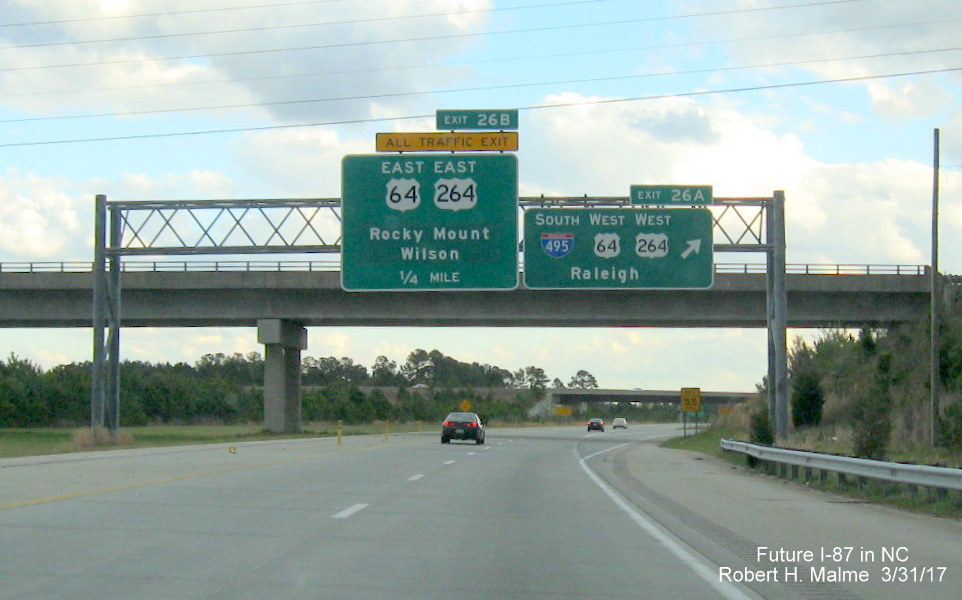 Same for this overhead sign at the current eastern end of I-540 at the Knightdale Bypass.
Heading back South on the Knightdale Bypass this sign will also need an I-87 shield to replace the I-495 one.
This overhead assembly approaching I-440, and the others will need to be changed since I-87 is to take I-440 East to I-40.
This end sign for I-495 is also now obsolete. Will NCDOT simply remove the I-495 shield or replace the whole sign?
This I-495 trailblazer at the Hodge Road interchange will need to be changed, a simple swapping of I-87 for I-495 shields should happen soon.
A second photo of the signage at the on-ramp to Future I-87 North. Only NCDOT currently knows when the I-495 shields will be removed for I-87.
Earlier photos:
Then Governor McRory at Future I-87 Sign unveiling event in November 2016. Photo Courtesy of NCDOT.18
Photo of Future I-87 sign on US 64 west of Williamston, Courtesy of Adam Prince, March 18, 2017:


Another photo taken along US 64 at the Edgecombe County line, by Adam Prince, Feb. 2017:

---
Photos of signage taken along the I-87/Future I-87 corridor: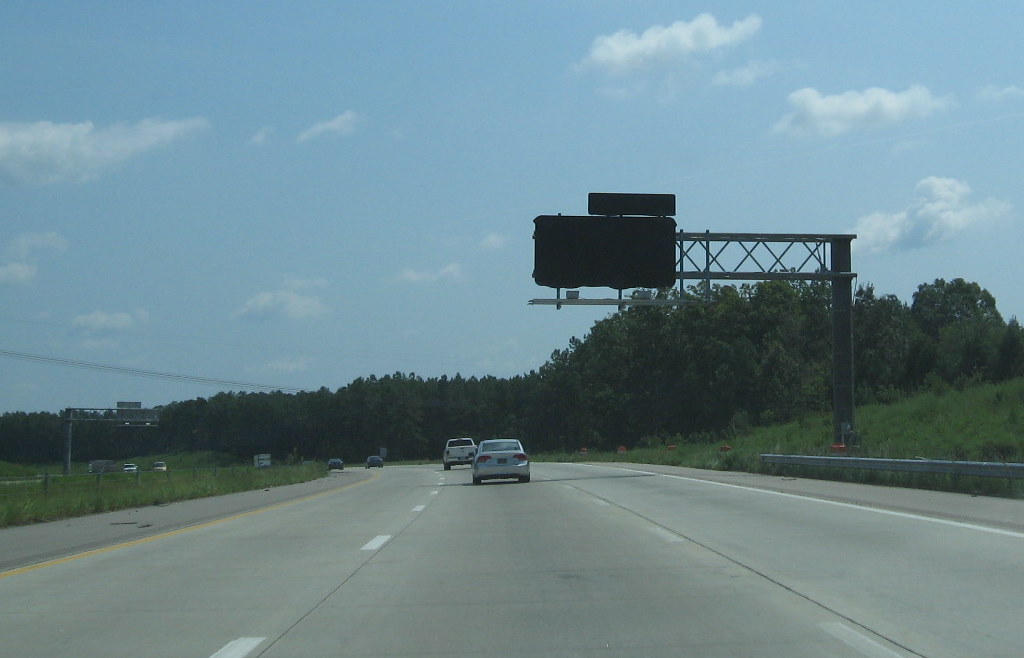 Covered sign on East US 64/US 264 for new Wendell Falls Parkway exit then under construction along US 64/264, the development the exit was built for was later a victim of the recession. (8/7/2009)
---

Sign on East US 64/US 264 for now open Wendell Falls Parkway along US 64/264 in January 2010, the exit was open even if no place to go to. (1/15/2010)
---

Sign for the Wendell exit on US 64/264 East after the eastern end of the Knightdale Bypass. I-87 will not be signed, at least as a full interstate, in this area until the shoulders are widened. (1/15/2010)
---

Sign for one of the major interchanges along Future I-87, that for the split with US 264, which was given the I-587 designation in December 2016, in January 2010. Substandard shoulders in view. (1/15/2010)
---

Signage approaching the split of US 64 and US 264 East (Future I-587). This exit is probably not up to current standards, and may have to be rebuilt. (1/15/2010)