Wilmington Bypass
First Section Opened: August 2005
Last Section Opened: December 19, 2017
HIGHWAY SECTION OPENING DATES
1. I-40 to NC 133: August 22, 2005
2. NC 133 to US 421/ I-40 to US 17: June 30, 2006
3. US 17 to US 74/76: September 2014 (as NC 140 until Dec. 2017)
US 421 to US 74/76: December 19, 2017
---
The Wilmington Bypass is a 25-mile freeway runs from US 17 near Scotts Hill westward over to I-40 then further west to US 74-76 then south to US 17 near the town of Town Creek. The highway is currently signed as Interstate 140 along part of the western half of its route and designated NC 140 along its eastern half, it is also signed as US 17, though officially that highway has been routed back through Wilmington (see below). The following map showed the completed sections of the route in 2006:
Map courtesy of Wilmingtontoday.com
History of the Wilmington Bypass
Four different construction projects were undertaken from 2003 to 2017 to build nearly 25 miles of the Wilmington Bypass route currently open from US 17 at Scotts Hill over I-40, US 421 and US 74/76 back to US 17in Brunswick County. Work began on two projects covering the 6.5 mile I-140 section from I-40 to US 421 in mid-2001. The three-mile section from I-40 to Castle Hayne Road (NC 133) was completed first, with the roadway opened to traffic on August 22, 2005.1 The 3.5 mile section from NC 133 to US 421, including a bridge over the Cape Fear River (named for former Wilmington Mayor Dan Cameron) was opened to traffic on June 30, 2006.2 Construction on the 5 mile section east of I-40, signed as US 17 only, and known as the John J. Burney Jr. Freeway, was started in late 2003 and this section was also opened to traffic on June 30, 2006.2,3 Prior to December 2017 the interchanges along the I-140 section were for I-40, NC 133 and US 421. When the road opened these interchanges did not have exit numbers, these were added in spring or summer of 2007. (An exit list is below.)
Work on the next section from US 421 to US 74-76, approximately 7 miles, was originally scheduled to start in 2009,5 but this segment's construction was delayed until 2014. Instead what was to be the final section, approximately 5 miles from US 74-76 to US 17 near its intersection with NC 87, became the fourth segment to be constructed. Funded through federal stimulus moneys, work began under a design-build contract in late March 2010 (for more details, see below)6 and was completed in September 2014.7 The final section from US 421 to US-74/76 opened in December 19, 2017, the westbound section opening midday and the eastbound section in the evening.8 A ribbon-cutting for the last section was held on December 15, though the road didn't open to the public for another week.9 AASHTO approved the extension of I-140 along the section opened in December and the earlier section between US 74/76 and US 17 on May 21, 2018, 5 months after NCDOT signed it, curiously they did not apply to have I-140 extended east of I-40.10
A future I-140 interchange is planned for Blue Clay Road but is not planned to be built until around 2024. This will take traffic to the Wilmington International Airport. An additional exit is planned east of I-40 for the planned Military Cutoff Road Extension, which will become part of a planned new section of US 17 running north of Scotts Hill.11
Here was the official 2007 NCDOT timetable for the construction of the Western Portion of the Wilmington Bypass. The BA and BB sections were completed ahead of this schedule15:
| | | | | |
| --- | --- | --- | --- | --- |
| Segment | Location | Length | Start Date | Completion Date |
| A | NC 87 SOUTH OF BISHOP TO US 74/US 76 EAST OF MALMO | 5.3 miles | 2010 | September 2014 |
| BA | US 74/US 76 EAST OF MALMO TO SR 1430 (CEDAR HILL ROAD) | 3.9 miles | 2013 | June 2018 |
| BB | (CEDAR HILL ROAD) TO WEST OF US 421 NORTH OF WILMINGTON | 3.7 miles | 2013 | April 2018 |
| C | WEST OF US 421 TO EAST OF I-40 | 7.1 miles | 2001 | June 2006 |






Route Numbering History
The Wilmington Bypass was first proposed as a bypass route for US 17. The route was designed to take through traffic from the crowded Wilmington streets and reroute it around the city. When the route was completed from Scotts Hill to US 421 in 2006, the segment west of I-40 was signed a I-140 and, even though the route was not make it back to the original alignment of US 17 until after 201712, the entire route on both sides of I-40 was designated US 17, with US 17 then routed south on US 421 to its existing alignment. The former US 17 through Wilmington became US 17 Business. Truck US 17, signed along streets in downtown Wilmington, was decommissioned.5 However, in 2014 NCDOT reversed course and proposed that US 17 be re-routed through Wilmington along its old path, with the exception of using Military Cutoff Road and Oleander Drive to make it back to its original crossing over the Cape Fear River Memorial Bridge. The reason stated by NCDOT was that the amount of traffic using Military Cutoff Road justified a route designation. This proposal was endorsed by the region's Transportation Advisory Committee in August 2014.12 NCDOT submitted this request to AASHTO's US Route Numbering Committee which approved the relocation on May 15, 2015.13 Meanwhile, NCDOT designated the entire Bypass route, including the section signed as I-140, as NC 140 on January 14, 2015 citing their wish to have the entire route designated as Interstate 140 in the future.14 The FHWA granted the interstate designation for the western Wilmington Bypass route on May 31, 2003. US 17 signs remained on the Bypass until August 2018, more than 8 months after the entire Bypass was completed. New sections were signed just as I-140 (see photo section) and US 17 was removed from existing overhead signage, such as at the I-40 exit, as shown in this traffic camera photo from September 201815: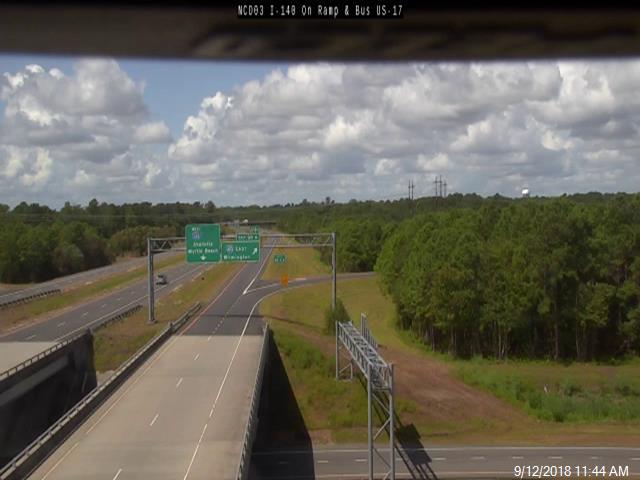 In late 2018, NCDOT put up NC 140 signs along the Bypass east of I-40 (hopefully, photos will be posted soon).
A proposed Wilmington end-point for I-74 (and a possible spur of I-74, see More about I-74 Here) would meet I-140 where it would intersect the existing US 74-76 freeway.16
Wilmington Bypass and US 74/76 Videos
Travel over the opened section of the Wilmington Bypass on this Video Courtesy of J. Austin Carter Taken in March 2013 (Best using Windows Media Player).
Continue on US 74/US 76 in Brunswick County and check out construction of the next segment of the Wilmington Bypass (and the possible future path of I-74) on this Video Also Courtesy of J. Austin Carter Taken in January 2013 (Best using Windows Media Player).
Signage for new I-140 Section
Since I don't currently have photos for signage west/south of US 421, here are some sign plans published for the contract to complete the US 421 to US 74/76 section:
There are two exits between US 421 and US 74/76:
The plans also contained signage for southbound I-140 for the US 74/76 Leland exit: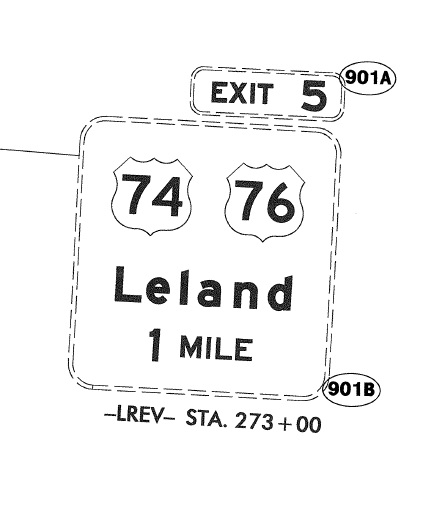 The northbound signs were updated by having the 'All Traffic Must Exit' banner on top of the signs removed. The plans also contained updated ramp signage for US 74/76 and US 17. At that time US 17 was still planned to go on Bypass, as the photos below show, it was removed before the final signs were put up:





Photos of I-140 signage (Hover over for Larger Image)
From US 74/76 interchange in August 2018, courtesy of J. Austin Carter:

Note that these signs do not feature US 17, which is still on other signs, but is officially no longer routed with I-140 and that the ramp construction did not include any major upgrading of US 74/76, which might have been useful if NCDOT decides to route I-74 along US 74/76 to end here.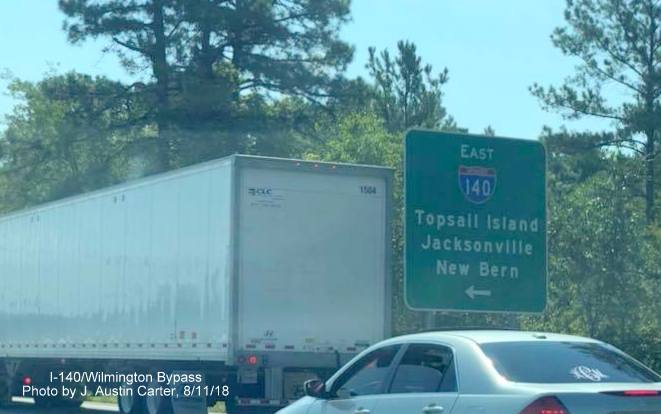 A ground mounted sign for I-140 East at the left entrance ramp from US 74/76 West.


From Section Under Construction in March 2013, courtesy of J. Austin Carter:

At the future southern end of I-140 at US 17 near Leland, Looking north along roadbed. Photo courtesy of J. Austin Carter. (3/26/2013)
---

At the future southern end of I-140 at US 17 near Leland, Looking south at a bend along the road back toward future US 17 interchange. Photo courtesy of J. Austin Carter. (3/26/2013)
---

At the future southern end of I-140 along US 17 near Leland, Looking at construction from US 17 South. Photo courtesy of J. Austin Carter. (3/26/2013)
---

This is the future I-140 on-ramp from US 17 near Leland. Photo courtesy of J. Austin Carter. (3/26/2013)
---

From the current eastbound lanes of US 74/76 showing posts for future 1 mile advance sign for I-140 . Photo courtesy of J. Austin Carter. (3/26/2013)
---
Photos from Open Segment of I-140 Taken in 2006 and 2007

Along NC 133, Castle Hayne Road, nearing the I-140 interchange, July 2006
---

Photo of exit signage for the NC 133 interchange along West I-140, May 2006. Since then exit numbers have been added, this is now Exit 18.
---

Here's signage at the current end of I-140 at US 421, July 2006. Photo courtesy of Adam Prince.
---

Here's a Begin I-140 sign in the distance as you start crossing the Dan Cameron Bridge going east. Photo courtesy of Jon Meisenhelder.
---

And since all things that begin must end, here's the eastbound End I-140 sign at I-40. Photo courtesy of John Meisenhelder, Nov. 2007.
---

This is one of the I-140 East mile markers, Mile 16. Photo courtesy of John Meisenhelder, Nov. 2007.
---

Here's the signage at the start of the Loop in Scott's Hill that reflected NCDOT's initial decision to route US 17 onto, but leave I-140 off of, the eastern half of the Wilmington Bypass. (July 2006)
---
An I-140 Extension?
The NCDOT Strategic Highway Corridor map of the Wilmington area shows I-140 being extended 9.5 miles over the proposed Cape Fear Skyway south and east back over the Cape Fear River to US 421. (See map below).18 This is NCTA's preferred route for the Skyway, one of several proposed projects of the North Carolina Turnpike Authority (NCTA) and would be constructed as a toll highway. The preferred route of the Skyway bridge would run from Carolina Beach Road at Independence Boulevard south of Wilmington over the Cape Fear River. It would then connect to US 17 through an 8-mile-long extension of Interstate 140 from it's current planned end near Town Creek. This alignment has not been finalized (see below), however, and other routes do not have the toll highway meeting I-140. The project, if officially approved, is expected to cost between $1 and 1.5 billion and would take five years to build, the earliest construction would start is 2013.19 A feasibility study completed during the summer of 2008 indicated only about 50% of the construction could be funded by tolls. Additional funding from the state would be needed.20 More information is available at the official NC Turnpike Authority Cape Fear Skyway Page.
Changes Made in the Final Sections to be Built:
NCDOT announced in July 2009 that federal stimulus funds would help start further construction on I-140/US 17. The next section to be constructed though was not going to be from US 421 to US 74/76, Segment "B", but the section between US 74/76 and US 17 near NC 87, Segment "A''. This is a design/build construction project which began in March 2010. This segment was more 'shovel ready' and able to receive stimulus funds. The project was completed in September 2014. Segment "B" was complicated by another water crossing and later, environmental litigation. Work finally began in the Fall of 2014, meaning there was a gap in the route for more than three years.22 The entire route, though officially not to be complete until the summer of 2018, was opened to traffic on December 19, 2017.8
Not NCDOT's First I-140 Proposal
This is not the first route NCDOT proposed as I-140. In 1999, officials in Sanford wanted the newly completed US 1 freeway from Raleigh to their city designated an interstate to help attract further business. NCDOT applied to the FHWA to have the freeway designated as Interstate 140. The FHWA rejected the designation, however, saying Sanford was not a large enough urban area to warrant its own interstate highway. Perhaps some day if all of US 1 is made a freeway between I-40 in Raleigh and I-73/74 in Rockingham (as proposed in the NCDOT Strategic Highway Corridors plan) then someone may suggest revisiting a US 1 interstate designation proposal.
I-140/NC 140 Exit List 23:
Exit 1 [Left Exit] (WB Only)


North
Wilmington
Exit 5
Leland
Exit 7
Mount Misery Rd
Exit 11
Cedar Hill Road
Exit 14

Wilmington
Myrtle Beach
Exit 18

Castle Hayne
Exit 20A

Wilmington
Carolina Beach

Exit 20B

Benson
Raleigh
End I-140/Begin NC 140
(EB Only)
South
---