Future
in NC
Interstate 42 is a 137 mile planned interstate route from I-40 south of Raleigh to Morehead City mostly along existing US 70. AASHTO gave approval to the number in May 2016, though originally NCDOT asked that the route be designated I-36, after the corridor was granted interstate status under the 2015 Fixing America's Surface Transportation (FAST) Highway Act. Here's the corridor map as submitted in its AASHTO application:1
This page will summarize the progress in building and signing the route from west to east. The projected completion date for the entire route is 2032.2 The first segment to receive I-42 signage will be the Goldsboro Bypass. I've broken the route into 8 segments with a description of the progress of constructing I-42 in each:

UPDATE September 3, 2020: The financial shortfall caused by the COVID-19 pandemic has resulted in NCDOT delaying or postponing some I-42 related projects, the updated dates are below.
Segment 1
US 70 Clayton Bypass
Road Type: Interstate Standard Freeway Length: 8.4 Miles
Status: Complete [Except for I-42 Signage]
This segment could be signed as I-42 today. NCDOT perhaps is waiting, however to sign it until projects further east to I-95 in Smithfield are completed. Photos from this segment are in the Photos section below.

---
Segment 2
US 70 from End of Clayton Bypass to Beginning of US 70 Goldsboro Bypass (includes Bypass US 70 in Smithfield)

Road Type: 4-lane Divided Roadway with some Freeway Sections Length: 22.5 Miles
Status: Needs Upgrade to Interstate Status
There are two funded projects and one feasibility study underway to upgrade this section of US 70:
As part of the plan to upgrade to Interstate Standards from US 70 Business to Neuse River Bridge (W-5600) , NCDOT will replace the current US 70 intersections with Wilson Mills Road and Swift Creek Road to interchanges starting in the fall of 2020 with a plan to award the contract in September 2020. The plan is to have US 70 be carried on a bridge over Wilson Mills while a bridge will carry Swift Creek over US 70. A connector road paralleling US 70 between the two roads will also be built. The total cost for the Wilson Mills interchanges is estimated at $77 million.3
Here's a map of the project area:4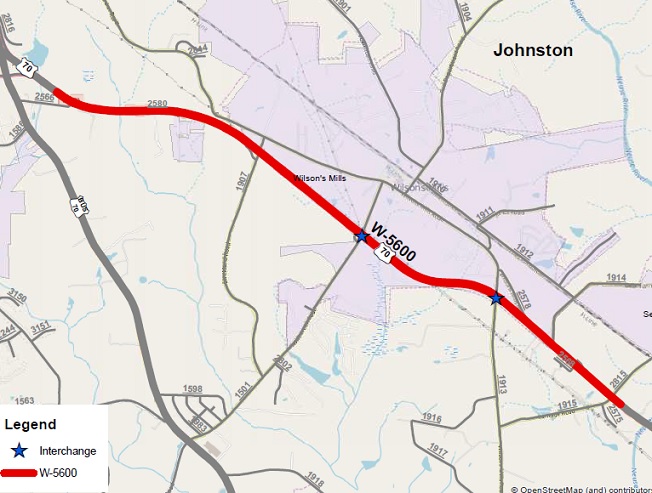 Upgrade to Interstate Standards in Princeton Area (R-5829AB) from US 70A to Goldsboro Bypass Design Build Projects. Project A to start in 2025, Project B in 2028.*
Here's a map of the project area:5
A Feasibility Study (FS-1604A) was published in August 2018 for determining how to upgrade the remaining section between the Neuse River Bridge and Smithfield. It split the segment into 4 sections and compared the cost of simply upgrading shoulders to a complete upgrade to interstate standards of the existing route. The upgrade option was the preferred alternative, though they suggested maybe simply upgrading shoulders could get the route signed as I-42 for Sections 1 and 2, that is from the end of the Clayton Bypass to Creech's Mill Road in Smithfield (includes I-95 interchange) . Here's a Link to the Report. Construction Date TBD. Here's a map of the study area:6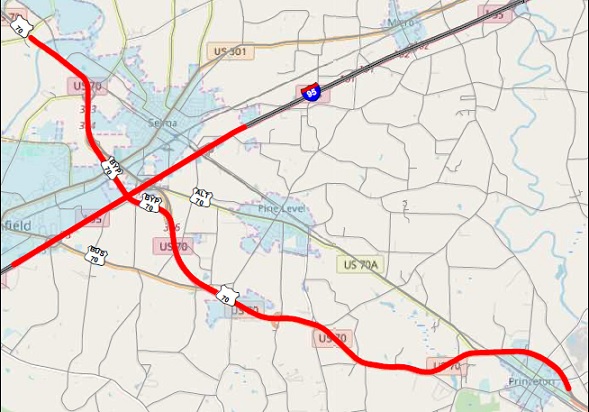 There are also several pavement upgrade projects for US 70 in Johnston County which may be part of I-42, depending on what final alignment is chosen, including a project C204333 (TIP No. I-6044) that will, as part of the project, reconstruct US 70 Bypass and other portions of US 70. Here is a map of the project area and 2 of the 4 work zones, work started in August 2019 and was scheduled to be completed in October 2020, the project no longer appeared on NCDOT's Construction Progress Report website as of November 2020:7
Here's the typical section plan showing shoulders varying from 2 to 10 feet. Rumble strips will also be added to Bypass 70 section, the only section that is currently a freeway:7
---
Segment 3
US 70 Goldsboro Bypass
Road Type: Interstate Standard Freeway Length: 21.7 Miles
Status: Complete [Except for I-42 Signage, expected in near future(?)]
The Super 70 Commission Director reported in his January/February 2019 message that the FHWA has approved signing the US 70 Goldsboro Bypass as I-42.8 It is unknown when NCDOT will sign it. There are no projects listed at either the state or division level related to I-42. There was some conjecture that NCDOT will apply to AASHTO at their Fall 2019 meeting to decommission Bypass US 70 on the Goldsboro Bypass and ask that it be replaced by I-42, however that didn't happen. A future request would reduce the amount of sign changes that would be needed.

---
Segment 4
Existing US 70 from NC 903 in LaGrange, to be built Kinston 'Shallow' Bypass, and upgraded US 70 to Dover
Road Type: Upgrade to Interstate Freeway (part to be built on new location) Length: 21.1 Miles
Status: Construction was to start in 2020 (US 70 Freeway) and 2027 (Bypass), however due to COVID-19 related budget shortfalls, the projects now won't start until after 2029.

In April 2018, NCDOT announced 12 possible alternative routes for the Kinston Bypass Project (R-2553) that will run from the end of the US 70 Goldsboro Bypass near LaGrange to the beginning of the US 70 freeway in Dover. Here was a map of the possible alternatives:9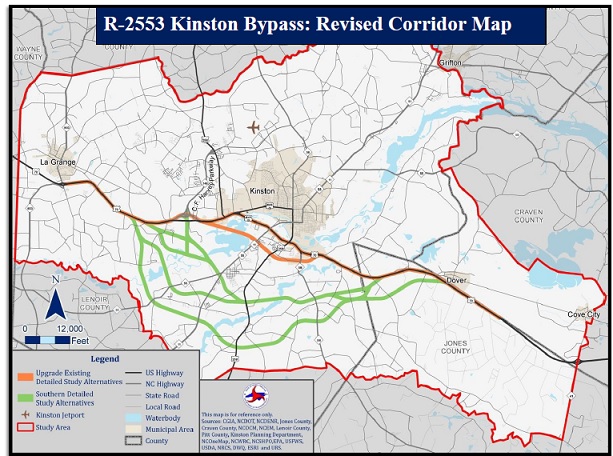 NCDOT held a public hearing in Kinston on August 31, 2019 allowing the public to weigh in on the possible routings. Many Lenoir County businesses and officials supported the 'Shallow Bypass' or Alternative 1SB which would have the Bypass follow existing US 70 for 14.6 of the 21.1 miles in this segment, the remainder would be on a new 6.5 mile bypass close to the existing US 70 and its businesses.
Here's a map of the chosen alternative:
The pre-COVID timeline for the project was for right-of-way acquisition to start in 2023, presuming the environmental impact statement is approved in 2021. Construction would then have started in 2027. The western section of the bypass follows current U.S. 70 for approximately 7 miles to just east of NC 148 (CF Harvey Parkway). Interchanges would be located at Willie Measley/Jim Sutton roads, Albert Sugg/Barwick Station roads, and NC 148. A new interchange east of NC 148 would provide access to the new shallow bypass section, which would be parallel existing U.S. 70 to the south for approximately 6.5 miles. Interchanges along the Bypass would be located at NC 11/NC 55, US 258 (South Queen Street), and at NC 58 (Trenton Highway). A new interchange east of Lenoir Community College would connect the shallow bypass back to existing U.S. 70. The bypass would then follow existing U.S. 70 to the end of the project near Dover, upgrading US 70 to a freeway with interchanges at Wyse Fork /Caswell Station Roads and Old U.S. 70 (West Kornegay Street) in Dover.10 Meanwhile, a project that will resurface and upgrade 3.1 miles of the existing US 70 freeway to Interstate Standards from the Bear Creek Bridge at the end of the Goldsboro Bypass to Willie Measley Road east of LaGrange (Project I-6034) was to be let in September 2019, but in July 2019 that was pushed back to March 2020, the project then disappeared from the March 2020 Letting list in February, also a COVID related postponement.
---
Segment 5
US 70 Freeway from Dover to New Bern
Road Type: Freeway Length: 26.1 Miles
Status: Needs Upgrade to Interstate Status (Underway), to be Completed in March 2021
NCDOT awarded a contract in the Spring of 2019 to repave and widen US 70 to interstate standards along the existing freeway between Dover and the Neuse River Bridge in New Bern. Work is now not to be completed until the spring of 2021. July 2020 Google Maps Street View images show that all of the US 70 shoulder work has been completed, work is now proceeding on upgrading exit and entrance ramps, most recently (August 2020) in the new Bern area.
Here's a map of the project location:11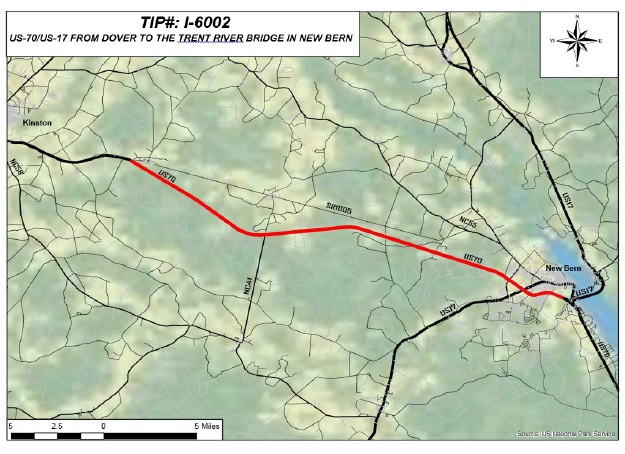 As of November 7, 2020 the project is 94.4% complete but the official completion date has been pushed back further again from March 1 to March 15, 2021.12 Signing of the section will not occur until the Kinston Bypass and related construction to the east are completed.
See the progress in shoulder widening as of May 2019 along US 70 west of New Bern using Google Maps Street View.
---
Segment 6
US 70 Neuse River Bridge to Havelock Bypass
Road Type: 4-lane Divided Roadway Length: 13.7 Miles
Status: Needs Upgrade/New Construction to Interstate Freeway
A 2-Part Project: First is from Neuse River Bridge to Thurman Road, (U-5713/R-5777AB, 5.1 Miles). Start of Construction-2021 Completion-2023 (Design/Build Project was awarded in September 2019 and work started on October 22.13 As of November 22, 2020 work is 13.5% complete.14 Part of contract that is creating interchange at Thurman Road already under construction along with another interchange with Glen Burnie Road.)
Map of Project Corridor:15
Second is Thurman Road to Havelock Bypass (R-5777C, 8.6 Miles) including construction of service roads. The Letting date for the contract was delayed in February 2020 from June to November 2020 due to design issues and now on hold due to funding issues.16 Start of Construction has been delayed from early 2021 to 2023.
There was also a project to create the Slocum Gate Interchange at Cherry Point MCAS - Completed in March 2020.
---
Segment 7
US 70 Havelock Bypass
Road Type: Unbuilt Freeway Length: 10.1 Miles
Status: Construction Started on August 30, 2019. Project to be completed in May 2024.

NCDOT Project Map:17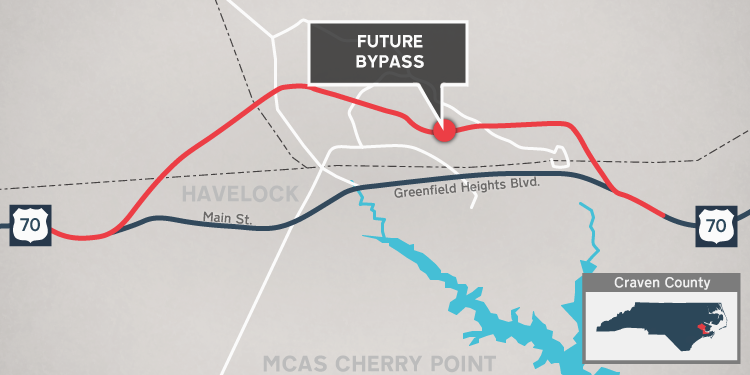 On August 1, 2019, NCDOT awarded the $167.2 million contract to build the Bypass to Balfour Beatty Infrastructure, Inc. of Wilmington, NC. Work started on August 30 and as of November 22, 2020 work is 20.5% complete. The current completion date is May 2024.18

---
Segment 8
US 70 from end of Havelock Bypass to Morehead City
Road Type: Mostly 4-lane divided Length: Approx. 11 Miles
Status: Need Upgrade to Interstate Freeway
One project, rebuilding the Newport River Bridge from a 2-lane to 4-lane structure is to start in 2022. Map showing location:19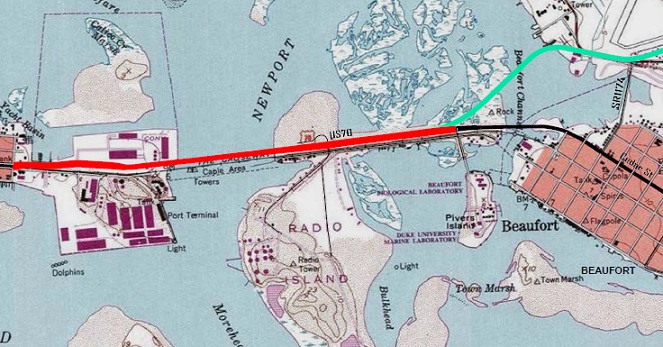 Remaining projects between the Havelock Bypass and the bridge are not funded. Some doubt I-42 will make it to the bridge due to the difficulty in constructing an interstate through an urban area.
---
---
Photos

Segment 1
(Taken of Future I-42 signs in March 2017)

Begin I-42 sign at the start of the East US 70 Clayton Bypass.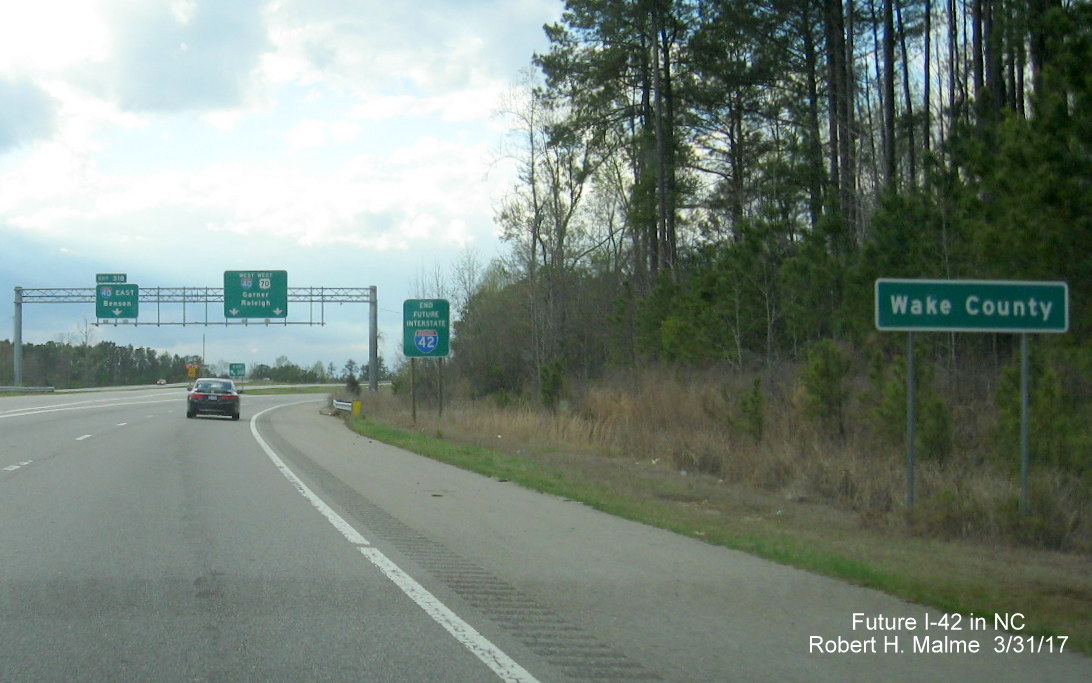 The End Future I-42 sign is after the (Entering) Wake County sign at the western end of the US 70 Clayton Bypass.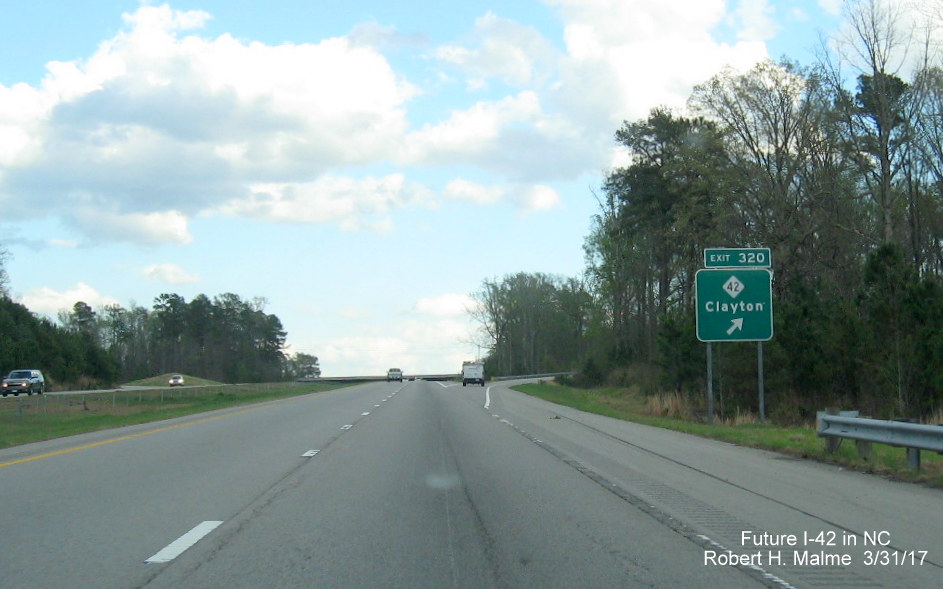 Will this cause any confusion? The first exit on Future I-42/US 70 East is for NC 42 in Clayton.
Want to contribute photos? Feel free to email me at rmalme7374 at gmail.com.
Sign Plans
Exit sign plans for Havelock Bypass (unknown why numbers nearly duplicate existing numbers near New Bern):20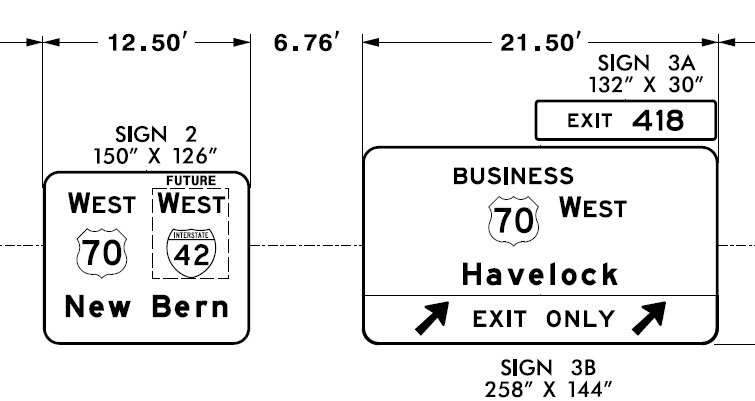 Here's an I-42 Shirt advertised on the Internet (no endorsement):
---
Notes
*Project funding has been suspended by NCDOT due to agency's budget issues. NCDOT is working with state legislature to find alternative sources of revenue. It is unknown when, or if, construction will be started on this project.
12. NCDOT. 2020. Construction Progress Report, Contract No. C 204139, TIP No. I-6002. Information as of December 2. Downloaded from: https://apps.ncdot.gov/traffictravel/progloc/ProgLocSearch.aspx, December 9.
13. NCDOT. 2019. Five Miles of Craven County Highway to be Upgraded. Press Release. September 25. Downloaded from: https://www.ncdot.gov/news/press-releases/Pages/2019/2019-09-25-craven-county-highway-upgrade-contract.aspx, September 27.
14. NCDOT. 2020. Construction Progress Report, Contract No. C 204225, TIP Nos. R-5777A, R-5777B, U-5713. Information as of December 8. Downloaded from: https://apps.ncdot.gov/traffictravel/progloc/ProgLocSearch.aspx, December 9.
18. NCDOT. 2020. Construction Project Report, Contract No. C 204177, TIP No. R-1015. Information as of October 25. Downloaded from: https://apps.ncdot.gov/traffictravel/progloc/ProgLocSearch.aspx, October 21.
20. Plans from: Signing Plan, Craven and Carteret Counties, Location: US 70 Havelock Bypass from South of Carteret/Craven County Line to South of SR 1176 (Carolina Pines Blvd.), NCDOT TIP R-1015, November 20, 2018. Available at: https://xfer.services.ncdot.gov/dsplan/2019%20Highway%20Letting/02-19-19/Plans%20and%20Proposals/Craven_R-1015_C204177/Standard%20PDF%20Files/250%20Signing%20Plans.pdf
Site created: July 10, 2019
Site Updated: December 9, 2020
(c) Robert H. Malme 2020

---