Segment 13



Where: US 74, Rockingham-Hamlet Bypass, from Future I-73/NC 38 interchange to Eastern End at US 74

Length: Around 2.5 Miles

Status: COMPLETE (Except for future added Interstate 74 signs)

Signed as: *
Segment Information
I-74 is to continue on to the end of the US 74 Rockingham Bypass after I-73 leaves at a proposed exit near the current NC 38 interchange. This would be around the last 2.5 miles of the Bypass which runs a total of 13 miles from north of Cordova to east of Hamlet and was opened in November 2000, costing $110 million.1
The freeway has exit numbers matching US 74's mileage which run from 319 at the NC 38 interchange to 321 at Business 74 (the map above incorrectly lists the last exit as 322), for more information go to the I-74 Exit List.
As with the rest of the US 74 Bypass, the route was also signed as Future Interstate 74 when it opened. However, NCDOT removed the Future I-74 signs in the fall of 2016. Perhaps due to the route being erroneously signed as I-74 in the NCDOT 2017-2018 State Transportation Map (see I-73 Segment 12) and in the 2018-2020 Rand McNally Road Atlases.
I-74 Will be Signed along Rockingham Bypass after completion of I-73/I-74 Rockingham Bypass
It appears now that new I-74 shields will be put up on the Bypass at the completion of the I-73/I-74 Rockingham Bypass (see I-73 Segment 11). Sign plans released on August 20, 2019 showed new I-74/US 74 reassurance marker signs to appear east of the NC 38 exit. An end I-74 sign is to also be put up prior to the merge with Business 74 near Hamlet. Here is the location plan for that sign:
Here is the plan for the future start of the I-74/US 74 West Rockingham Bypass, notice the continued use of US 74 exit numbers:
Here's the plan for the reassurance marker signs, eastbound that will be placed after the NC 38 and NC 381 exits, and westbound after the NC 381 exit:
Speaking of NC 381, the new sign will remove the reference to Hamlet, keeping the US 74 exit number:
Some Photos from this Segment (Hover over for larger image)
The 1/2 mile advance sign for NC 381 on US 74/Future I-74 East, image from Google Maps Street View in May 2019.
---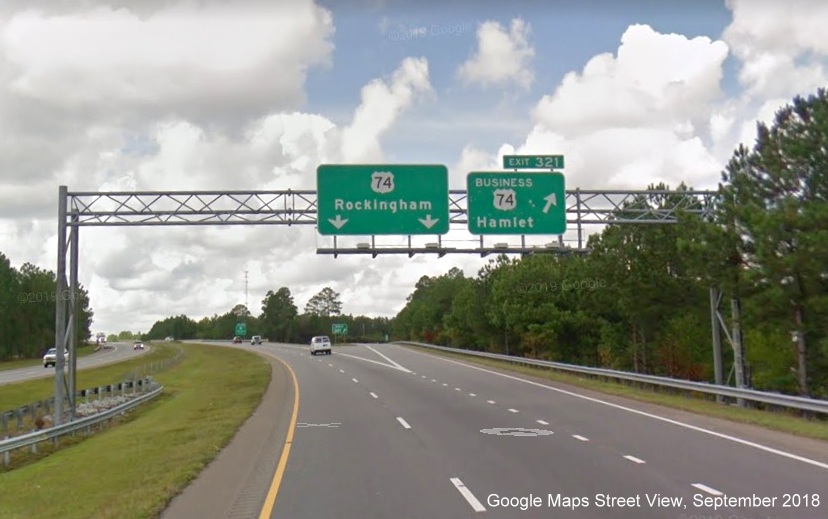 The overhead signs at the ramp to Business 74 West, the start of the US 74 Rockingham Bypass, Google Maps Street View image from September 2018.
---
A photo from May 2009 of the NC 381 exit from the US 74 Rockingham Bypass freeway courtesy of James Mast.
---
Signage at the NC381-Future I-74/US 74 interchange taken in. November 2002. The East Future I-74 sign was removed in the fall of 2016.
---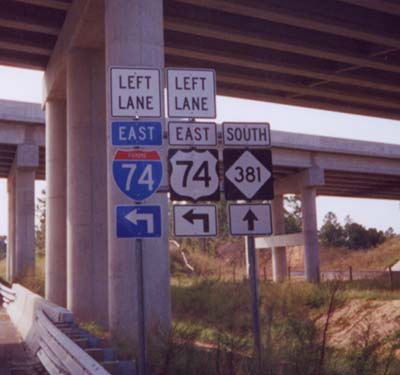 Another photo at the NC 381-Future I-74/US 74 interchange. Again the reference to Future East I-74 was removed by NCDOT in the fall of 2016. Photo courtesy of Adam Prince
---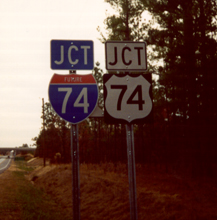 Photo of Junction Future I-74/US 74 sign at the Future interchange with NC 381, taken in November 2002. Only the US 74 side remains as of the fall of 2016. Photo courtesy of Adam Prince
---