Segment Information
I-74 is to use the existing 9-mile US 74/76 Whiteville Bypass freeway and an upgraded continuation for 14 more miles further east along the current US 74/76 expressway to near the current exit with NC 211. The US 74/76 Bypass freeway around Whiteville has a 70 MPH speed limit but would need to be upgraded to Interstate Standards to be signed as I-74 (a couple signs indicate it is a Future I-74 Corridor).

Another Piece-Meal Upgrade?
West of Whiteville, a similar piecemeal approach is being taken to upgrade US 74/76 to freeway standards as with Segment 17 to the east. Already a new interchange was constructed for NC 211 in 2010 (see photo below).1 When I-74 mile markers were put up along US 74/76 in 2012, continuing on to Delco, (mile 270), 12 miles to the east, the NC 211 exit was given the number 258. The Final 2020-2029 STIP released in September 2019 has three projects listed as intersection to interchange/grade separation upgrades east of the Whiteville Bypass. Project R-5749 is upgrading the intersection with SR 1001, Hallsboro Road to an interchange at a cost of $6.3 million. This project started on April 25, 2018 and as of April 7, 2020 was 71.9% complete.2 Here's a couple photos taken after the girders were installed over US 74/76 for the future Hallsboro Road bridge, taken by J. Austin Carter:
A closer look at the bridge:
When this project is completed in late February 2021, it will push the Whiteville Bypass freeway 3 miles further east. Project R-5820 will upgrade the intersection with SR 1735, Chauncey Town Road to an interchange for $7.5 million starting in 2022 (accelerated from 2025). This project is now combined with Project R-5819 that will replace the intersection with SR 1740, (Old Lake Road) with a bridge, for a $30 million cost for both contracts.3 On October 25, 2018, NCDOT held a public meeting outlining the plans for this project. Here's a map of the proposed Chauncey Town Road interchange presented at the meeting:4
The work will also include constructing 2 roundabouts south of US 74 where both roads intersect NC 214. When plans were released for the Hallsboro Rd contract in January 2018, they indicated the exit number for the interchange would be 248:5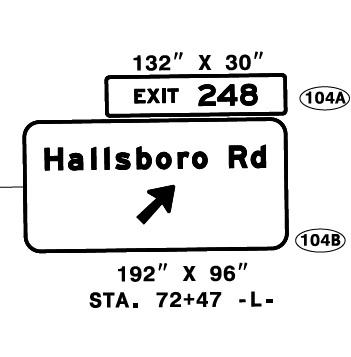 All these projects will extend the Whiteville Bypass freeway another ten miles to the completed NC 211 exit and would make the entire US 74/76 section a freeway to the site NCDOT proposes the I-74 freeway that will turn south toward South Carolina (see I-74 Segment 19).
Photo of NC 211 exit, east of US 74/76 Whiteville Bypass, with I-74 exit number, courtesy of Chris Curley
Here's a list of preliminary FY 2018-2027 STIP projects along I-74's official route along US 74/76 to NC 211,6 only the last two made it into the official STIP released in August 2017:
| | | | |
| --- | --- | --- | --- |
| Route | From / Cross Street: | To / Cross Street: | Project: |
| US 74 , US 76 | US 74 Business east of Whiteville | West of SR 1735 (Chauncey Town Road) | Upgrade Roadway to interstate Standards |
| US 74 , US 76 | West of SR 1735 (Chauncey Town Road) | East of SR 1740 (Old Lake Road) | Upgrade Roadway to interstate Standards |
| US 74 , US 76 | East of SR 1740 (Old Lake Road) | West of NC 211 | Upgrade Roadway to interstate Standards |
| US 74 , US 76 | SR 1735 (Chauncey Town Road) | | Upgrade At-grade Intersection to Interchange |
| US 74 , US 76 | SR 1740 (Old Lake Road) | | Upgrade At-grade Intersection to Grade Separation |
BUDGET PROBLEMS

In the fall of 2019, future funding on the Chauncey Town Road and Old Lake Road projects was suspended, along with I-74 related projects in Robeson County, due to NCDOT budget problems brought on, according to NCDOT by the success of a lawsuit against the agency for not paying for property along future highway alignments which could cost them hundreds of millions of dollars and fixing damages from many recent hurricanes. The legislature has said it plans to work with NCDOT to fix some of the money problems and as of early 2020 hoped to have funding for most projects restored by the summer of 2020.7
"Drive" this Segment Using Google Street View
US 74/US 76 East from just after The Start of the Whiteville Bypass (November 2016)
US 74/US 76 West from just Prior to The NC 211 Exit (November 2016)