Segment 18



Where: US 74/76 from US 76 Exit west of Whiteville to Near NC 211 Exit East of Whiteville

Length: Approx. 23 Miles

Needed: Upgrade to Interstate Standards

When: After 2027

Current Highway Signed as:
Segment Information
I-74 is to use the existing 9-mile US 74/76 Whiteville Bypass freeway and an upgraded continuation for 14 more miles further east along the current US 74/76 expressway to near the current exit with NC 211. The US 74/76 Bypass freeway around Whiteville has a 70 MPH speed limit but would need to be upgraded to Interstate Standards to be signed as I-74 (a couple signs indicate it is a Future I-74 Corridor).

Another Piece-Meal Upgrade?
West of Whiteville, a similar piecemeal approach is being taken to upgrade US 74/76 to freeway standards as with Segment 17 to the east. Already a new interchange was constructed for NC 211 in 2010 (see photo below).1 When I-74 mile markers were put up along US 74/76 in 2012, continuing on to Delco, (mile 270), 12 miles to the east, the NC 211 exit was given the number 258. The 2018-2027 STIP has three projects listed as intersection to interchange upgrades east of the Whiteville Bypass. Project R-5749 will upgrade SR 1001, Hallsboro Road starting in March 2018 at a cost of $6.3 million, this will push the Whiteville Bypass 3 miles further east. Project R-5820 will upgrade SR 1735, Chauncey Town Road for $7.5 million in 2025, which is combined with Project R-5819 that will replace the intersection with SR 1740, (Old Lake Road) with a bridge, both in 2023 for $4.5 million.2 When plans were released for the Hallsboro Rd contract in January 2018, they indicated the exit number for the interchange would be 248:3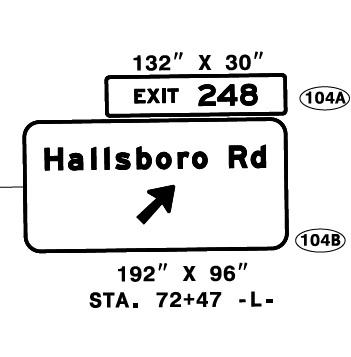 All these projects will extend the Whiteville Bypass freeway another ten miles to the completed NC 211 exit and would make the entire US 74/76 section a freeway to the site NCDOT proposes the I-74 freeway that will turn south toward South Carolina (see I-74 Segment 19).
Photo of NC 211 exit, east of US 74/76 Whiteville Bypass, with I-74 exit number, courtesy of Chris Curley
Here's a list of preliminary FY 2018-2027 STIP projects along I-74's official route along US 74/76 to NC 211,4 only the last two made it into the official STIP released in August 2017:
| | | | |
| --- | --- | --- | --- |
| Route | From / Cross Street: | To / Cross Street: | Project: |
| US 74 , US 76 | US 74 Business east of Whiteville | West of SR 1735 (Chauncey Town Road) | Upgrade Roadway to interstate Standards |
| US 74 , US 76 | West of SR 1735 (Chauncey Town Road) | East of SR 1740 (Old Lake Road) | Upgrade Roadway to interstate Standards |
| US 74 , US 76 | East of SR 1740 (Old Lake Road) | West of NC 211 | Upgrade Roadway to interstate Standards |
| US 74 , US 76 | SR 1735 (Chauncey Town Road) | | Upgrade At-grade Intersection to Interchange |
| US 74 , US 76 | SR 1740 (Old Lake Road) | | Upgrade At-grade Intersection to Grade Separation |
"Drive" this Segment Using Google Street View
US 74/US 76 East from just after The Start of the Whiteville Bypass (November 2016)
US 74/US 76 West from just Prior to The NC 211 Exit (November 2016)