Route of I-285
This newest North Carolina interstate highway starts at the I-85/US 29/52/70 interchange (Exit 87) near Lexington and proceeds north up US 52 to its interchange with I-40 in Winston-Salem. Getting an interstate designation for this highway was part of an effort by Winston-Salem and Davidson County officials to boost economic development in the area.2 AASHTO approved the Future I-285 designation on September 8, 2005 after the FHWA approved the number for the highway on June 29 as a Future route citing needed upgrades.2,3 After NCDOT completed the upgrades, both organizations approved the designation as I-285 in early 2018.
Original Plans for Upgrading Route Started Process in Late 2013
Parts of the highway were not up to interstate standards though and had to be improved before full interstate designation could be approved. Though the highway could have been signed by NCDOT as Future I-285 until a project to upgrade the US 52 freeway to interstate standards was complete, this was not the case. In February 2006, NCDOT instead saved some funds by putting up a few 'Future I-285 Corridor' signs along the route. There was at least one southbound after the I-40 interchange and two going northbound, one at the start of the route in Lexington (click for a Photo of this sign) and another after the NC 8 interchange. NCDOT waited until the upgrade project costing $8.2 million (Number R-4750), mostly highway shoulder improvements for only 3.8 miles of the route in Davidson County, was completed in September 2017 (see below).4
Signing Delayed due to Postponed Upgrades
The start date for the upgrade project was changed several times. Originally scheduled for 2011 in 2005 (as promoted in the graphic below), the 2007-2013 STIP released in September 2006 moved up the construction date to 2010.5 However, under revised construction project identifying and funding procedure initiated in 2009 by then new NCDOT Secretary Eugene Conti, a strict 5-Year Construction Project Calendar and a 10-Year Program and Resource Plan were adopted, the I-285 project was then moved back to late 2011. However, no contract was let that year. In 2012 the FY 2013-2022 STIP document put the letting date in 2013 (first in May, then moved to September 2013). However, over the 12-month period between the contract listing and letting, the contract specifications were changed. The project upgrading of the US 52 segment from I-85 to Main Street in Lexington, mostly shoulder widening totaling $7.57 million, was awarded to J.T. Russell & Sons and tied to some unrelated bridge preservation work along the same stretch. Construction began in March 2014 and was completed in June 2015. More work was needed from north of Main Street to I-40 in Winston-Salem, however, this was split off as part of separate project, U-2826 (see below), and did not qualify for funds under NCDOT's Strategic Mobility Initiative which ranks construction projects by their statewide, regional, or local importance. Apparently enough work was completed through several lower cost District level projects that upgraded several bridges and an interchange to satisfy the federal authorities. NCDOT completed the work in September 2017 and got approval from the FHWA to sign the route in February 2018.6 AASHTO approved the signing of I-285 on May 21, 2018.7 NCDOT put up ground-mounted I-285 signs along the route in November 2018. Changes to overhead signs had to wait until March and April 2020, plans for that contract indicated there were to be no changes to exit numbers at that time.
The initial designation of the route as an interstate was also delayed by AASHTO. Their approval comes after a rejection earlier that year at the May 6, 2005 meeting of AASHTO's Special Committee on U.S. Route Numbering of NCDOT's first application to have this route designated first as I-185 in 2003. An I-285 shield for this route first appeared on NCDOT's "Strategic Highway Corridors" Triad Area Vision map of September 2004 with a disclaimer stating the route number had not officially been approved at that time by the FHWA or AASHTO.*8
Videos of I-285 (New 1/16/22):
Taken by Roadway Wiz during the Summer of 2021:
Exits 83 to 92 Northbound Exits 92 to 83 Southbound
Exits 92 to 105 Northbound Exits 105 to 92 Southbound




Photos of New Signage:
Photos taken of New I-285 exit signs, trailblazer, ramp, and reassurance marker signage by Adam Prince on May 9, 2020:
New exit sign on I-85 South with added To I-285 North information.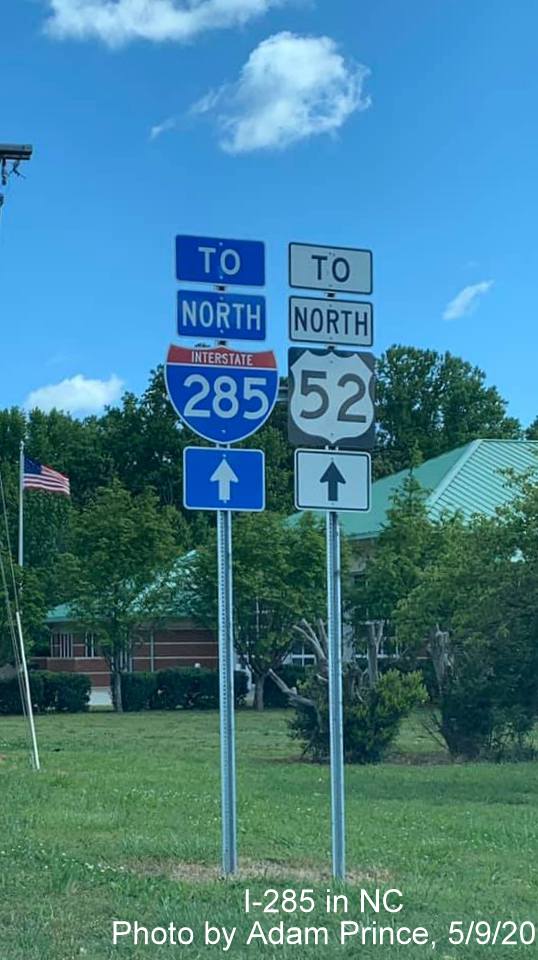 Trailblazers at the end of the ramp to NC 47 from I-85 South.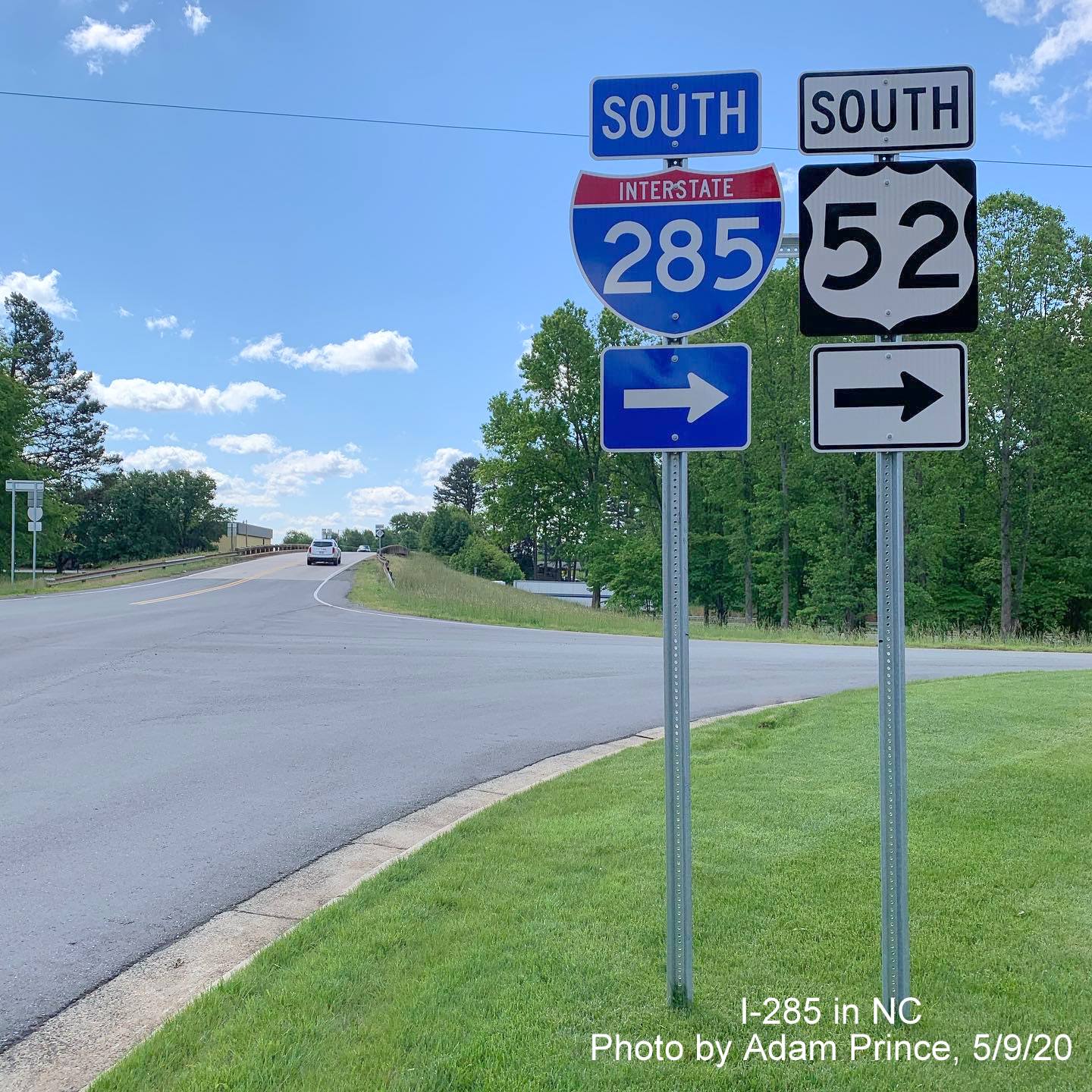 New I-285 and US 52 signage at the beginning of NC 47 South in Lexington, the route is also US 29 / 70 at this location.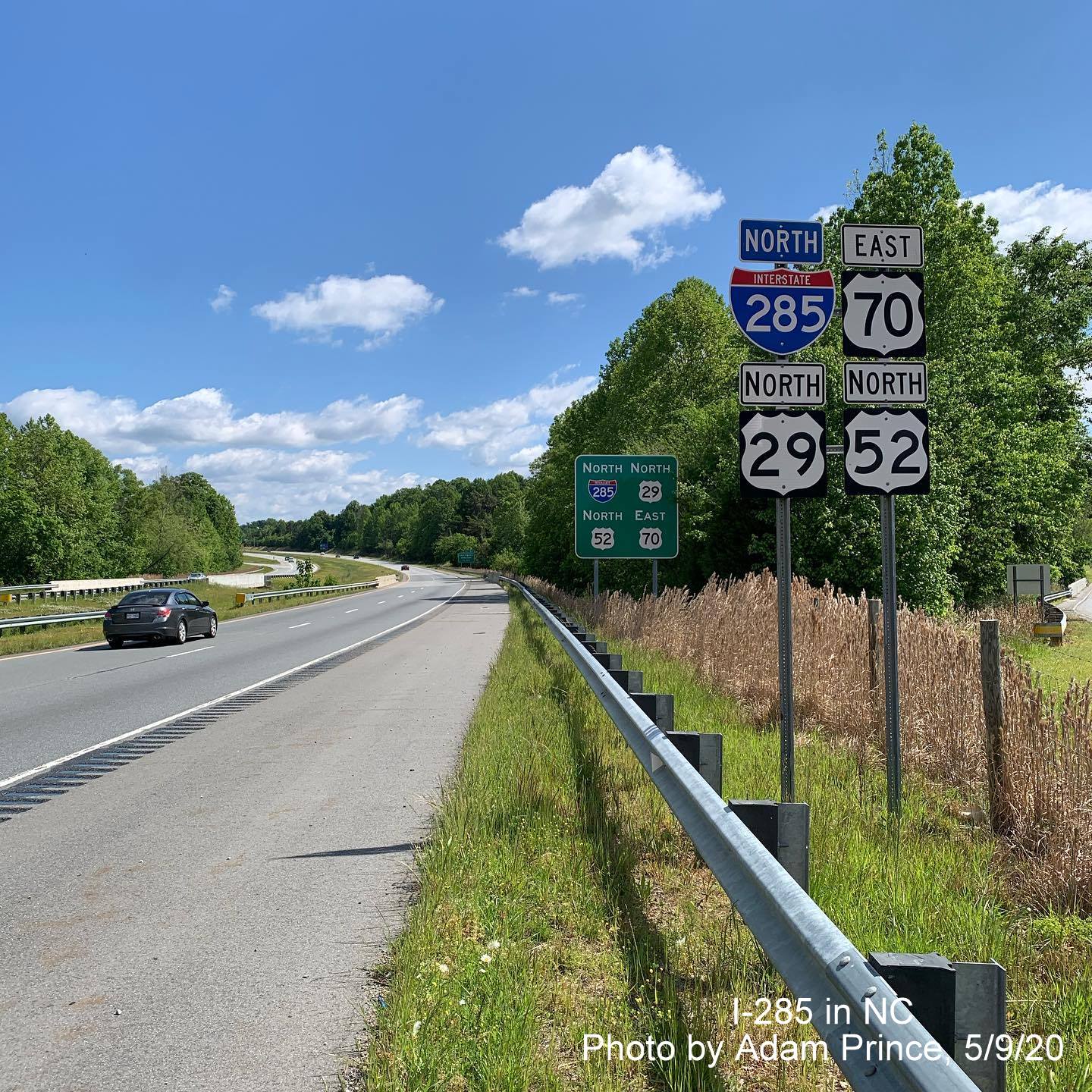 Now duplicate reassurance marker signage not removed with placement of new sign in distance.

Photos of new overhead signs taken by Strider on April 24, 2020, starting on I-85 North in Lexington:
The new 2-mile advance overhead with reference to I-285 (no more mention of US 29 or US 70).
The 1-Mile advance sign heading further north. What the previous sign looked like, from Google Maps Street View in October 2019:
The only mention now of US 29 and US 70 is on this auxiliary sign about 3/4 mile before the I-285/US 52 North exit.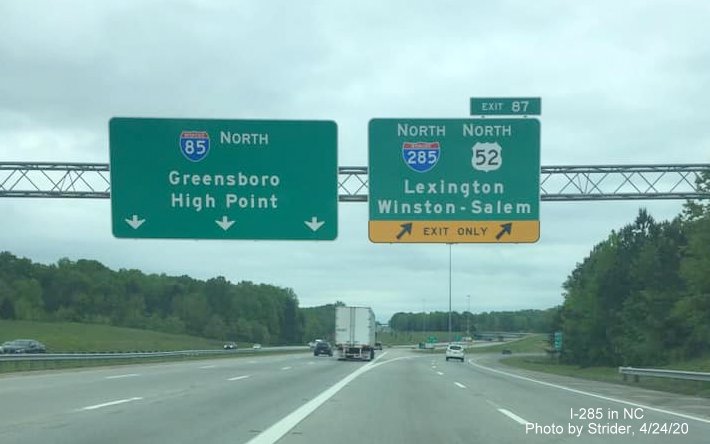 The overheads at the ramp itself.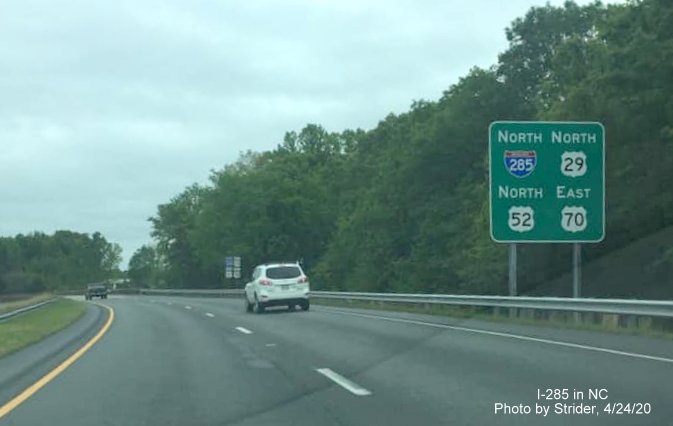 While the crew responsible for putting up the new reassurance marker sign in Lexington has done its job, still waiting for those responsible to remove the (not so) old signs in the distance.
The 1-Mile advance sign for the split of US 29/US 70 from I-285/US 52 North, no more reference to Business Loop 85 on the signs.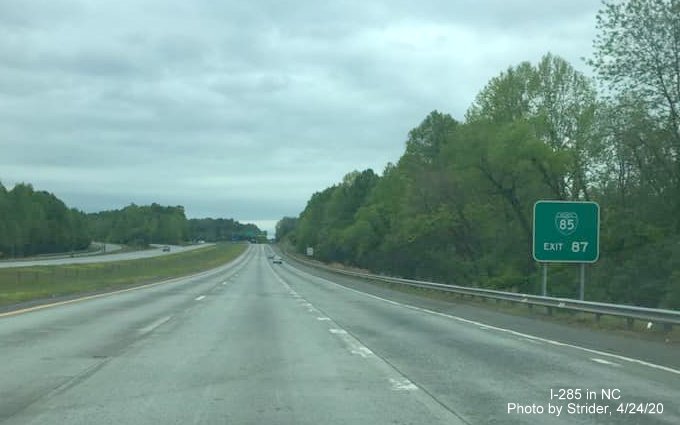 The only reference to Business 85 is this recycled auxiliary sign, formerly on I-85, conveniently with the same exit number. This sign will be removed when the removal of all Business 85 signs from US 29/70 is completed.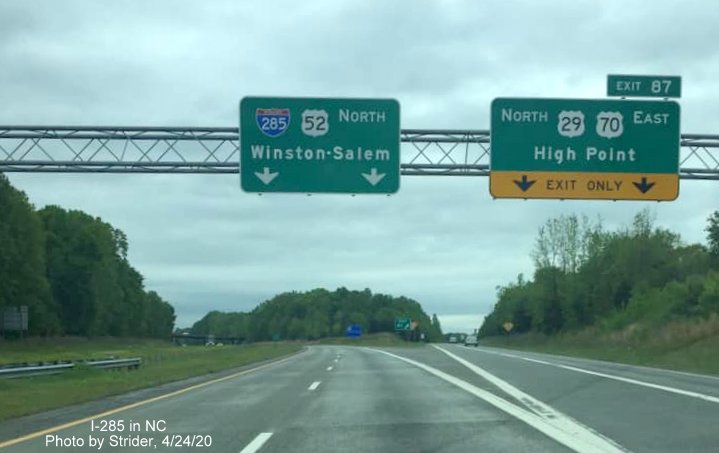 The new overhead pull through and exit signs at split of I-285/US 52 North and US 29 North/US 70 East (Business 85).
Here is what the signs were prior to the recent replacement, via Google Maps Street View in June 2019: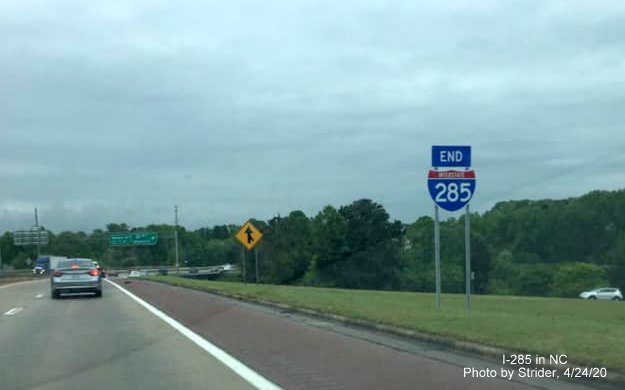 The (temporary) new End I-285 sign approaching I-40 in Winston-Salem.
Heading onto I-40 East: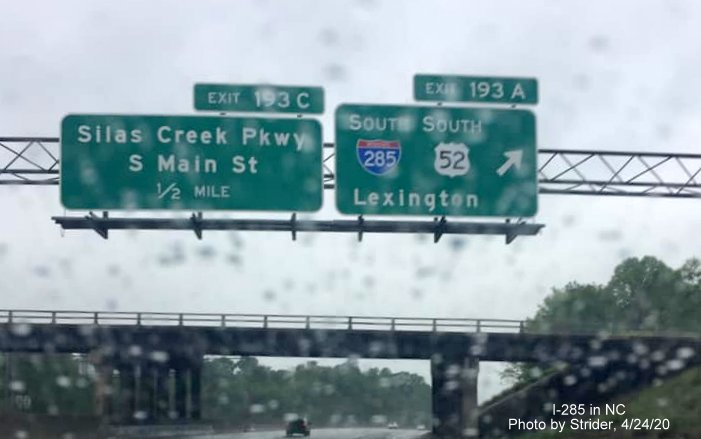 The new overhead adds I-285 South but removes reference to NC 8 South.
These signs heading west on I-40 are missing both NC 8 and US 311, for the US 52 North sign.

Heading back south:
A South I-285/US 52 reassurance marker sign, with 'old' signs behind it prior to the NC 8 exit in Davidson County.
The signage after NC 8 joins I-285/US 52 South prior to Lexington, the old signage seems to have been taken down here.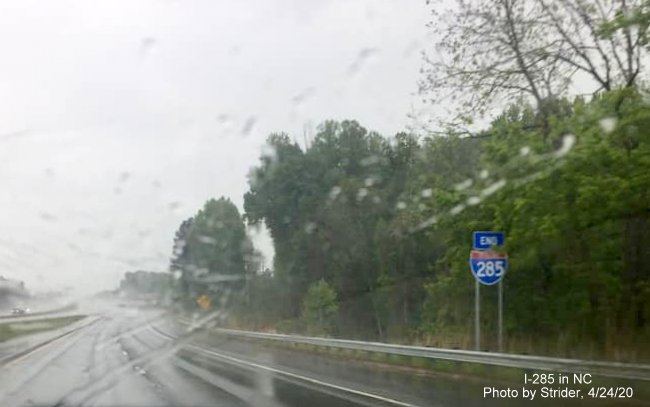 The newly placed End I-285 sign on the ramp to I-85 South in Lexington.
New I-40 1 and 1/4 Mile advanced sign on I-285 North with US 311 shield removed, as with exit sign seen in traffic camera image below, at the Clemmonsville Road exit, photo by Strider, July 2, 2020: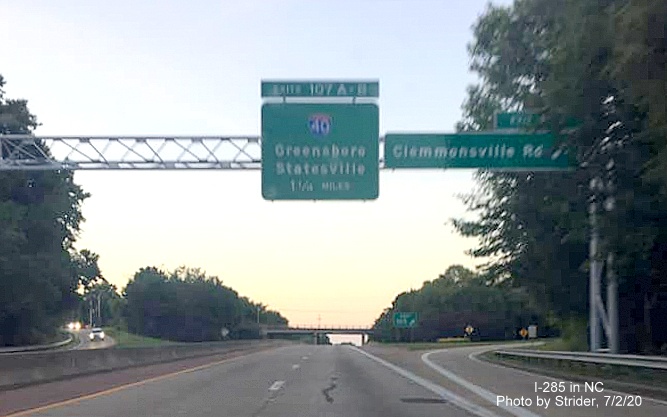 EARLIER PHOTOS
Traffic camera image of I-40 East Exit showing removal of US 311 as part of I-285 sign replacement contract in early April 2020:
Contractor started placing new overhead signs with I-285 signs on I-85 in late March 2020: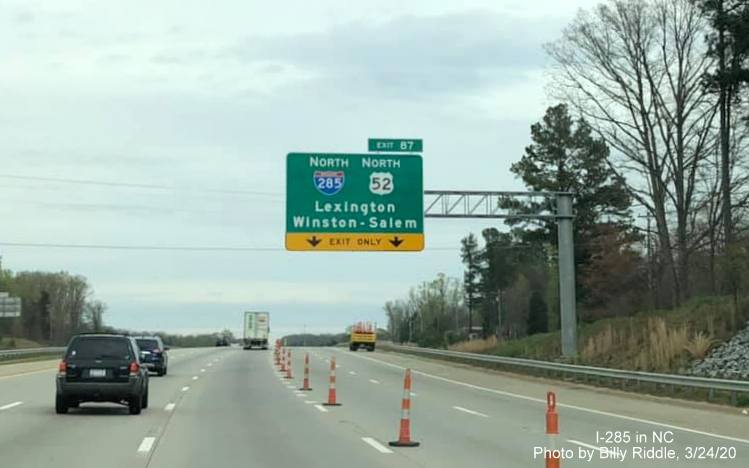 Lanes are closed for placement of new signs with I-285 shields, this one the 1/2 mile advance, at split of I-85 North and US 29-52-70 in Lexington.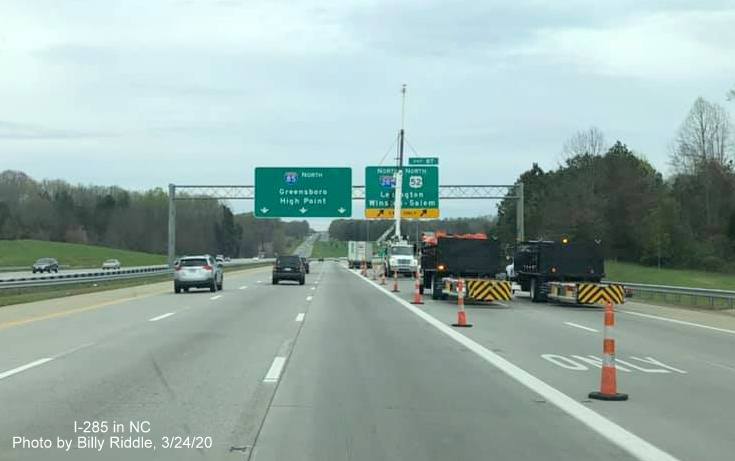 The contractors have just mounted the new I-285/US 52 North sign at the ramp split on I-85 North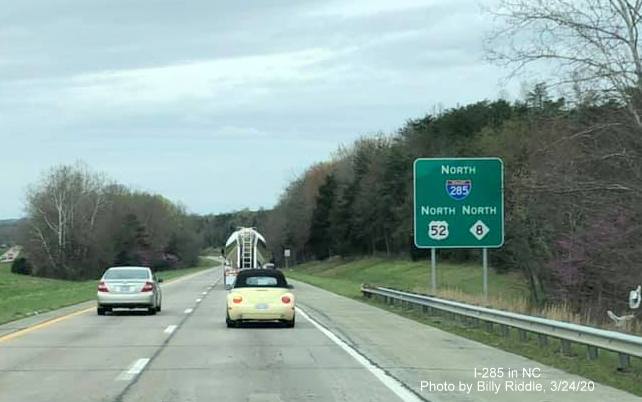 They have also started placing the new reassurance marker signs, here after the NC 8 exit south of Winston-Salem, these replace the reassurance markers seen below put up in the fall of 2018. The sign replacement work should be completed by the end of April 2020.
EARLIER PHOTOS:
From Google Maps Street View, the first I-285 reassurance marker headed south after the I-40 exit in Winston-Salem, from June 2019.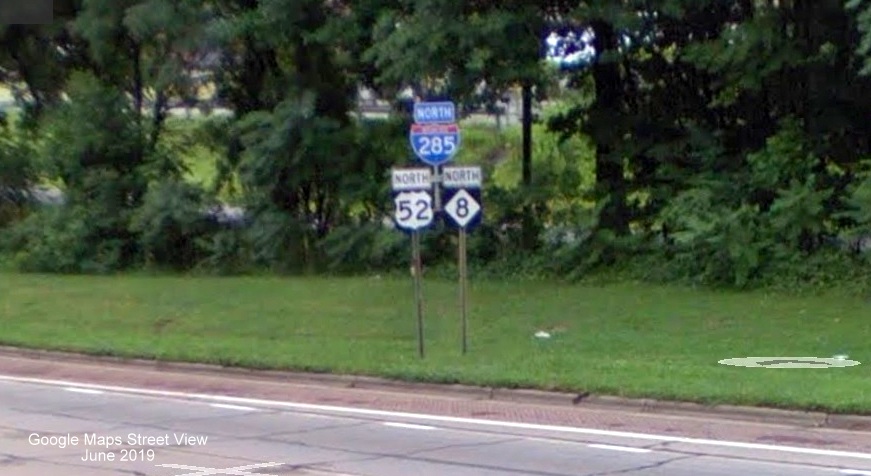 Google Maps Street View image of last set of North I-285/US 52/NC 8 reassurance markers in Winston-Salem, from June 2019
Another Street View image of a set of South I-285/US 52/NC 8 reassurance markers in Davidson County in June 2019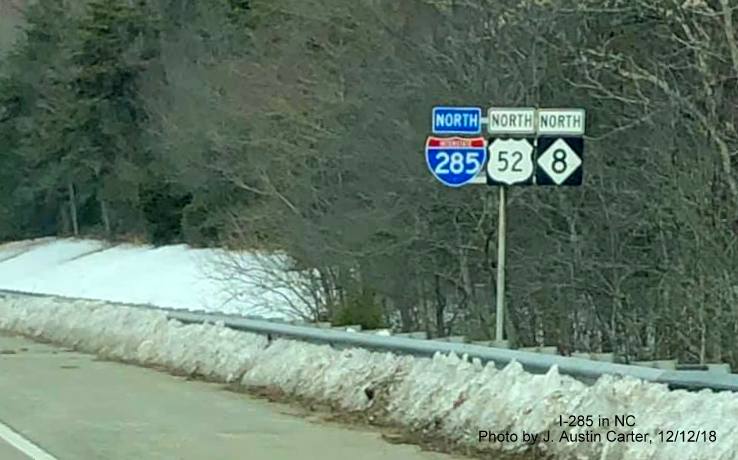 This reassurance marker assembly is on one post.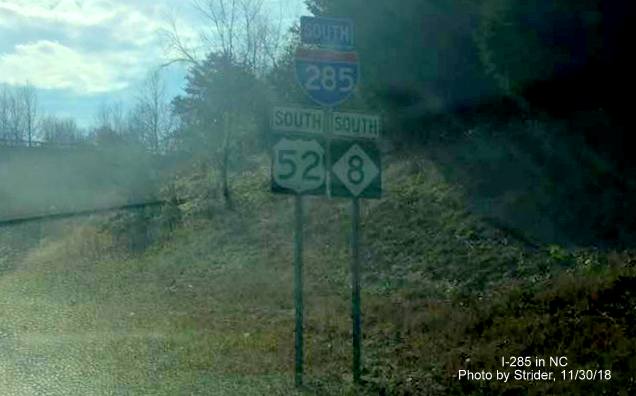 South I-285 reassurance marker placed atop existing US 52 and NC 8 markers south of Winston-Salem.



A larger I-285 shield in place along US 52 South after NC 8 leaves the freeway.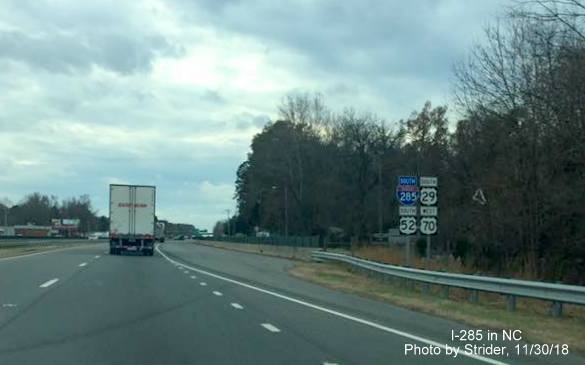 Returning northbound in Lexington, North I-285 replaces Business 85 in the reassurance marker assembly.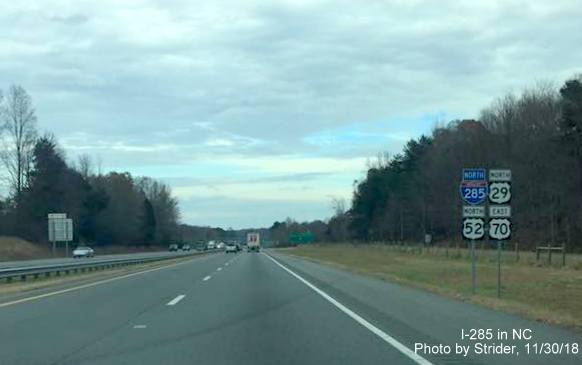 Another example approaching the split of I-285/US 52 North and US 29 North/US 70 East. I-285 again replacing Business 85.


I-285 Sign Plans
In May 2019 NCDOT posted plans for a contract to update overhead signs along I-40, I-85 and I-285, related to the establishment of that interstate, and along I-40 and I-74 related to the decommissioning of US 311 (for sign images related to I-74, see the I-74 Segment 5 page) for a Division 9 project that was to be let on May 22. This letting was later postponed and rescheduled for September 25. The sign plans below now only includes those without photos above, for I-285 itself:
Plans for signs, at US 64 ramps:
The only other exit signs now without photos are advance signs on I-285 to be modified to reflect the decommissioning of US 311 south of Winston-Salem: