I-295 in MA Exit List

4 Miles, from RI Border to I-95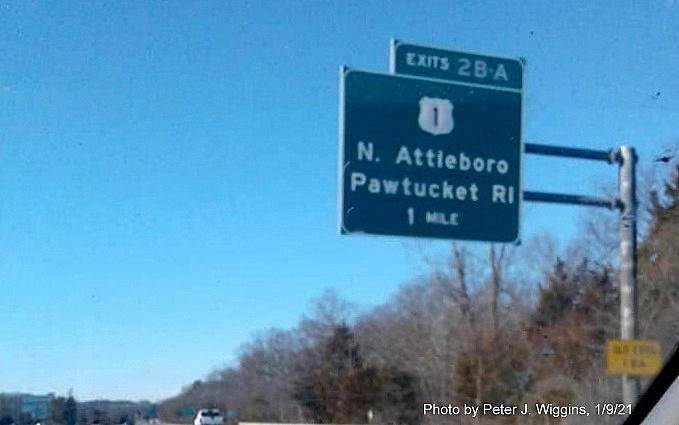 Exit Renumbering completed on Jan. 5, 2021. Sign Replacement Contract given Notice to Proceed on April 13, 2023
| | | | |
| --- | --- | --- | --- |
| Interchange | Milepost | New Exit Number* | Old Exit Number |
| South - Attleboro, Pawtucket, RI | 1.9 | 2A | 1A |
| North - North Attleboro | 1.9 | 2B | 1B |
| South - Providence, RI | 4.1 | 4A | 2A |
| North - Boston | 4.1 | 4B | 2B |
*Current Federal MUTCD Standards support the continuation of exit numbers across state lines for urban loop interstates. MassDOT did not work with their counterparts in RI to continue the sequence for the I-295 Beltway into MA. I sent a comment to MassDOT for an explanation, (about both I-195, I-295 and I-395), this was their response:
"MassDOT has considered this option for these routes. Resetting the exit numbers at the Massachusetts border, as occurs now, provides travelers with an additional cue that they've crossed over into a different state. It is our judgement [sic] that this will aid driver navigation better than continuing the adjacent state's exit number sequences into Massachusetts will."
Travel the Length of I-295 with these 2013 Videos (courtesy of Roadway Wiz):

I-395 in MA Exit List
12 Miles, from CT Border to I-90 Mass Pike/I-290
Exits Renumbered Between August 8 and 20, 2021
Interchange

Milepost

New Exit Number

Old Exit Number

- Webster

,

Thompson CT




1.0

1

1

- Webster Ctr, Douglas

2.6

3

2

Cudworth Rd - N. Webster, S. Oxford




4.0

4

3




Sutton Ave - Sutton




6.6

7A

4A

Sutton Ave - Oxford Ctr


6.6


7B


4B


Depot Rd - N

.

Oxford


9.0

9

5




East To - Shrewsbury


11.5

11A (12A)*


6A


West - Sturbridge

11.5


11B (12B)*

6B


To

- Boston, Springfield /

South -Auburn (NB)

11.9

--

7

This exit list contains both the new milepost based exit number and old sequential exit number when MassDOT converted I-295 and I-395 to the Geographic Reference or Milepost Exit Numbering system as of August 2021. MassDOT started converting exit numbers in October 2020 with the routes in the southeastern part of the state. The exits on I-295 were renumbered the night of January 4-5. The renumbering project was first planned for 2016, but was eventually

postponed.
*Numbers in ( ) are the proposed numbers from the 2016 postponed renumbering project.
I-395 Sign Plans
MassDOT waited to renumber I-290 and I-395 last due to the need to complete an exit renumbering contract. MassDOT previously announced the winning bid for a contract that will replaced signage along I-290 between I-90/Mass Pike and I-190 in Worcester on May 15, 2018. The project will also replace signage at the north end of I-395. Here's the plan heading north, notice the extra space on the exit tab for a future 2-digit plus suffix milepost based number (12C? though not included in the proposed exit numbers for the 2016 exit renumbering):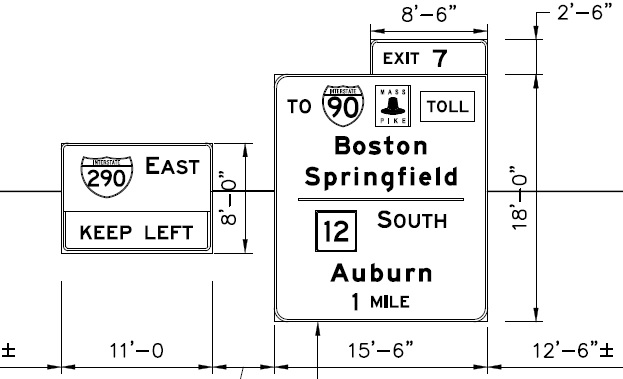 The sign will also add a 'To' in front of the I-90/Mass Pike shields because the ramp to access the Toll Road you have to travel south on Route 12. They have also added a To to the southbound signs though, even though that is reached by the exit ramp itself:
Route History, it could have been I-99
I-395 was created in 1983 after Massachusetts and Connecticut got approval to renumber the Route 52 freeway from I-95 to I-90 as an interstate. The number, however, was not the original designation, it was originally to be a continuation of I-290. However, as this letter from the Commissioner of the Conn. Department of Transportation states, Massachusetts did not want to use I-290 since it implied a loop, and Connecticut refused Massachusetts' idea of designating it as I-99, since they already had a Route 99 (so did Massachusetts, but they didn't object):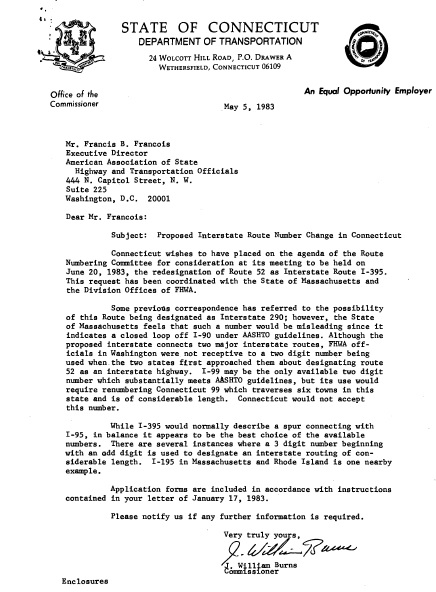 (c) 2013-2021 Robert H. Malme